For some time, companies have been showing greater interest in the photo gallery of your own devices. So much so that even on the lower end devices often find sensors with excellent performance. If supported by good software, then, i low-cost smartphones they can sometimes compete with twice as expensive terminals. Beyond this aspect, however, it is not common to find within a single product the functionality of a normal telephone combined with those of a real action cam. Motorola one action it tries, therefore, to create a union between these two realities, making available to the customer everything necessary to produce quality video. Will Motorola have succeeded in fulfilling this difficult task? How did the device behave in our tests?
Find out inside ours Full review.
Motorola One Action Review
Unboxing
Taking a look at the sales package, we see how on the back there are some device specifications. Inside, however, we find:
Motorola One Action;
USB / USB Type-C cable;
wall-mounted power supply with European socket;
transparent TPU cover;
short instruction manual, with Italian language;
pin for removing the SIM slot.
Design & Materials
This device is characterized by a rear body probably realized in plastic. Despite this the grip is quite good and there is space underneath that texture very particular that gives it more personality. Therefore, using this smartphone with one hand is not at all complicated. Motorola One Action develops, in fact, more in length, proposing a wide screen diagonal and a form factor in 21:9. From the point of view of dimensions, therefore, this device measures 160,1 x 71,2 x 9,15 mm, With a weight of 176 grams.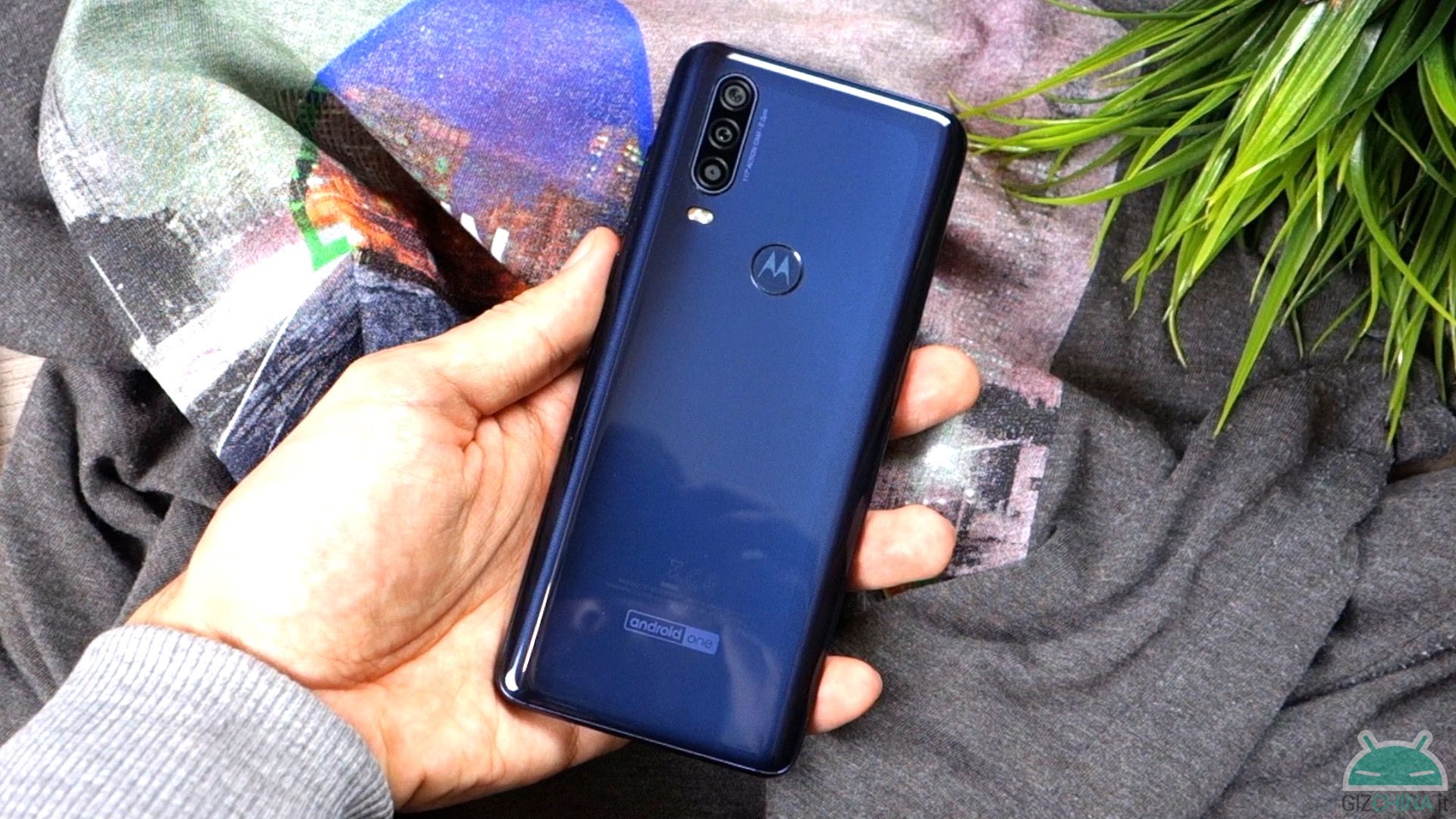 Taking a look at the rear profile of the device, we note the presence of a triple camera, that only later we will go to deepen. This compartment, however, is assisted by the presence of a dual flash LEDs dual tone, with the biometric sensor which finds space along the central axis of the device, just below the triple room. Inside, then, we have the Motorola logo, while further down stands out the writing that indicates the presence of Android One.
Going beyond the curvature of the side edges we immediately meet the side profile, made of metal. This houses, on the right, the volume balance and the On / off button. On the upper part, however, reside the secondary microphone and the hole jack from 3,5 mm while on the left we have it SIM slot. Finally, on the lower profile we can see the presence of the system speaker, of the entrance USB Type-C and of main microphone.
From the construction point of view this product is well made, without showing any burr. Although the two surfaces are not too oleophobic, then, they are not among the worst on the smartphone scene. The choice to exploit this form factor, moreover, in my opinion was a winner; Motorola One Action wears well, even without it protective case, giving a very pleasant sense of security and compactness. This device also has certification IPX2 which protects it from water, although it was preferable to have a higher certification in this case.
Display
If we need to analyze the visual quality of the display, we need to understand its nature first. On board of this device, therefore, we find a unit IPS da 6,3 inches diagonal with resolution FHD + (2520 x 1080 pixel), showing a form factor in 21: 9. Unlike many other similar screens, this one proposes gods colors lively but not too saturated. In general, therefore, one can notice a balance of the various shades more than discreet, although in light inclinations of the smartphone the whites tend slightly to blue. Even the blacks are not too deep but, even in this case, the yield is much better than that shown by other competing devices.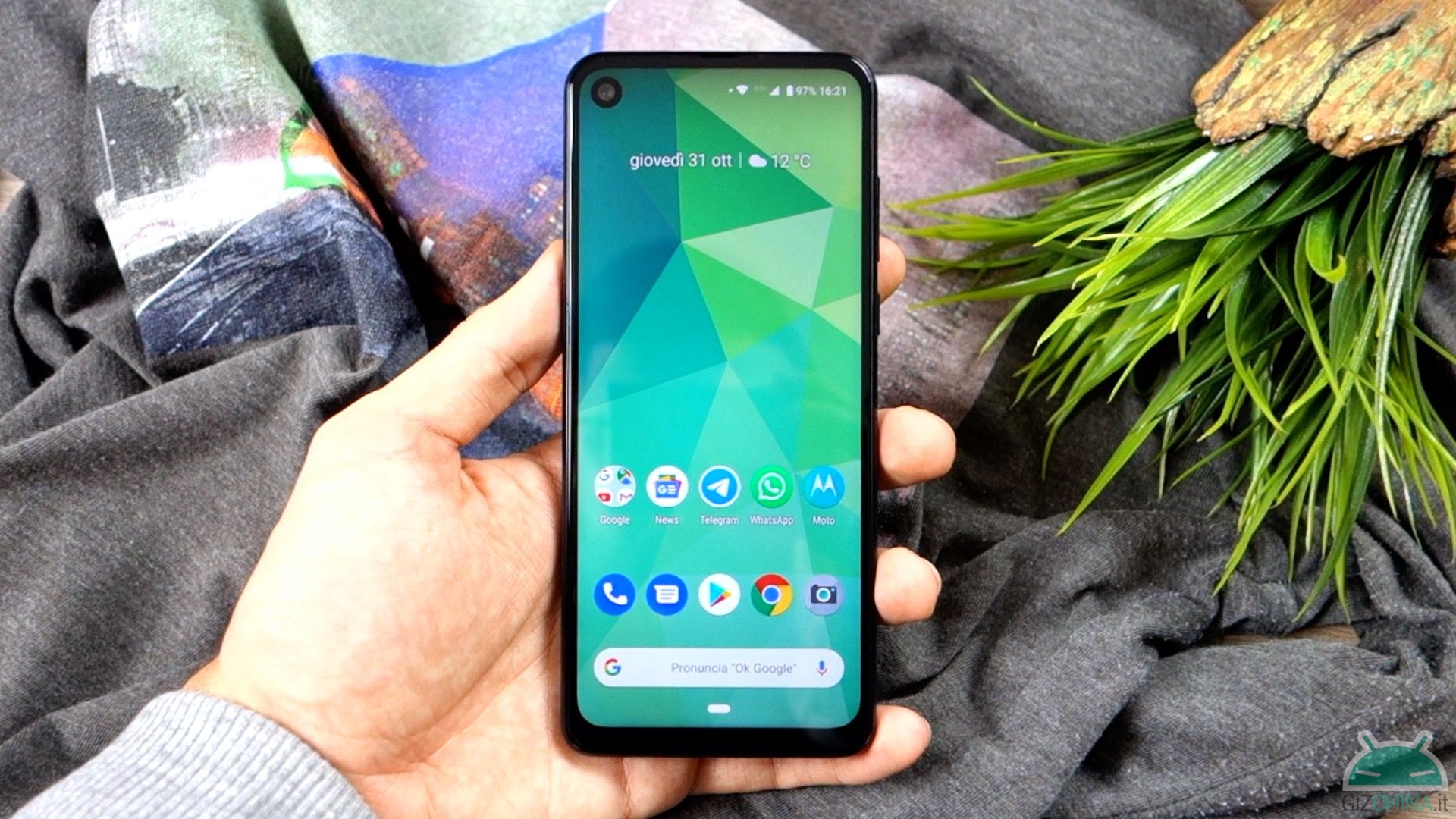 As we can see, on this smartphone the company has decided to introduce a hole in the display. This houses the front camera and, in general, has dimensions that are not too small. On higher-end devices, in fact, some brands have managed to minimize the surface of this area. It is not an aspect, therefore, on which I would like to express a positive opinion. Despite this, however, the vision of any multimedia content on this device is very satisfying, even exploiting Netflix o Amazon Prime Video. Even in direct sunlight, I didn't feel any particular annoyance, as the panel continues to look pretty good. Thanks to brightness sensor, in fact, the backlight of the panel is managed with discreet speed, without showing too many uncertainties.
As for the panel touch screen, I have not detected any problem, even in areas that border the side frames. During the most intense writing phases, therefore, the device has always managed to keep up with my speed, rarely losing any touch. Vibration feedback is also good, probably outlining itself as one of the most accurate in its price range.
Hardware & Performance
A SoC has been installed on Motorola One Action Samsung Exynos 9609, equipped with octa-core CPU with a maximum clock frequency of 2,2GHz. To accompany this chipset we find, then, a GPU Mali G72 MP3 and a memory section characterized by 4GB RAM e 128GB of internal storage. The latter, by the way, is expandable up to 512GB by means of a microSD, however, sacrificing the second nano SIM.
I believe that this smartphone cannot be considered, obviously, as a top of the range, even if it shows remarkable performances. In daily use, in fact, it allowed me to carry out all the usual operations without any problem. On the journey to London, moreover, on the occasion of the OPPO Reno launch, 2 showed very good reliability, accompanying me throughout the day without any criticism. With navigation through GPS, as well as in the opening of many different ones applications in a short time, it never went into confusion. A sign that even the software, in this case, it has its merits.
Beyond this, however, in the field Gaming all its power comes out. Taking advantage of Motorola One Action with some more powerful titles, such as Call of Duty Mobile, I was able to observe a really exceptional game stability. Although the textures are not reproduced to perfection, this smartphone didn't make me regret too many other top of the range, always resulting fluid. Therefore, the same considerations also apply to everyday use. On the one hand, the openness of applications is not swift, on the other hand, the experience offered by such hardware makes it possible to better manage all aspects of private life without losing a beat.
Benchmark
Software
As we have already announced at the beginning of this review, on this Motorola find space Android One. This software is based on Android 9 Pie, with the security patches that date back to 1 September 2019 °. From this point of view, therefore, we are in the presence of a device that, at least for a year and a half, will be constantly updated. This could be tempting, therefore, to all those who like to keep up with all the new Android features.
Under the less technical profile, on board of this device the proposed interface is just that stock of the green robot. Therefore, we have the notch at the bottom thanks to which we can go to the home, enter multitasking and quickly switch between applications. Personally I prefer full-screen gestures but, in this case, after having taken the hand with some mechanisms everything is executed in a simpler way. Within this software, however, we do not find many differences compared to those already seen on other devices with Android One. Only the Moto application, in this case, gives a touch of originality to the phone. With this, in fact, you can set the Moto Actions and the Moto Display, all functions that by now many users have come to know in these years.
With this terminal you will have no problem navigating through the various menus, resulting in a fairly fluid and quick way.
Connectivity & Release Systems
Motorola One Action one module Wi-Fi Dual Band, which in every situation can fully satisfy. When you are on the outside, however, you can take advantage of the LTE network, which with Fastweb allowed me to travel even with the 4G + in the city, almost never losing any hits. Obviously, being a product intended also for our market, there is no lack of it 20 band.
Among other things, therefore, we also have the Bluetooth 5.0, NFC, an entrance USB Type-C on the lower profile, the GPS / A-GPS / GLONASS. All these systems work very well, allowing you to enjoy a truly complete experience. I only remind you, however, that in order to function, the NFC requires the back of the device to rest on the electronic detector. On many devices the system works in any case but on Motorola One Action it is not so. Despite this, two slots are also found on board Nano SIM. However, if a microSD is used, one of these two cards should be sacrificed.
Taking a look at the back, we find the biometric sensor. This works pretty well, unlocking 9 times on 10 the device, although it doesn't show a reactivity from first in the class. Beyond this, however, it certainly works better than facial unblock, which in poor light conditions does not show due reliability. It is, however, a release in 2D, which uses the front camera.
Photographic quality
This device proposes a triple back room, characterized by a main sensor from 12 mega-pixels with f / 2.0 aperture, a wide-angle camera from 117 ° from 12 mega-pixels and opening f / 1.8 and an additional target from 5 mega-pixels for the calculation of depth of field.
With the photo mode it is possible to use only the main sensor and the smallest camera for the bokeh effect. That wide angle is used only as a action cam in the videos. From here it is clear, therefore, that in normal conditions the shooting possibilities are quite limited. I would have preferred that the wide-angle lens was also enabled in the camera but this was not the case. During the daytime hourstherefore, the quality of the shots is still good, with a color reproduction quite faithful to reality. In the most complicated shots, with a strong sunlight that disturbs the scene, it is possible to take advantage of the HDR function which significantly improves the balance of brightness.
Di night, instead, the quality drops significantly and the photographic noise becomes more disruptive. It is not possible to use any kind of night mode, so everything is entrusted to the main objective. Although the artificial lights they tend to be burned, as is the area around them, these disturbances do not spoil the rest of the image. There is an important loss of detail but, in this case, the yield is more than good. Sometimes there may be a need, however, for dual flash LEDs. This returns just enough quality but sometimes the sensor struggles to focus on the affected area in the dark. If you approach a detail, such as a flower, the software does not recognize the selected area well, blurring the image. It follows that, therefore, even with the flash the photo is not in focus.
on front find a sensor from 12 mega-pixels with f / 2.0 opening. This is not equipped with special software features, except the effect Portrait digital. When using the latter, however, the chromatic scale of the image is profoundly modified compared to the original shot, showing much warmer tones. In any case, the faces are well detected, although it is necessary to get closer to the lens to prevent this from losing the detection of our face.
Videos
I decided to separate this part from the previous chapter, because it undoubtedly deserves a mention. On the level videoin fact, this Motorola One Action allows you to record normally in 1080p to 60fps o 4K is 30fps. In the first condition, then in 1080p, stabilization is very good, as is image quality. The latter reflects, in fact, the one already discussed above. With the 4K, on ​​the other hand, much is lost in terms of quality, both as regards stabilization and the level of detail reproduced.
It is not possible to exploit, even in this case, the wide-angle camera for normal video footage. This is used, therefore, only when the option is activated Action Cam from the camera interface. By clicking on the icon to the left of the click button, you access this area. It is not possible to perform some kind of customization but the image, immediately, appears different. Here is actually used the wide-angle lens da 117 ° and, like for videos in 1080p, stabilization is really good. Just a note: along the side edges of the video we see a distortion effect high, due to the software stabilization system that constantly adjusts the image. This type of problem, therefore, is not very pleasant to see when playing the video on TV or PC.
Audio
From the point of view audio this smartphone does not offer anything so exciting. There is no stereophonic system but all the power is released by the single speaker placed below. Although this component is equipped with Dolby Atmos technology, the quality remains mediocre when playing some music. All the lower frequencies, in fact, are almost completely non-existent, giving a sound that is not very full-bodied and intense. At maximum volume, however, the speaker does not distort and no audio disturbances are perceptible. With a couple of headphones well-made, then, you can enjoy a better quality, as you can also take advantage of the 3,5mm jack hole at the top. Moreover, among the many things, there is also the FM radio.
During the calls I never felt any problems in the capsule. For my part the perceived sound is excellent, being able to enjoy good conversations. Even our interlocutor, then, claims to always discreetly hear our voice, even in slightly more crowded places.
Autonomy
On this device there is space for a battery from 3.500 mAh. With such an amperage, therefore, I managed to cover an entire working day, collecting well 6 hours and 30 minutes of active screen, on a quasi basis 14 hours of use. However, I have not always achieved this result. I must admit, though, that even on the most stressful days I have always passed 5 hours of screen on. During the whole test period, then, I have always kept active all the sensors, including Bluetooth, GPS, Wi-Fi, LTE network and 5 well updated mailboxes.
Speaking of charging, on Motorola One Action we have the quick charge from 10W. This, however, did not particularly amaze me, given that a complete cycle (from 9 to 100%) is completed in a little less than 2 hours.
Conclusions & Price
This Motorola One Action is sold in two colors: Denim Blue and Pearl White. Taking a look at his list price, we see that this is equal to 289 €. It is therefore a fairly honest figure for what is offered, especially in terms of user experience.
With this device you won't have any reliability problem even in the most critical situations. To this figure, then, do not give up practically any important feature or function. If you are, therefore, looking for the average balanced smartphone range but still allowing you to take advantage of good photographic qualities (especially videos), this could be the right solution for you. It is not to be underestimated that, however, you could take this device with you even during physical activity, to resume your exploits. If it had been slightly smaller, however, it would have been perfect from this point of view.
279,99€
available
13 new from 223,00 €
3 used by 162,99 €

Amazon.it
International
Last updated the 10 / 12 / 2019 22: 06