For several years now Amazon offers the possibility for users to enjoy content - mainly e-books and TV series - directly from proprietary devices. In this sense, interface and method of use of Amazon Fire 2019 they are emblematic. We tested the device for you, find out how it performed in our full review.
Amazon Fire 7 2019 Review
Unboxing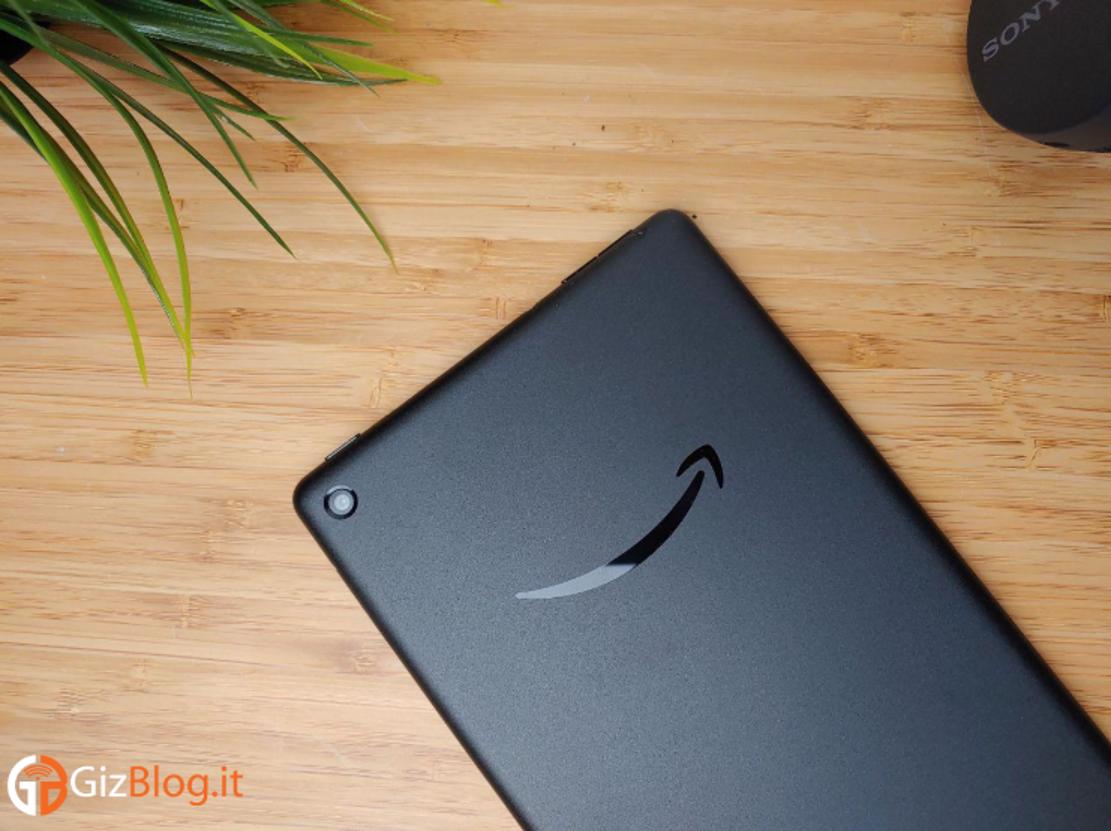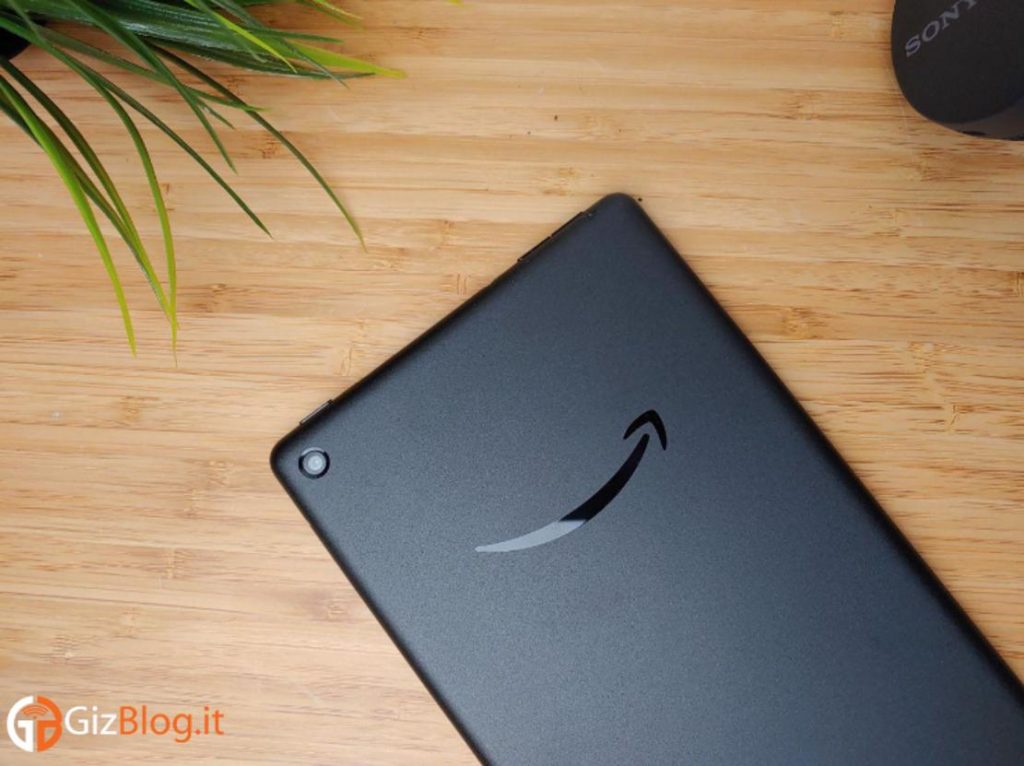 Il new Fire from Amazon comes in a particularly minimal packaging, in simple and compact cardboard: inside we find:
Amazon Fire 7 2019;
USB cable - micro USB;
Wall power supply;
Manuals.
Design and construction quality
The device is a basic product and this is evident right from the start with an aesthetic appearance. We find - in fact - a body completely in plastic, free of interruptions except for the upper frame that houses the ignition key, volume rocker, Micro USB and headphone jack.
The device - given the size of 192 x 115 x 9.6 mm - it is easy to hold and can also be used with one hand. A closer look dimensions and weight (286 grams) are very close to the latest generation smartphones. In this sense, in terms of usability and grip you will not have any problem. Although we are faced with an entry level device, the plastics are of excellent workmanship and particularly resistant.
We are therefore in the presence of a compact device, unpretentious and manageable. The only impact - negative - you will find it by looking at the display: the Fire 7 2019 still preserves an unsatisfactory screen to body report.
Display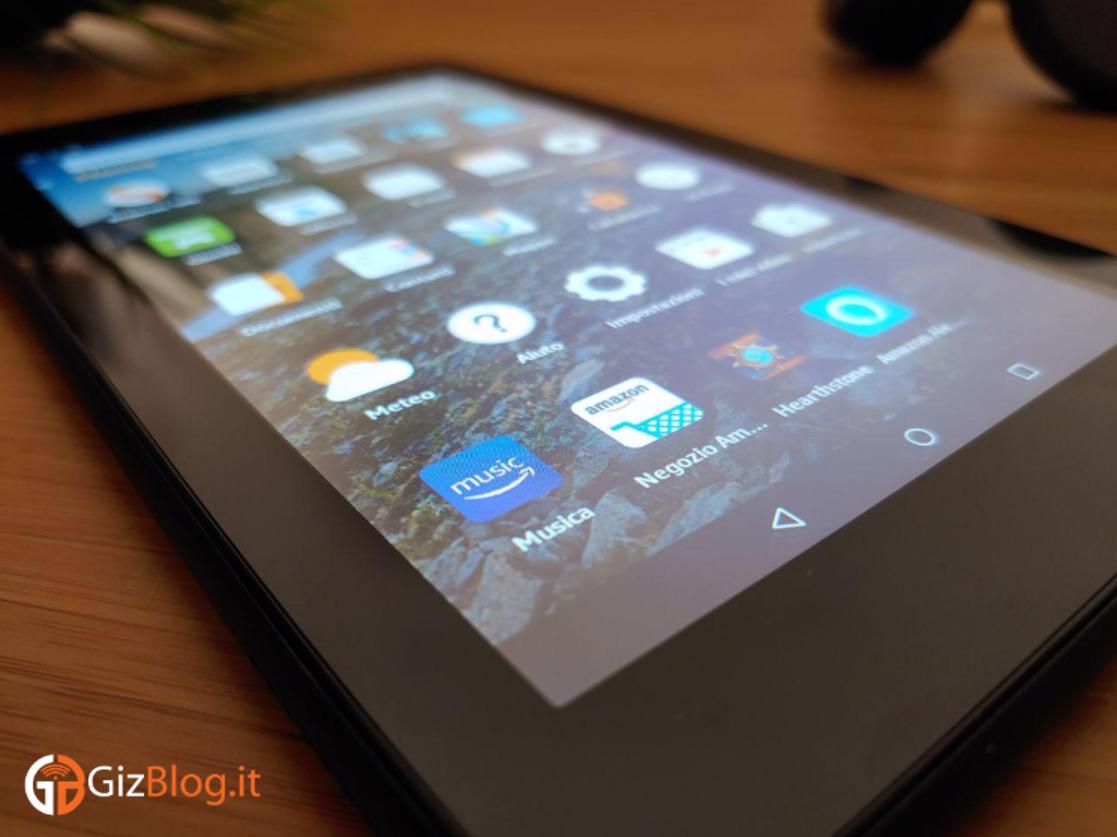 We repeat ourselves, Amazon Fire 7 2019 it is an entry level tablet and to remind us there is the display. We find an IPS unit from 7 ″ with 1024 resolution x 600 pixels (171 PPI).
Both qualitatively and quantitatively the panel did not surprise us positively. While having to think in a perspective of convenience (Fire 7 2019 is one of the cheapest tablets on the market), nowadays it is difficult to digest a display so little resolute, with little vivid colors and tending to cold.
In summary we find the classic defects, in some cases accentuated, of the IPS. The judgment, not really positive, regarding the display, is due precisely to the objectives of this tablet. In fact, we have a device that is not based on productivity, much less on gaming. This means we can use theAmazon Fire 7 2019 mainly to enjoy multimedia content such as movies, TV series and books and, in this sense, the display does not offer a big hand.
Hardware and Performance
Amazon Fire 7 2019 offers two configurations, from 16 or 32 GB, with expandable memory up to 512 GB and is powered by a Quad - Core SoC from 1.3 GHz, with GPU Mali-T720 and 1 GB of RAM.
With a hardware sector that isn't exactly attractive, you won't be able to explore all the potential of an Android tablet. From the gaming point of view, in fact, there will be several titles that you preclude: starting from the FPS up to games that are less expensive from a graphic point of view.
At the same time you can still take advantage of the tablet for what was conceived without too many hitches. You will have no problems enjoying video content, and we refer to the different streaming platforms as Netflix o Prime Video, or to read e-books. However, if your intention is to use the device to read books, a more reasoned choice will lead you to buy the Kindle, a product still unbeaten in this respect.
You can then limit yourself to using the Fire 7 2019 as a "familiar" tablet to consult content sporadically and let the little ones play: we are faced with a product that could be interesting to get closer to the world of tablets, precisely because of the low price and the support of Amazon.
Software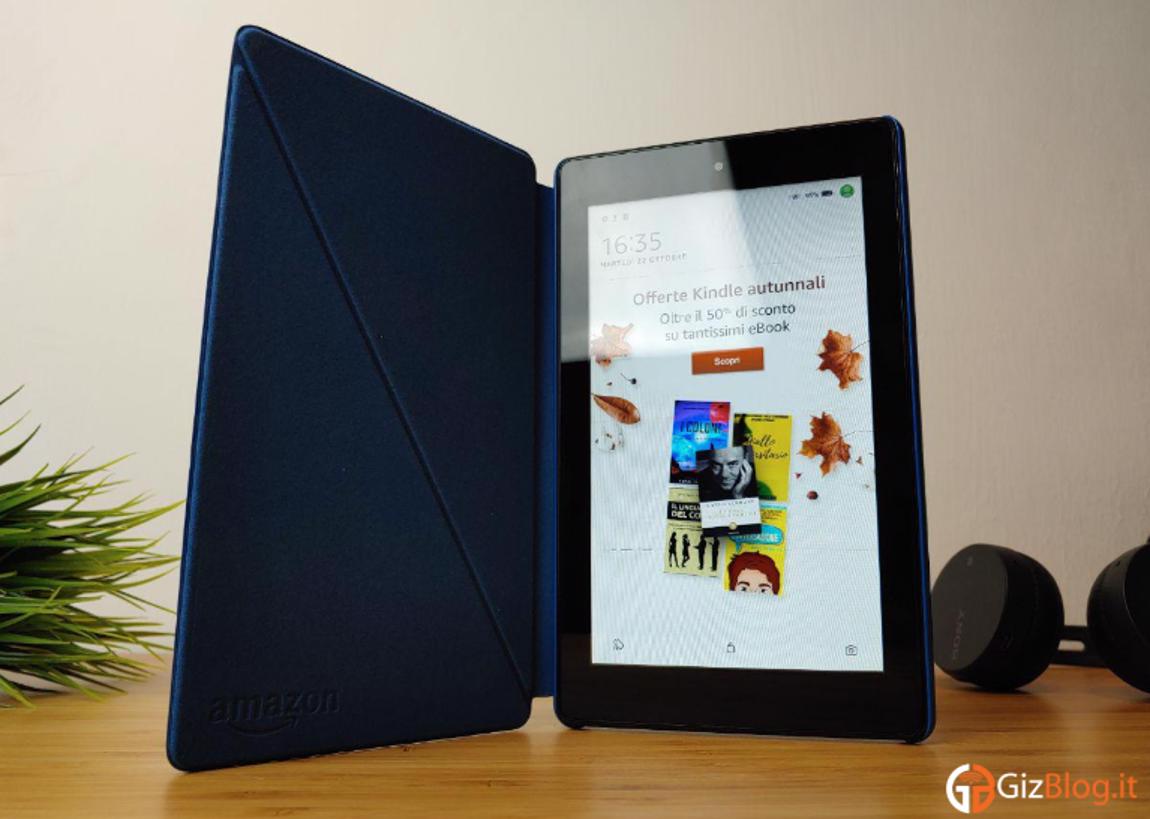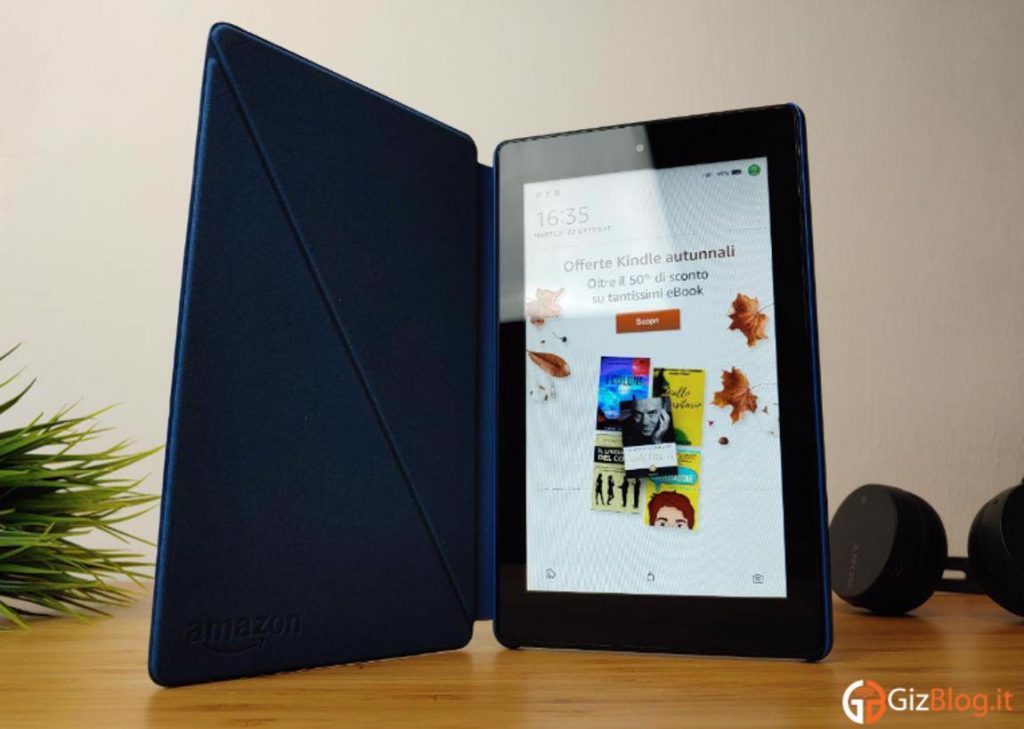 With Amazon Fire 7 2019 you will completely enter the world of Amazon. Although based on Android, Fire OS offers a completely different experience. You will not have the support of all the apps in Google but at the same time you will have a window open on the Amazon.it store, on the Kindle product library and on Prime Video.
As we have repeated many times, in fact, all the experience of use is focused on the use of multimedia content such as video and reading. At the same time you can download all the apps you want, using Amazon's own store.
In this sense we find a limit not just: if the most popular apps are present, you will not find support for others that - despite the volume of downloads - are crucial in everyday life. However, we are faced with a particularly intuitive and clean interface which, even in this case, favors the use of a novice audience.
camera
Also in terms of photography Amazon Fire 7 2019 does not offer particular cues. In fact we find a frontal room from XMUMX mega - pixel, as well as the back one capable of recording video in HD a 720p.
As you will have been able to understand and how you will be able to see yourself from the samples, the shots will not have a social use, but the cameras will be functional, for example, to Skype calls, Messenger and the like.
Returning to the purely technical aspect of the photographic sector, the device makes difficulties with macros and photos in low light situations, while it succeeds in discreetly reproducing (given the premises) images in situations of good brightness and at medium distance.
Autonomy
From this point of view we can distinguish a non-univocal behavior from the device. If - with constant use - the Fire HD has a good yield in terms of duration, even surpassing the 5 display hours on, the same cannot be said in the deferred use. This means that if you go to use the product a few hours a day it is possible that the product will be completely or almost completely on standby.
The loss of battery in the dead periods therefore remains a not negligible flaw since often the tablets are exploited just for a sporadic use unlike smartphones.
Price and conclusions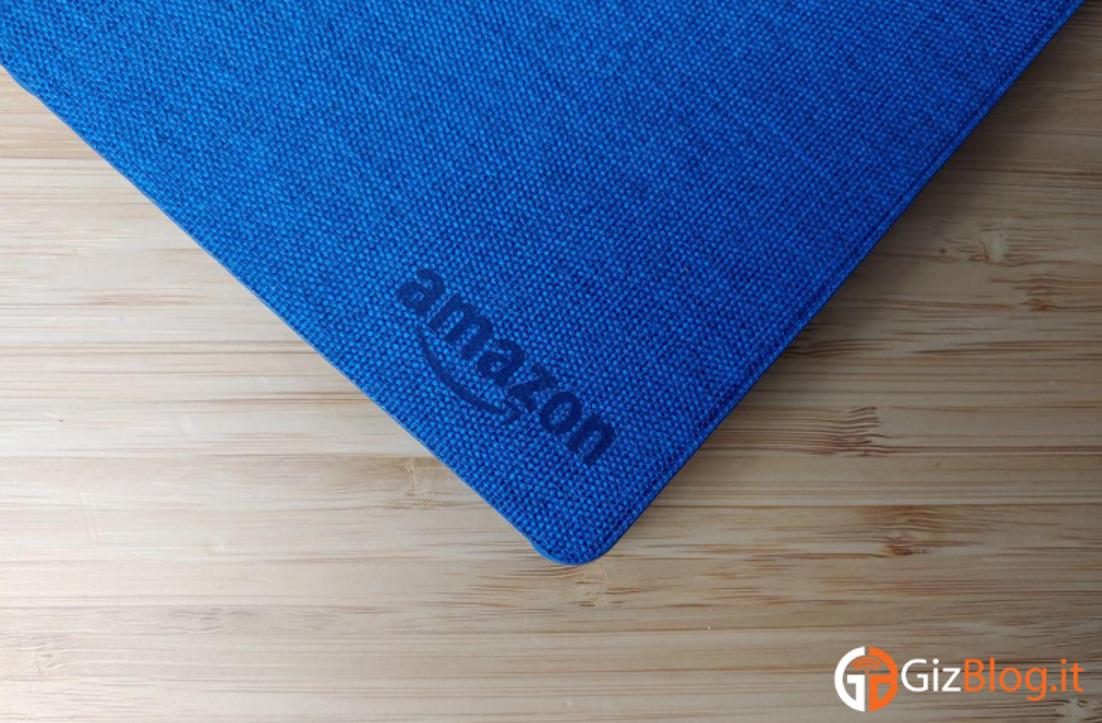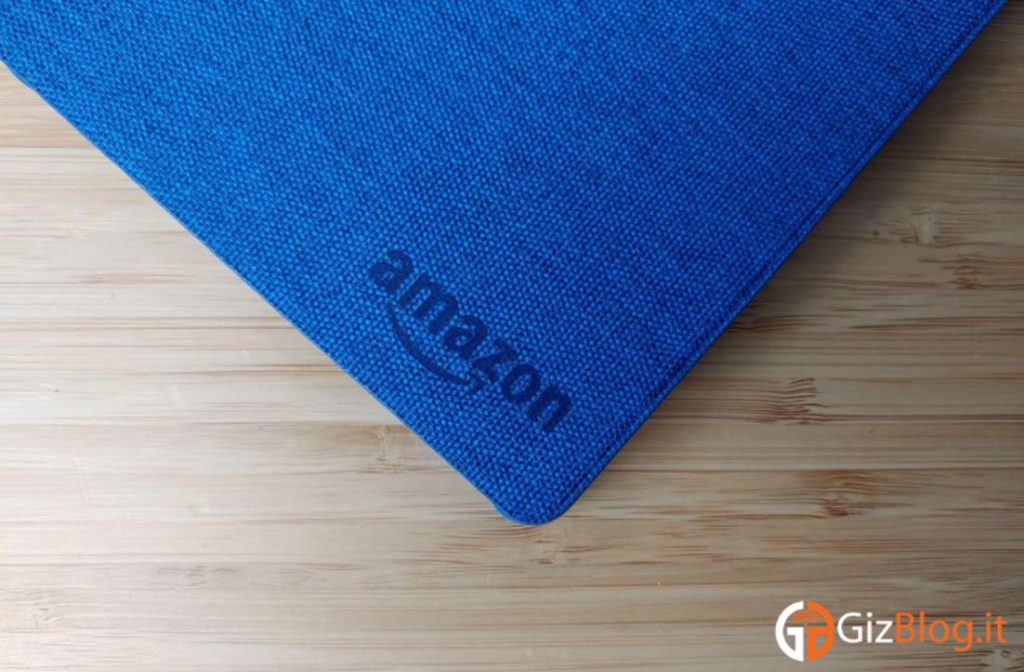 As always, one cannot draw the sums of a product regardless of the price. The cost, in fact, is precisely the highlight of this device: with solos 69 € in fact you can bring home a device that offers a series of basic functions in a satisfactory manner.
While not going too far with performance and yet offering a user experience inextricably linked to the Amazon ecosystem, Fire 7 2019 can be a great ticket to the world of tablets. In case you want to use such a device for the first time, or you don't have particularly onerous requirements, this device could be for you.
available
1 new from 69,99 €

Amazon.it
International
Last updated the 13 / 12 / 2019 17: 04
---
Do not miss any news, offer or review published on our site! Follow us on social networks to stay up-to-date in real time thanks to:
Offers Channel , News Channel, Telegram Group, Facebook page, Youtube channel and the Forum.