We salute the offer from 7.99 € with 70 Giga... and here it is Kena Mobile is already ready for new surprises thanks to the promo Kena 5.99 Flash, a complete package that targets Iliad, PosteMobile and various MVNO customers. Here are all the details and how to proceed with the activation.
Kena Mobile launches the new Kena 5.99 Flash promo, but only for Iliad, PosteMobile and other MVNO customers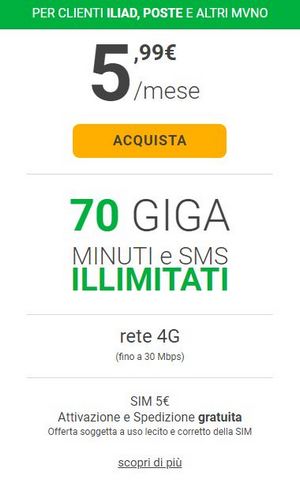 The promo Kena 5.99 Flash offers unlimited minutes to all national fixed and mobile numbers, SMS Unlimited and well Giga 70 of Internet traffic under 4G network at 30 Mbps, for only 5.99 € per month. However curb your enthusiasm, because it is an offer dedicated exclusively to new customers who carry the portability from Iliad, Poste Mobile, 1MOB, BLAD, BT Mobile Full, BTEM, Conad, Coop, Daily Telecom, DMOB, ERG, Fastweb, Green ICN, Intermatica, LycaFull, Mundio, Netvalue, Optima, Tiscali, Welcome Italia.
Click here to activate the new promo
There is no activation fee, but only the payment of the SIM and that of the first month of service. At the moment the virtual operator has not yet communicated a deadline to proceed with the activation, but if there will be any changes we will update the following article.
---
Do not miss any news, offer or review published on our site! Follow us on social networks to stay up-to-date in real time thanks to:
Offers Channel , News Channel, Telegram Group, Facebook page, Youtube channel and the Forum.