How many times did you happen to do a journey in another country and forget about the fact that this could have different outlets from the Italian ones? In that case the only solution is to run to the nearest supermarket and buy a compatible adapter. In today's review, however, I want to talk to you about EVO, or a decidedly compact power supply that integrates different types of sockets, which are compatible in approx 157 countries. So let's not lose ourselves in further talk and let's analyze it together in our complete review.
Review EVO
Unboxing - EVO
The sales package is made of simple cardboard and inside we find only the power supply EVO and a small instruction manual.
Construction, dimensions and operation
The brand baptizes EVO like theWorld's smallest travel adapter. In effect, calculating that it integrates several sockets and that it has a maximum power of 12 Watt, this power supply has rather small dimensions, or rather, practically identical to those of a normal charger. More in detail we are talking about approx 20.3 x 30.5 x 69 millimeters for a weight of just 50 grams. This will allow us to insert it even in the pocket without feeling particularly cluttered.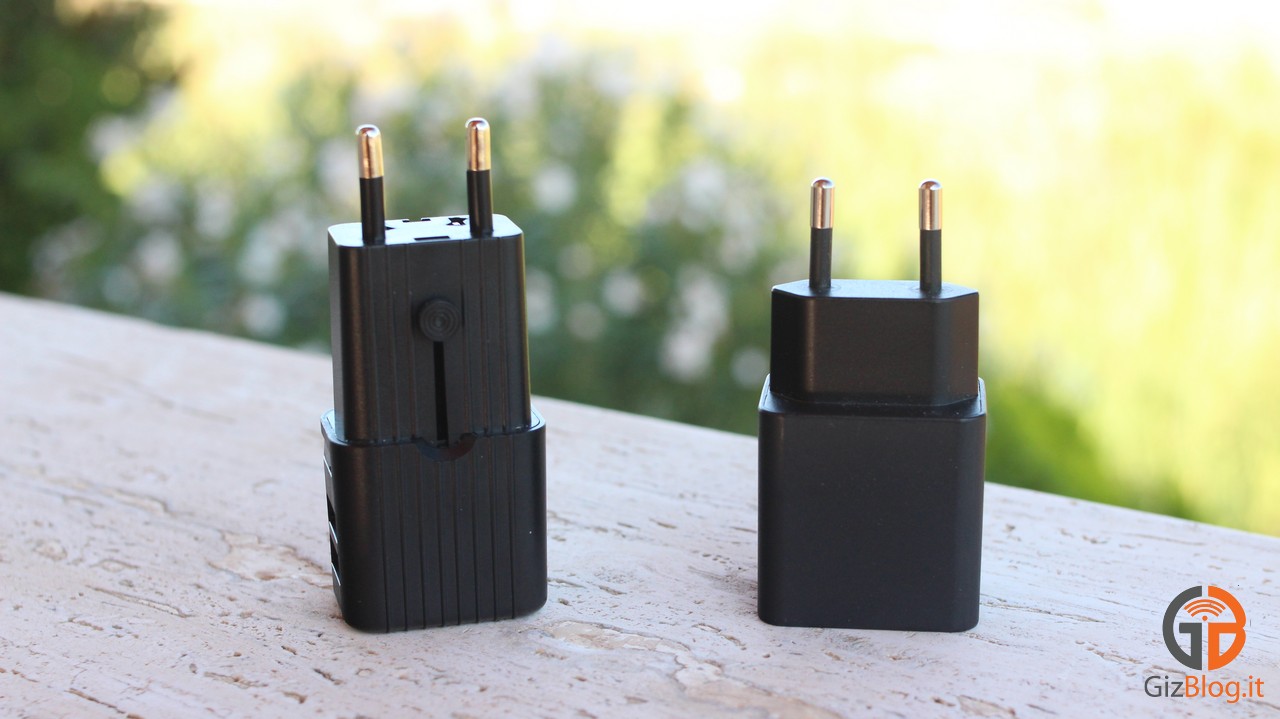 Furthermore, EVO it is made of rigid plastic apparently of good workmanship and resistant to shocks and overheating. I don't like it at all design, which is characterized by streaks along the whole body. Apart from that I must say that it is rather functional because there is a removable part that must be added to the base to ensure compatibility with the British outlet, while taking it US becomes compatible with that Australian simply by rotating the metal pieces.
In short, there is not much to explain, the use is very simple and will allow you to avoid carrying bulky adapters.
As for the refill we have two USB inputs for recharge two devices simultaneously and maximum and total power it is in 12 Watt. I must say that as far as the timing is concerned I have not encountered any problems or slowdowns when we load a single device, as the times of similar power supplies are respected.
conclusions
In conclusion EVO turns out to be aexcellent alternative to the many travel power supplies present on Amazon, especially if you think that it is possible to insert it even in your pocket.
Il pricehowever, it is slightly higher than its competitors that maybe they offer more power and more USB ports, because this is available on the official website a dollars 25, or approximately 22 €. In short, if your goal is to buy the most portable device there is then it could be the perfect product for you.