After reviewing the true wireless free headphones, let's talk about the EarFun brand and do it with one Bluetooth speaker. I refer to EarFun uBoom, one of the many proposals in the sector that can be found on the net. Will it have characteristics and qualities capable of making it stand out from the crowd? Let's find out in this review.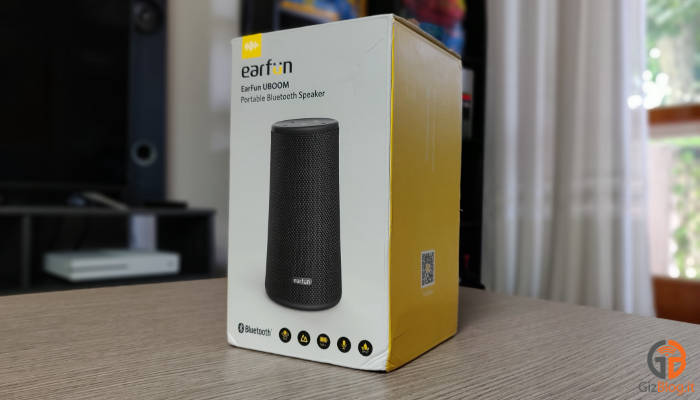 EarFun uBoom Review
Design and build quality
The shape adopted for the construction of the EarFun uBoom recalls that seen with theAnker SoundCore Flare + and with various other models of this type. The cylindrical look enlarged to the base I do not mind at all, although not really original, and provides a certain stability. Furthermore, the fabric texture gives the whole a more refined touch, although it may be a little more prone to get dirty.
With dimensions of 16.6 x 7.3 mm (8.8 mm at the bottom where it widens) and a weight of about 580 g is quite portable as a Bluetooth speaker. To facilitate this there is also a fabric eyelet, whose yellow color gives a minimal color tone. I would have preferred, however, that this hook was wider, allowing it to be hung even on thicker holds. A bonus offered by EarFun is certification IPX7, allowing an immersion in water up to 30 minutes at a depth of 1 meter.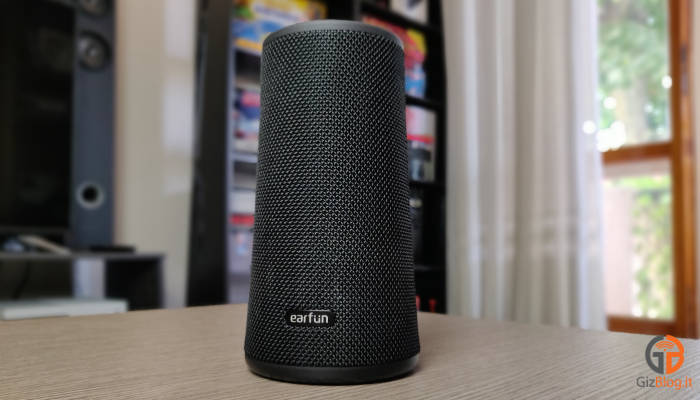 Both below we find a rubberized section that detaches from the fabric all around. Above we find i multimedia commands, slightly raised. In addition to the central Power button, including a status LED, we have the Volume +/- buttons, the Play / Pause button (double / triple click to go to the next / previous track) and the Outdoor button. The latter serves to optimize the outdoor sound, theoretically raising the volume. In reality the only apparently audible effect is the cutting of low frequencies, with a gain of almost nothing in decibels.
Connectivity and audio quality
Fortunately the EarFun Boom speaker also enjoys the latest connectivity Bluetooth 5.0, with a very good signal coverage, a very fast pairing and above all no lag in video playback. On the back, under the rubber stopper for waterproofing, there is also an entrance mini-jack, if you prefer to use it in a wired way. Even the telephone compartment, returning a microphone audio comparable to a hands-free smartphone. Wanting it is also possible pair two EarFun Booms to have an even more surround sound experience.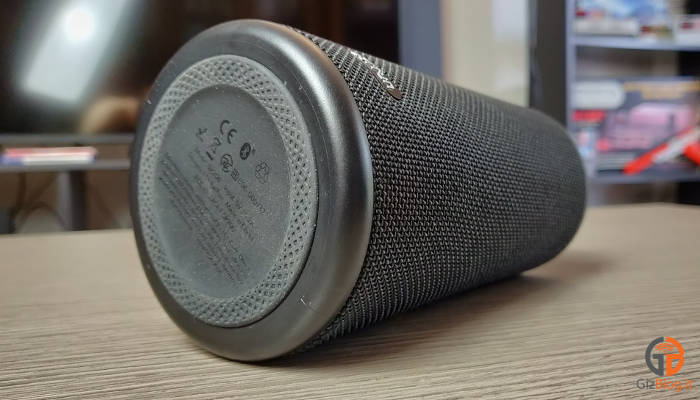 The most appreciated feature of this EarFun Boom is undoubtedly the360 ° audio managed by the DSP algorithm. A truly omnidirectional output, since turning it you don't notice a directional propensity of the integrated speakers. Inside there are two drivers from 45 mm, coupled with two passive radiators at the bottom charged with managing low frequencies.
And in fact the sound that comes out of it denotes a certain body in the low range of frequencies, although within the limits of a product of this size. The reproduction of the mids does not shine particularly, leaning for an equalization that favors low and high, even if it is not too unbalanced.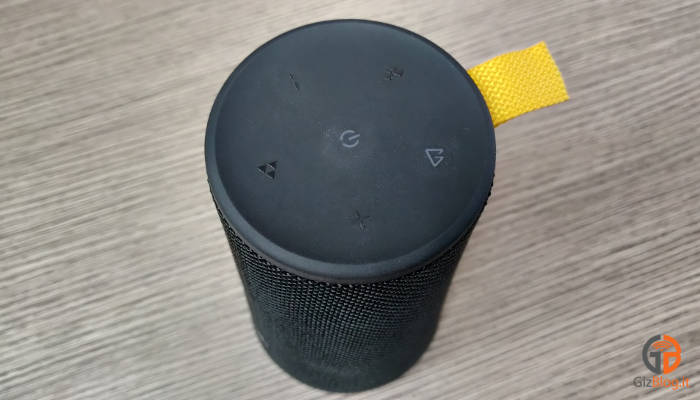 Battery
Inside the EarFun Boom there is a decent battery from 4400 mAh , able to restore overall autonomy around 15 hours. In these days of trial I found myself having to load it only twice, so nothing to say from this point of view. This happens through the door USB Type-C, using around 4 hours to return from 0% to 100%.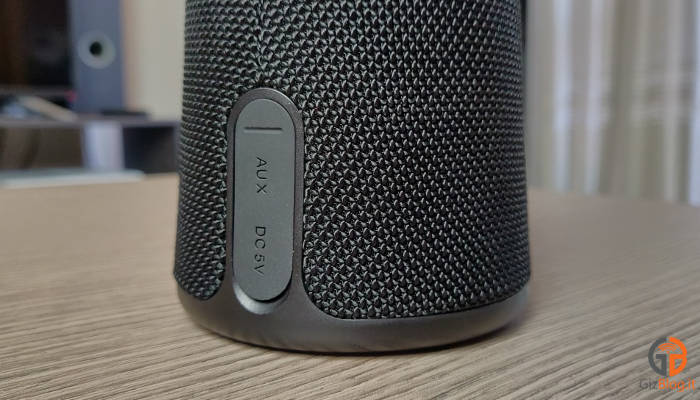 Conclusions and price
What plays not exactly in favor of the EarFun Boom is the not exactly cheap price, as long as it offers a good all-round package. Currently you can find it on Amazon for around € 65, but there were times when it cost around € 55, a price I can recommend to evaluate a possible purchase.
available
1 new from 65,99 €

Amazon.it
International
Last updated the 23 / 01 / 2020 09: 37
---
Do not miss any news, offer or review published on our site! Follow us on social networks to stay up-to-date in real time thanks to:
Offers Channel , News Channel, Telegram Group, Facebook page, Youtube channel and the Forum.