Nowadays many brands consider it essential wireless charging on your own top of the range, for this reason accessories manufacturers try to offer more and more solutions to users in the context of this technology. Leaving aside the home or office, the machine it is the place that is usually frequented most often, which is why there are many wireless car power supplies currently available on the market, some more expensive and complex, while others are cheap and very slow. In today's review we will explore the first category with the ROBOQI 1, so let's not lose ourselves in further talk and find out how he behaved during our tests.
ROBOQI 1 Review
Unboxing
The sales package is made of simple cardboard with a not particularly attractive design. Inside we find the following equipment:
ROBOQI 1;
wireless base;
support with suction cup;
support for air conditioning nozzles;
car power supply with Quick Charge 3.0 and alternative USB input;
USB cable - USB Type-C;
instruction manual.
Design and construction
Il ROBOQI 1 owns a design rather simple, but pleasant. The wireless base has a automatic mechanism in which, once the smartphone is placed on a small lever, the vice will close by itself. Similarly, when you are about to take the device, it will open by itself.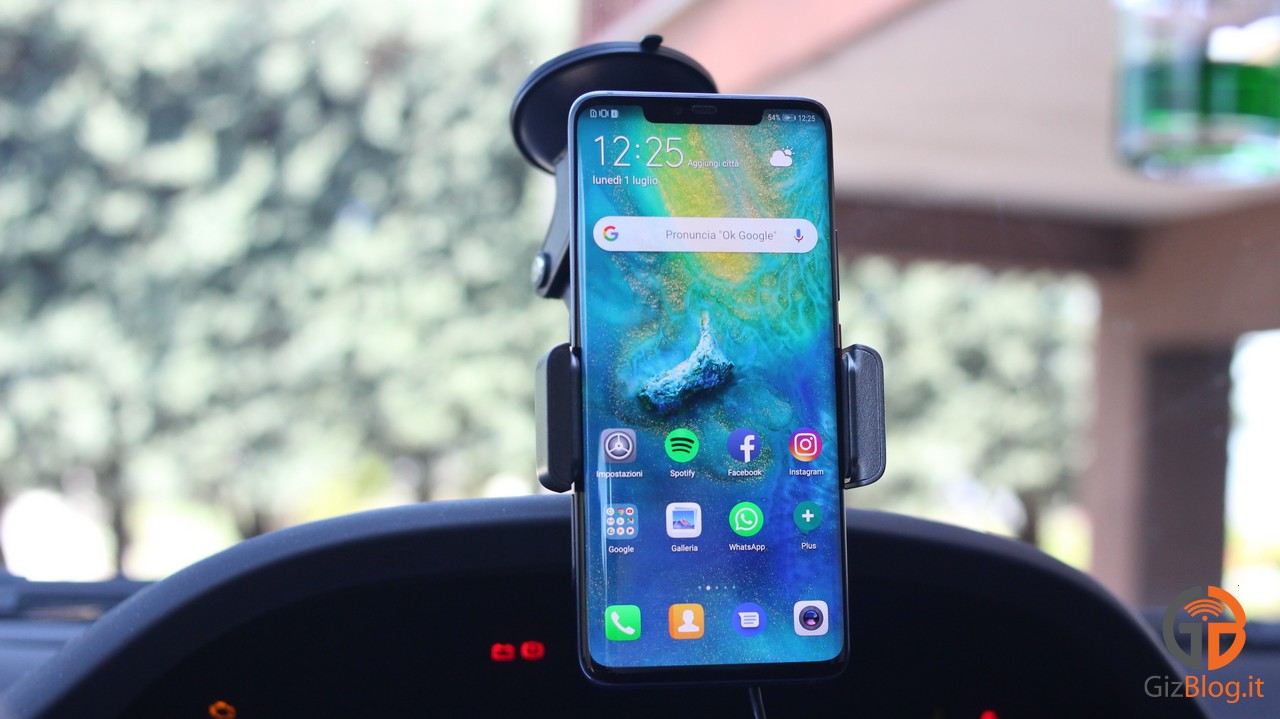 La sucker è very good, it has a slightly sticky surface which increases its grip on the glass, so the support will remain firmly in place even with more damaged roads. The braccioit can also be adjusted on several fronts and this makes it very comfortable. Alternatively, we have the support to attach to the air inlets and this too remains firmly in place and is resistant. However, I would have preferred there was a block in the lower part to prevent the smartphone from sliding down.
In short, in terms of construction, materials and functionality, this ROBOQI 1 it is a very valid product.
Finally, on the lower profile we find a status LED and the USB Type-C input.
operation
The wireless base, of course, will have to be constantly fed to work and to do so we have the car power supply with QC 3.0 that must be inserted in the cigar holder, or we can use a normal Type-C cable with wall power supply if we intend to use it at home, although this is not the purpose for which the ROBOQI 1.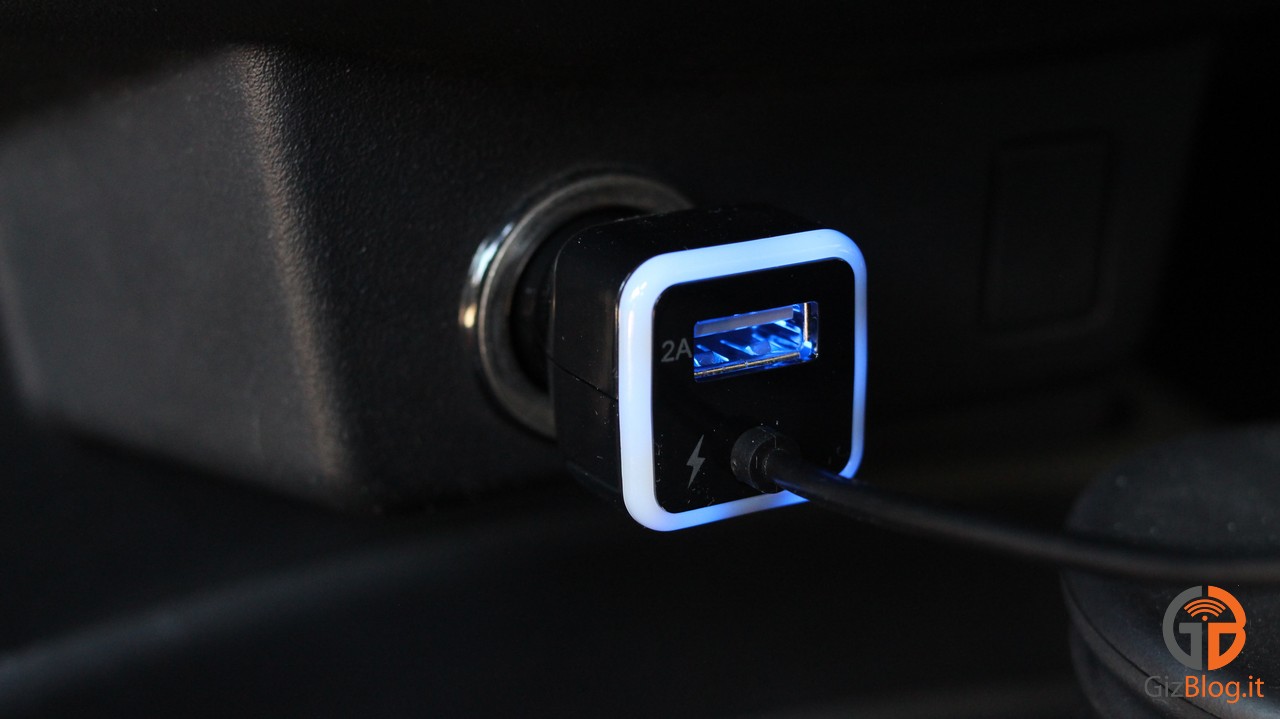 La recharge will start as soon as we turn the key to the first click, so even without the ignition on, and basically it has amaximum output to 10W. Tuttavia, it is not supported with all smartphones, but only with some and this means that for others the top-up will be very slow. More in detail i iPhone are reloaded at 7.5W, while all the Samsung a 10W. The downside is that by performing the tests also with Huawei Mate 20 Pro one is found incredible slowness. Indeed, in 3 hours the smartphone only loaded with the 50%.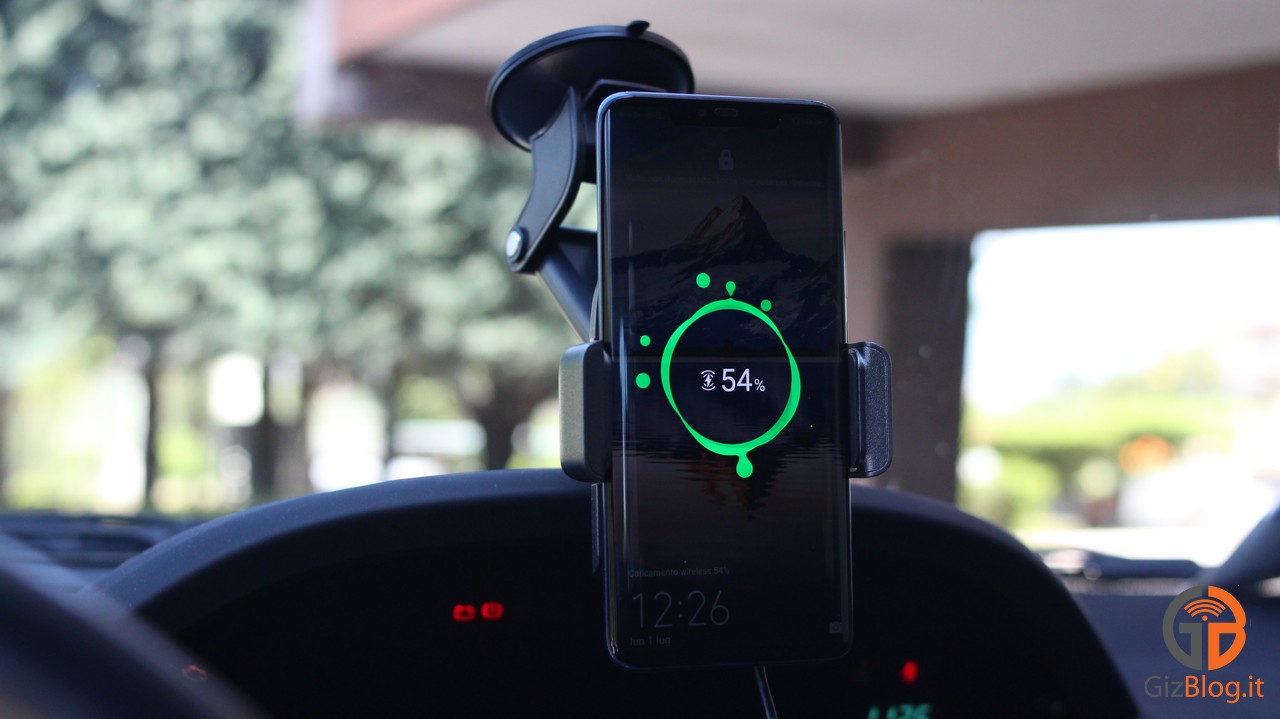 Tests performed with smartphones at home Apple (iPhone 8 more in detail) have returned us some not so exciting results, but in the average for a wireless recharge to 7.5W, as in an hour we have passed from 0 to 30%. The full recharge takes place in little more than 3 hours.
This makes us understand that a power supply of this kind can be very useful only if you travel long road sections and if there is therefore a long stay in the car, as if you move for the maximum 15 / 30 minutes we will manage to give life to the smartphone if it is completely unloaded.
This does not mean that the support è comfortable if you need to use Google Maps all day (taxi, Uber, Bla Bla Car etc ...) and therefore could be a great tool to use for work.
Finally, I want to point out that the phone will tend to warm up a lot during the recharge, but I also want to specify that the tests were carried out in the middle of summer and therefore the external temperatures could partly have affected the final result.
conclusions
In conclusion ROBOQI 1 is available on the official website a dollars 29, so about 25 €, a sum all in all economic for a wireless power supply with two very good supports. However, I do not recommend it to everyone, but only to owners of Samsung, iPhone or device owners with QC 3.0 certified, as for others the recharge is decidedly too slow.
Finally, you will find the ROBOQI 1 also on Kickstarter.