In these hours the scam on behalf of Aruba and the famous web hosting site, domain names and e-mails - which have nothing to do with mailings - is once again targeted by phishing. If you have received the message "Renewal problem" be careful because this is the usual phishing attempt against less savvy users!
Fraud in the name of Aruba with email "Renewal problem": a problem already addressed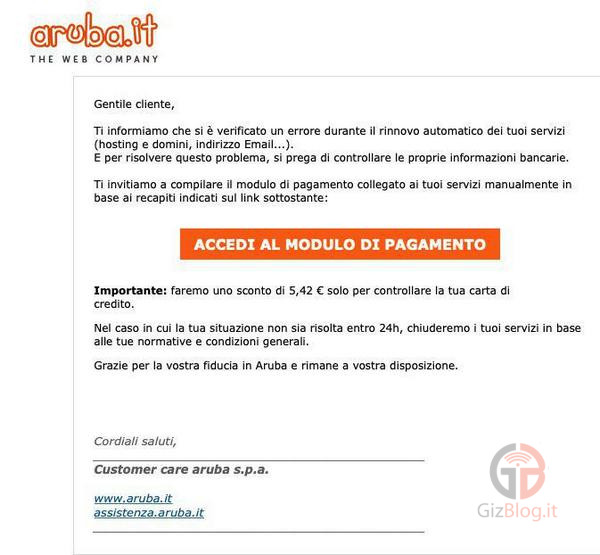 In these hours one is peeping e-mail signed Aruba, sent by mail address comunicazioni@assistenza-aruba.it. The object is "Renewal problem" followed by a number and - as shown in the image above - refers to an alleged error during the automatic renewal of the services offered by the portal. Everything refers to a payment form in which to insert your own banking data, even with the promise of a discount of 5.42 €. We are facing the umpteenth Aruba scam, so don't absolutely click on the link in the email!
ALSO READ:
Mevostore scam: fine from 300.000 € by the Antitrust Authority
This is a link to a fake page and once the required data has been entered, these will be in the hands of the bad guys who organized the scam. Being bank data and credit cards (explicitly requested), the matter is particularly serious. As the more experienced users well know this is a phishing attempt, a common practice on the web and an attempt to work with the sensitive data of the unfortunate pretending services and rewards, exploiting names of known brands.
ALSO READ:
Poste scam: pay attention to the SMS "We have suspended its postal services"
Be careful when receiving e-mail and SMS of this type and always remember that companies contact their customers only through official and authorized channels.
---
Do not miss any news, offer or review published on our site! Follow us on social networks to stay up-to-date in real time thanks to:
Offers Channel , News Channel, Telegram Group, Facebook page, Youtube channel and the Forum.