In recent years we have seen flourish Instagram Direct, the social photo messaging app, separate from the main application in order to offer a "clean" experience to its users. At this time, Direct has been enriched with features (such as voice messages e group video chats) but nothing is served and the app will close its doors over the next few weeks.
Instagram Direct is ready for the farewell but don't worry: the messaging will return to the main app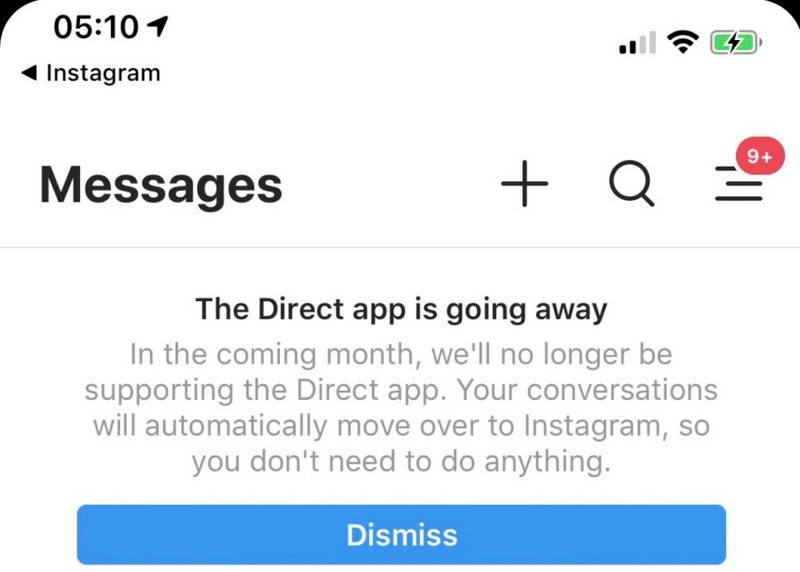 The confirmation comes from the same software, via a message announcing the closure of I soon. Unfortunately, Snapchat's rival did not work and the company decided to focus exclusively on the main app, implementing all messaging features there.
ALSO READ:
TIM, Wind, Tre and Vodafone remodulations: rain of criticism from the CEO of Iliad
Things did not go as hoped and Direct it has never managed to win the hearts of users despite the continuous updates and improvements introduced by the 2017 launch to date. Actually Instagram it is certainly not famous for messaging (for this, Facebook already has very effective Messenger and WhatsApp), so it makes sense to continue offering the same features directly in the main app (very solid and used daily by millions of users).
The final farewell will arrive in the next month: will you miss Direct for Instagram or will you stay warm?
---
Do not miss any news, offer or review published on our site! Follow us on social networks to stay up-to-date in real time thanks to:
Offers Channel , News Channel, Telegram Group, Facebook page, Youtube channel and the Forum.