Born as a category in some ways ambiguous for its usefulness, gaming smartphones are slowly making headway in the market. Currently the two main exponents of this new trend are Razer Phone 2 e ASUS ROG Phone, already tested previously but I decided to compare alongside the first Black Shark of Xiaomi. What will be the most convincing model in general but above all the one most suitable for those who want to play with it in the first place?
Razer Phone 2 vs ASUS ROG Phone vs Black Shark
Unboxing and accessories
The range of accessories is more than relevant when it comes to gaming smartphones. From this point of view theASUS ROG Phone has the upper hand, since it offers the package AeroActive Cooler, the not indispensable but appreciable cooling fan.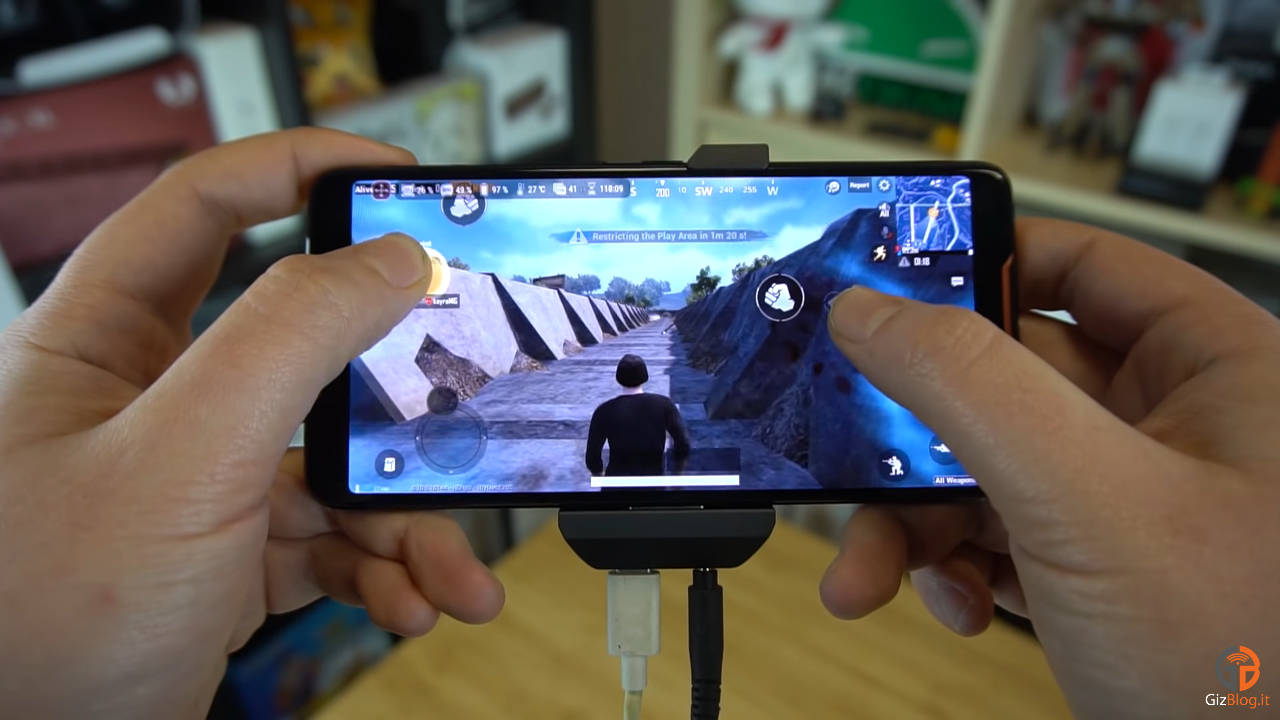 Il Black Shark, in addition to protective bumper, has an accessory in my opinion more useful to have in the package, or the GamepadHowever, it is not always sold in bundles and it may happen that you have to buy it yourself. The worst in this respect is the Razer Phone, whose packaging has standard equipment, although it is well made as materials.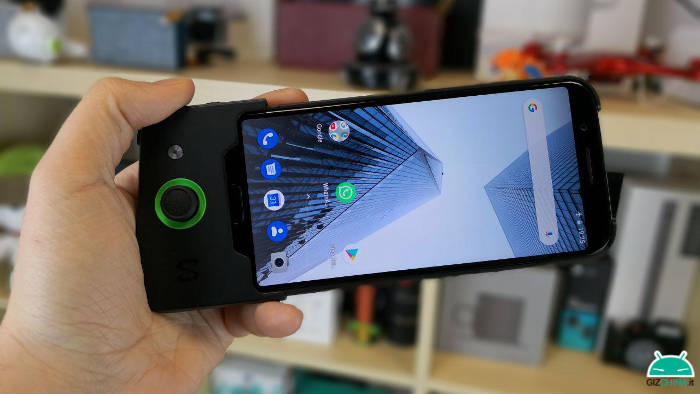 If we consider the accessories ecosystem, the "winner" is undoubtedly ASUS ROG Phone, with several options available that are really interesting (but also expensive) to match, sold separately. Also Razer Phone 2 has additional accessories, such as the wireless charger with RGB LEDs, although they are more generic than those with ASUS labels.
Design and construction quality
All three models under analysis carry on a similar but different aesthetic philosophy. Looking at them side by side we see a certain "evolution", starting from the most striking Black Shark up to the more sober Razer Phone 2, with ASUS ROG Phone which stands in the middle. And it is the latter that I prefer visually, with Black Shark a bit "toyish" and Razer Phone 2 too minimal. But if what you want is the RGB LED you will be satisfied anyway, even if on Black Shark it is not configurable as on the other 2.
Black Shark: 161.62 x 75.4 x 9.25 mm - 198 g
ASUS ROG Phone: 158.83 x 76.16 x 8.65 mm - 211 g
Razer Phone 2: 158.5 x 78.99 x 8.5 mm - 220 g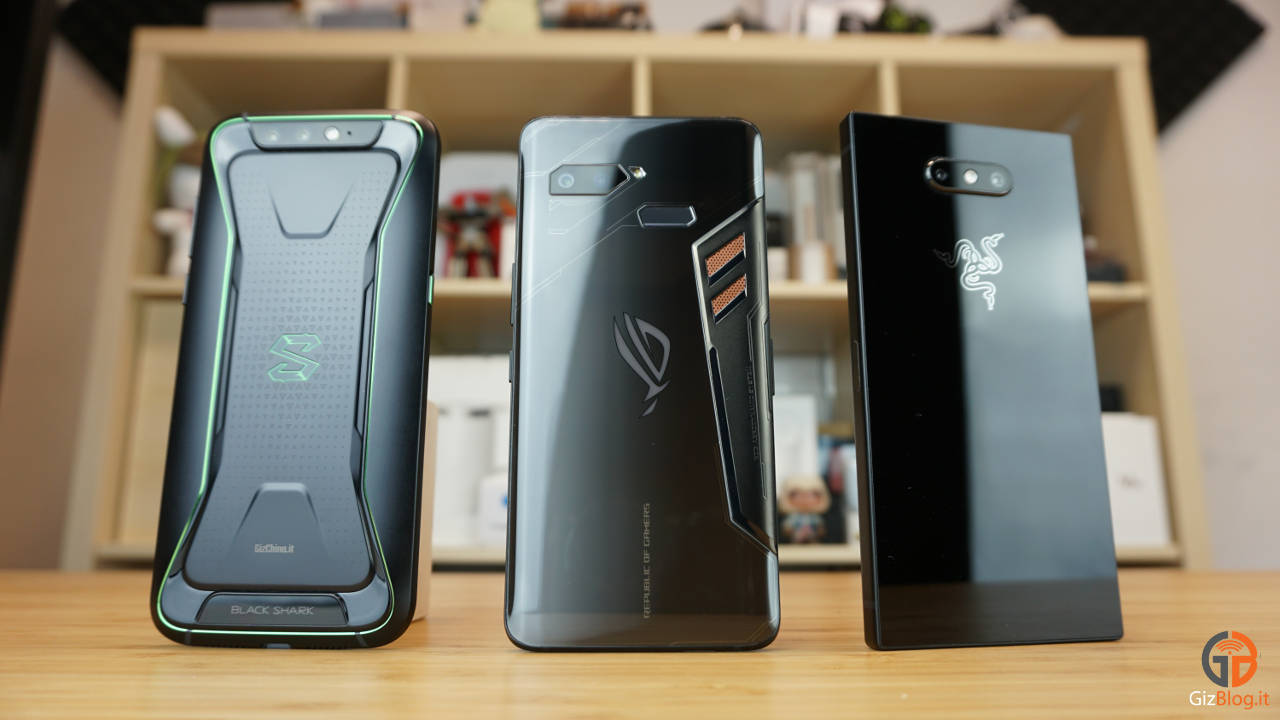 Ergonomically speaking, on paper the best is Black Shark, thanks to its smaller size and weight, but is at the same time the most slippery. The Razer Phone 2 it is undoubtedly the most inconvenient, both for weight and width, while ASUS ROG Phone is placed in the middle. At the same time, the Razer has a more angular profile that is comfortable when playing with the smartphone horizontally. However, the volume keys are uncomfortable, as they are too small and not very tactile, but the certification IP67 don't mind at all.
As for the release of the device, instead, the best is the Razer Phone 2, with a quick and effective side ID sensor. Different solutions for ASUS, with a reactive rear sensor but positioned a little too high, and Black Shark, with a good front sensor. But know that on the Razer the face recognition is absent, as well as a front notification LED (only the rear RGB logo can be used).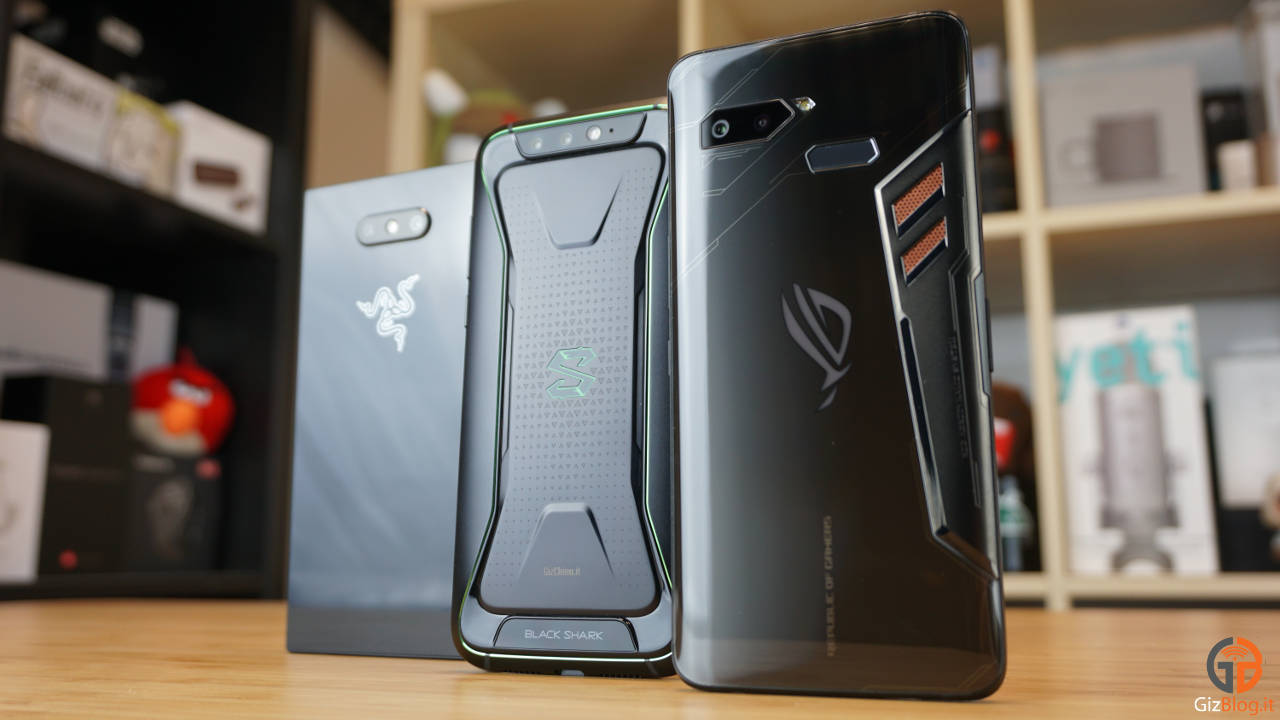 Display
On a qualitative level, the panel that has less convinced me is that of Razer Phone 2. Starting from the form factor in 16:9, which makes it unnecessarily wide, and a diagonal from 5.72 " in a body practically equal to the two rivals who, however, enjoy a greater diagonal in 18: 9. And the adopted LCD technology results not very bright and with slightly bright colors. Without considering the anti-aesthetic black bands all around, as well as the resolution Quad HD which comes at the expense of the battery without giving obvious advantages.
Black Shark: IPS 5.99 ″ Full HD + (2160 x 1080 pixel) - 403 PPI
ASUS ROG Phone: AMOLED 6 ″ Full HD + (2160 x 1080 pixel) - 402 PPI - Gorilla Glass 6
Razer Phone 2: IGZO IPS 5.72 ″ Quad HD (2560 x 1440 pixels) - 513 PPI - Gorilla Glass 5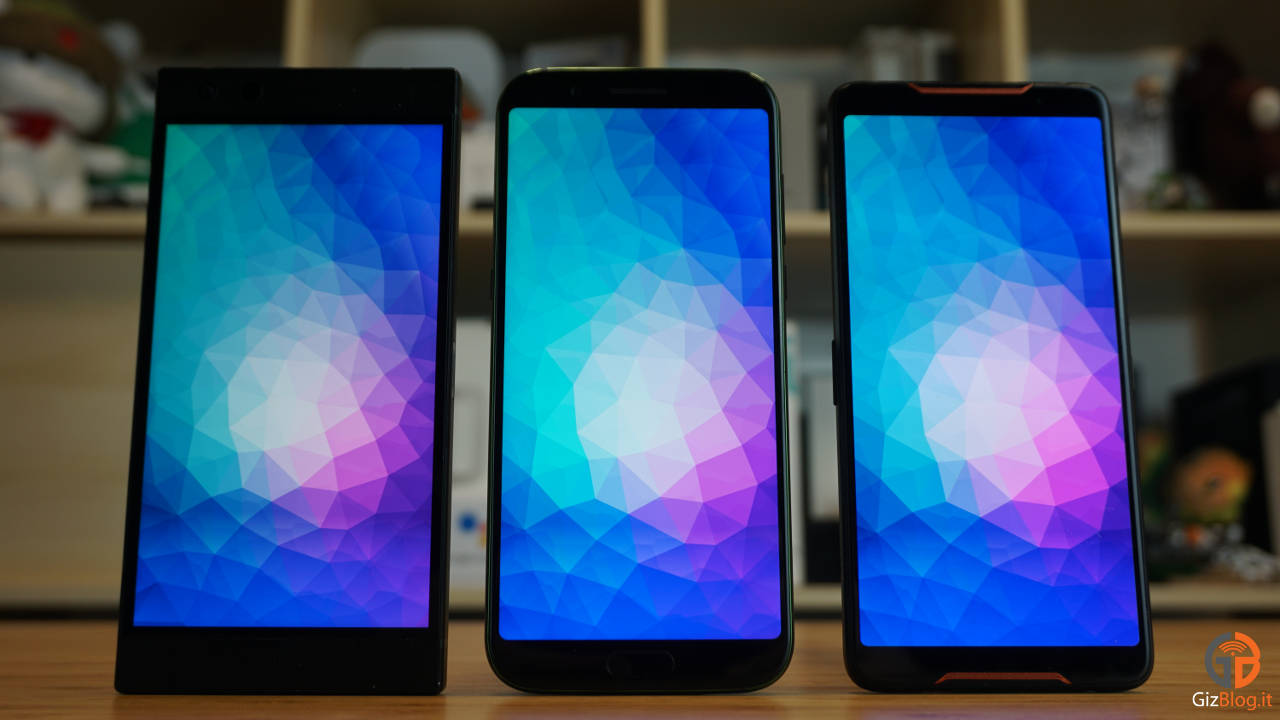 To be IPS is also the Black Shark, which, however, enjoys one more optimal calibration, with good contrast, vivid colors and adequate brightness. But you want for the AMOLED technology, or for the software calibration, it's the screen of theASUS ROG Phone to have the upper hand. The blacks are deeper, the contrast is higher and there is an Always-on mode (albeit without notifications) and a Dark Theme.
But if we move on to the more "gamer" aspect, then the situation changes. Having a higher refresh rate means better responsiveness, especially in FPS. And if Black Shark doesn't stand out with its standard 60 Hz, ASUS ROG salt a 90 Hz, with Razer Phone 2 so far pegged with his own 120 Hz. The visual difference between Black Shark and ROG is practically the same as that between ROG and Razer Phone 2: the higher the frequency, the better the "buttery" effect during scrolling and content enjoyment.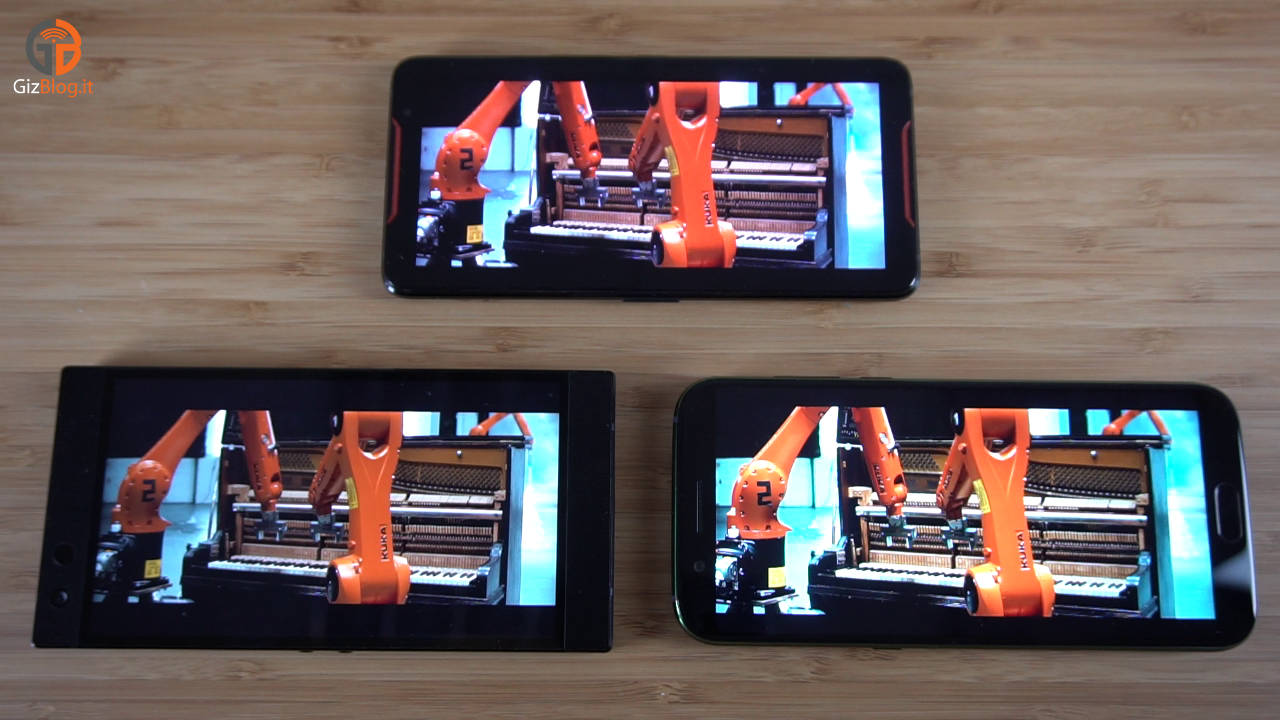 hardware
On paper there is no difference (separate memories) between the three contenders for the throne, being based on Snapdragon 845 of Qualcomm.
Black Shark: Snapdragon 845 - Adreno 630 - 6 / 8 GB - 64 / 128 GB
ASUS ROG Phone: Snapdragon 845 - Adreno 630 - 8 GB - 128 / 512 GB
Razer Phone 2: Snapdragon 845 - Adreno 630 - 8 GB - 64 GB + microSD
But you know, the performances are the result of a choral work by the various sectors that form the device. And I must say that in general use the display UltraMotion a 120 Hz of the Razer Phone 2 has an edge in making everything more fluid. Side memories the basic variant of ROG Phone part from 8 / 128 GB, probably the best cut, as the 8 / 128 GB variant of Black Shark costs less. Unfortunately the Razer Phone 2 it only has 64 GB, easy to saturate when you install so many games. It is however the only one of the 3 to have the support microSD.
To analyze in-game performance I used the app GameBench, taking as a reference one of the heaviest and most widespread games, or PUBG. Nothing to do with Fortnite, since the game doesn't run if USB Debugging is active, a necessary parameter to use GameBench. Strange as it may seem, the performances found are almost identical. With settings set to prefer frame rate, or graphic "Smooth"And frame rate"Extreme", The terminals run on 60 FPS, while setting the graphics to"HD / Ultra"Run at 40 FPS. However, in the latter case the difference in refresh rate between the Black Shark panel and that of Razer and ASUS is more pronounced.
Benchmark
Razer Phone 2
ASUS ROG Phone
Black Shark
Software
At the release level, the most up-to-date is undoubtedly Razer Phone 2, recently updated Android 9 Pie with February 2019 patch. The other two models are still at Android 8.1 Oreo, with Black Shark with December 2018 patch and ROG Phone stopped at the August 2018 patches, although ASUS has confirmed Pie's arrival. As an interface, I continue to prefer the cleaner Razer, with the implementation of the always welcome Nova Launcher Prime, customized ad hoc for the occasion. Too aggressive, on the other hand, the ASUS and Black Shark themes, as long as an alternative launcher is enough to solve.
That said, come on Razer Phone 2 there is the app Cortex: in addition to an incomplete list of titles compatible with 120 Hz, from here the Game Booster suite is managed, through which you can adjust the Do Not Disturb mode, the Energy Saver profiles and adjust the in-game settings related to CPU frequency, resolution display, refresh rate and anti-aliasing. By the way, by activating the Developer Options you can also activate FPS on screen.
Su ROG Phone there is the equivalent Game Center, more aesthetically appealing but above all richer in functions. In addition to the same regulations offered by Razer here we can also exploit Game Genie, an in-game bar that shows in real time the FPS, the percentage of CPU and GPU usage, the internal temperature and the battery performance. With Game Genie it is also possible to do live on YouTube and Twitch taking advantage of the selfie camera. But that's not all: you can even create Macros by recording the actions on the display and repeating them automatically, even if it's a bit like cheating, in some ways.
Su Black Shark instead there is the However Game, a curtain that sincerely offers too basic functions, such as the activation of the Do Not Disturb mode, Eye Protection and little else.
Photo / video quality
Black Shark: 12 + 20 mpx - f/ 1.75-1.75 - PDAF autofocus - LED flash
ASUS ROG Phone: 12 + 8 mpx - OIS - f/ 1.7-2.0 - PDAF autofocus - LED flash
Razer Phone 2: 12 + 12 mpx - OIS - f/ 1.75-2.6 - Dual PDAF autofocus - dual LED
The less sensible dual camera of the trio is that of the Black Shark, exploited solely for the bokeh effect but with equal or worse results than the competition. With Razer Phone 2 we have a more comfortable telephoto (although not stabilized) to zoom without losing detail and the quality difference is clearly visible. But I still prefer a sensor wide-angle lens such as that of ASUS ROG Phone, more fun to use although quite situational.
Among the 3 models, the one that least convinced me was Black Shark, whose AI algorithms push excessively on increasing contrast and distorting colors. The shots taken with Razer Phone 2 are more enjoyable, although not constant depending on the circumstance. While not excelling, ROG Phone proved to be the most solid, both day and night, especially in shots in contexts with HDR. As for the selfie camera, instead, during the day Black Shark pulls out of the shots not bad, while at night none of the 3 excites. The Selfie Portrait mode is to be reviewed on Black Shark, where the image loses almost entirely of color.
Samples original dimensions (Google Drive)
Videos can be recorded up in 4K is 60 fps with Razer Phone 2 e ASUS ROG Phone, while the Black Shark, although having the same hardware, it stops at 4K is 30 fps.
Audio quality
Another important aspect when it comes to gaming is the audio sector, since having an engaging audio is a bonus that should not be underestimated. Here to sin is the Black Shark with its lower mono speaker, since the other two terminals have frontal stereo speakers. The pair of cases of Razer Phone 2 it has an excellent well-balanced stereophonic effect, but the configuration of ASUS ROG it is free of distortions even at high volume, as well as having greater power.
In headphones the situation is slightly different. The smartphone ASUS has the advantage of being the only one with entry mini-jack and the audio that comes out of it is very high as a volume but more unbalanced than that of the Razer Phone. Finally, the Black Shark is also well balanced as the Razer but with a lower volume and, among the 3, it is the only one without an equalizer.
Autonomy
Obviously we conclude talking about autonomy: all and 3 have a battery from 4000 mAh but, in this case, ASUS ROG Phone did not excite me. Despite having an AMOLED display, overall you get to the end of the day with 4 / 5 hours of use and recharging hypercharge it is the slowest, putting us around 100 minutes for a complete cycle.
Black Shark does better, with approx 5 / 6 hours, and support Quick Charge 3 does it load in 90 minutes. To do 5 / 6 hours of display is also Razer Phone 2 ago but, having a more energy-intensive panel given the refresh rate at 120 Hz, it performs better. It is also one of the very few smartphones to have support Quick Charge 4, charging in 70 minutes, as well as the convenient Qi wireless charging.
Conclusions and price
How long Black Shark is a good product in general, as well as the cheapest, from the gaming point of view it is not a smartphone that has a lot to offer and the same we could say for Black Shark Helo. We'll see if with Black Shark 2 there will be more substantial news. The real challenge is therefore between Razer Phone 2 and ROG Phone and here to move the balance's needle is the price. If you want to spend less Razer Phone 2 is now discounted a 549 €, an appropriate price. If instead what you want is the most complete gaming smartphone then ROG Phone is your choice, even if the price 799 € it could hold back many people.
---
Do not miss any news, offer or review published on our site! Follow us on social networks to stay up-to-date in real time thanks to:
Offers Channel , News Channel, Telegram Group, Facebook page, Youtube channel and the Forum.