About a year ago I tried the robot vacuum cleaner Eufy RoboVac 11, without smart features but still using with satisfaction. But being one of the basic products of the brand created by Anker, how does a superior model behave like theEufy RoboVac 30C? Unlike the previous one, here we have smart features with a dedicated app, but at a higher cost. Is it worth it? Find out in our review.
Review Eufy RoboVac 30C
confection
Inside the Eufy RoboVac 30C package we find the following equipment:
Eufy RoboVac 30C;
charging base;
remote control with batteries included;
two spare brushes;
replacement filter;
magnetic marking strips (4 meters);
cable ties;
robot cleaning tool;
manuals.
Constructive quality
As well as the 11, also Eufy RoboVac 30C has one solid and well made construction, with a glass top with the most attractive appearance. The concentric circles offer a shade of color from black to bronze that gives an extra touch to the look. On the front there is also a bumper to cushion clashes with household items.
It has not too exaggerated dimensions and above all it is not very high, thus managing to slip under sofas or furniture without major problems. For the rest the elements are the usual of a robot vacuum cleaner, starting from the Power button including Status LED. The blue color indicates the charging phase, the orange one used and the red one the battery is almost flat.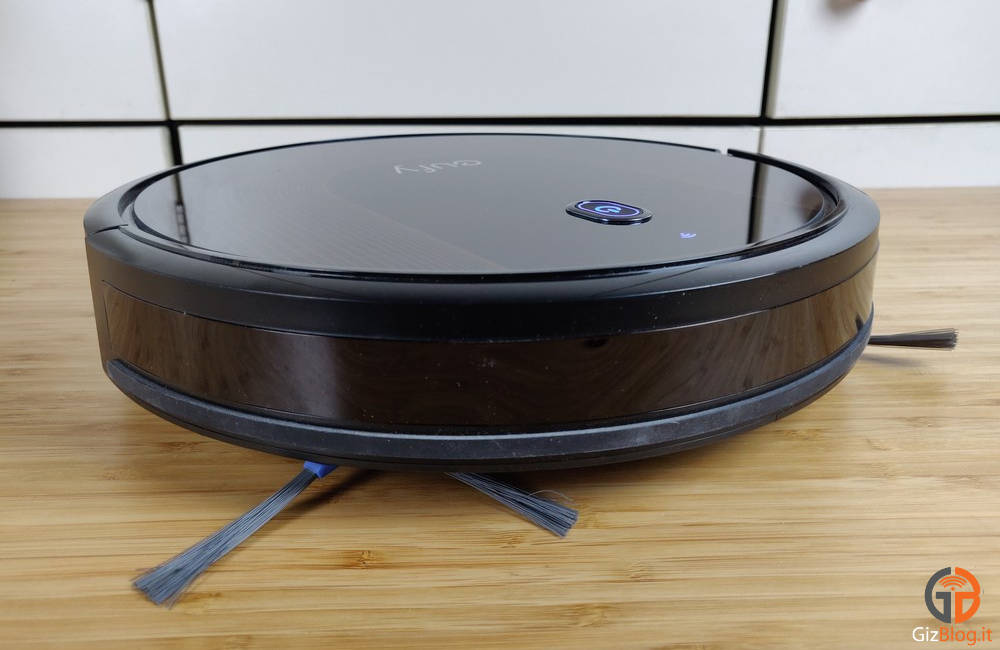 The battery didn't excite me, revealing itself inferior to the 11, with a duration of about 1 hour and a half, an autonomy to the limit for a home from 70 sqm. There recharge it is quite slow, employing approximately 5 / 6 hours to switch from 0% to 100%. Once unloaded, the robot automatically returns to the base, even if sometimes it happened that it got stuck and "died" around the house.
This is because, as far as there are i anti-collision and anti-fall sensors, the movement is random, since there are no room detection sensors. This lack is reflected above all during aspiration, as, unlike higher-end models, cleaning does not take place in a studied manner. As a result, it may happen that the robot escapes some small space.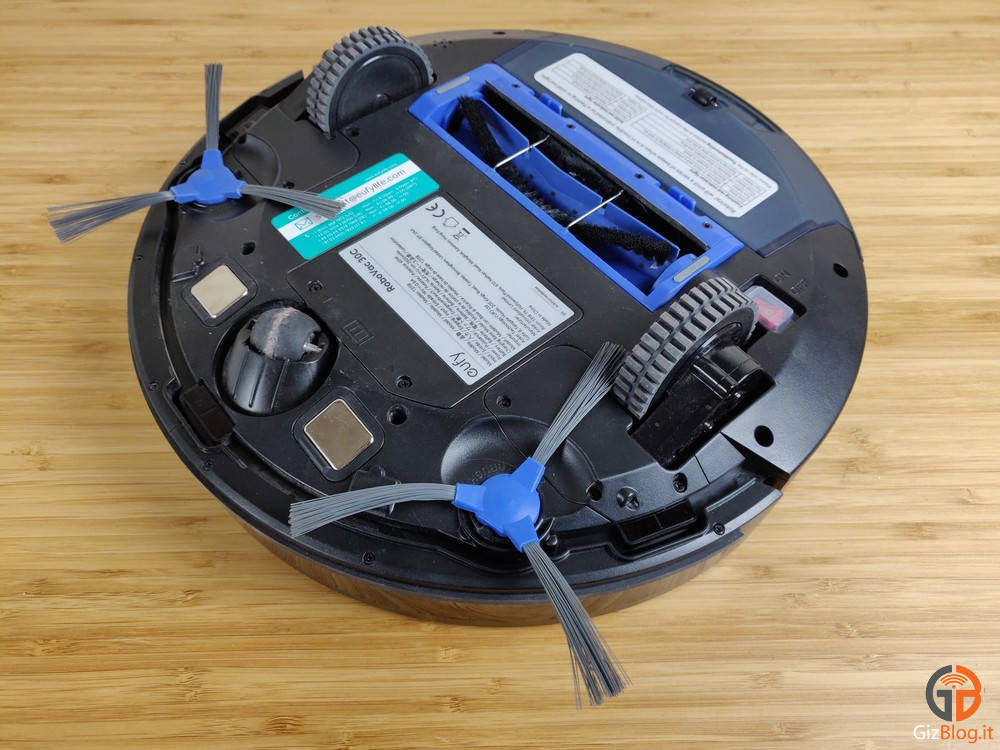 Fortunately its use has turned out silent (although not record-breaking), with an output of around 55 dB. Thanks to a generated power of 1500 Pa, with a central brush and two side brushes, the degree of cleanliness is satisfactory. There is also functionality BoostIQ, which detects if the aspirator is on a carpet, increasing its power while it is above it.
In the package there is the remote control to manage the various functions of the vacuum cleaner. Besides being able to adjust the suction power (Standard, BoostIQ and Max) and direct where you want the robot using the joystick, you can change cleaning mode. It starts with the Automatic one, where the robot chooses the best route to take. With Quick Cleaning, however, the session lasts only 30 minutes, after which the robot returns to the base (ideal for a single room). Alternatively, there is also an Edge Cleaning mode (rather explanatory name) and finally Localized Cleaning, with which the robot moves in a spiral around the starting point for the duration of 2 minutes.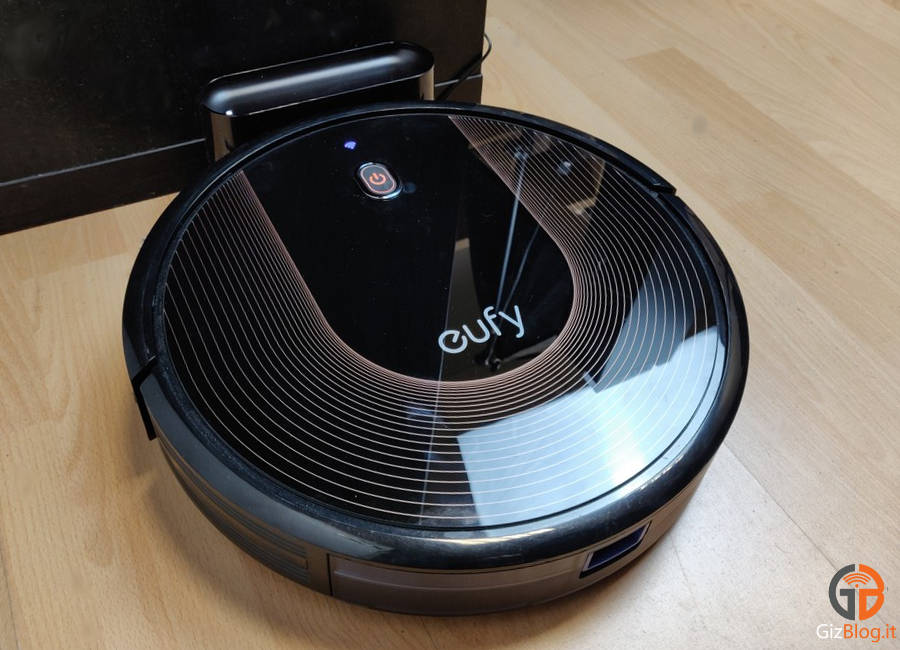 Software
As anticipated, there is the dedicated app EufyHome, available on Play Store ed App Store, to manage the Anker smart robots. The disposition functions are basic but not for this little useful, indeed. In addition to managing the use modes, which can also be set by remote control, it is possible plan cleaning. This way you can decide in which times and days to start the robot automatically. In addition, there are the appropriate options to get it back to the charging base right away and to find it when you lose it at home (via an acoustic signal).
The icing on the cake is the support a Google Assistant e Alexa. Once configured we can start and stop cleaning, return it to the base and let it ring to find it.
Conclusions and price
This Eufy RoboVac 30C can be purchased on Amazon at a price of 299.99 €. A price that may seem high but in reality is in line with what is offered by Anker. In addition to an endowment the right rich, its operation is more than adequate, provided you do not have a very large house. In this case, we advise you to rely on models with greater autonomy.
29.999,00€
available
1 new from 299,99 €

Amazon.it
Free Shipping
Last updated the 23 / 08 / 2019 10: 33
---
Do not miss any news, offer or review published on our site! Follow us on social networks to stay up-to-date in real time thanks to:
Offers Channel , News Channel, Telegram Group, Facebook page, Youtube channel and the Forum.