Motorola arrives at the third generation of the Z series and it does so again by focusing on modular components, in fact, a few months ago the company presented the new one Moto Z3 Play which is sold with the Moto Power Pack, or a module that substantially increases the autonomy of the smartphone. How this new device will behave during our tests. Let's find out together in the full review!
Moto Z3 Review Play with Moto Power Pack
Unboxing
If you buy the version with the Moto Power Pack, the sales package made of red cardboard includes the following equipment:
Moto Z3 Play;
Motorcycle Power Pack;
wall power supply with European socket and TurboPower technology;
USB cable - USB Type-C;
mini-jack adapter - USB Type-C;
good quality earbuds;
pin for the SIM slot;
instruction manual.
Construction and design
Il Moto Z3 Play maintains a design similar to the previous model, but intact different news including a better one space optimization and frames. The dimensions always remain generous, in fact we talk about 156.5 x 76.5 x 6.7 millimeters for a weight of 156 grams, which make it very light e thin, but a little bit inconvenient to use as the squared edges do not facilitate one-handed grip.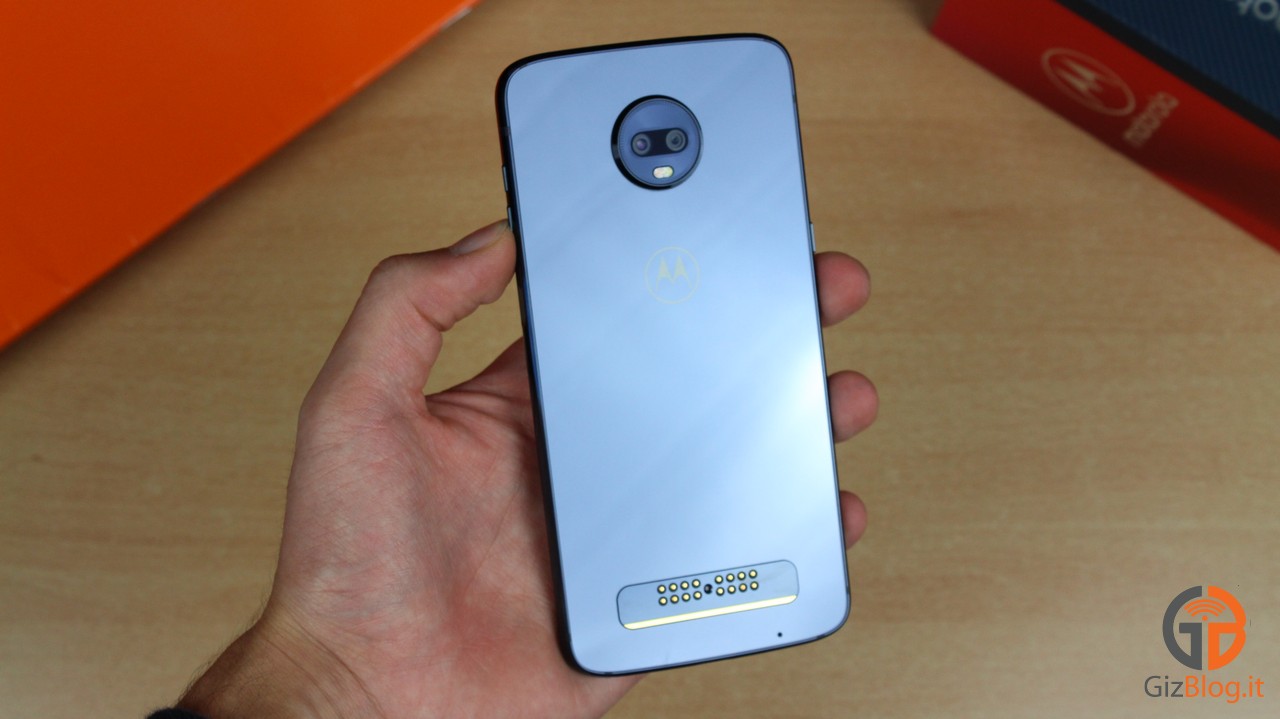 Il Moto Power Pack has the dimensions of 152,9 x 73,32 x 4,99 millimeters and adding it to the smartphone we're going to increase the weight by about 72 grams. Although this gives it greater bulk, we still manage to use the smartphone without compromising too much. In fact, you will have no trouble carrying it with you in your pocket.
La frontal is that back they are made of glass with protection Corning Gorilla Glass 3 e curvature of type 2.5D, while the side frame is in polished aluminum series 6000. The back cover therefore has a nice mirrored effect but holds back a little too many fingerprints, although they come off very easily.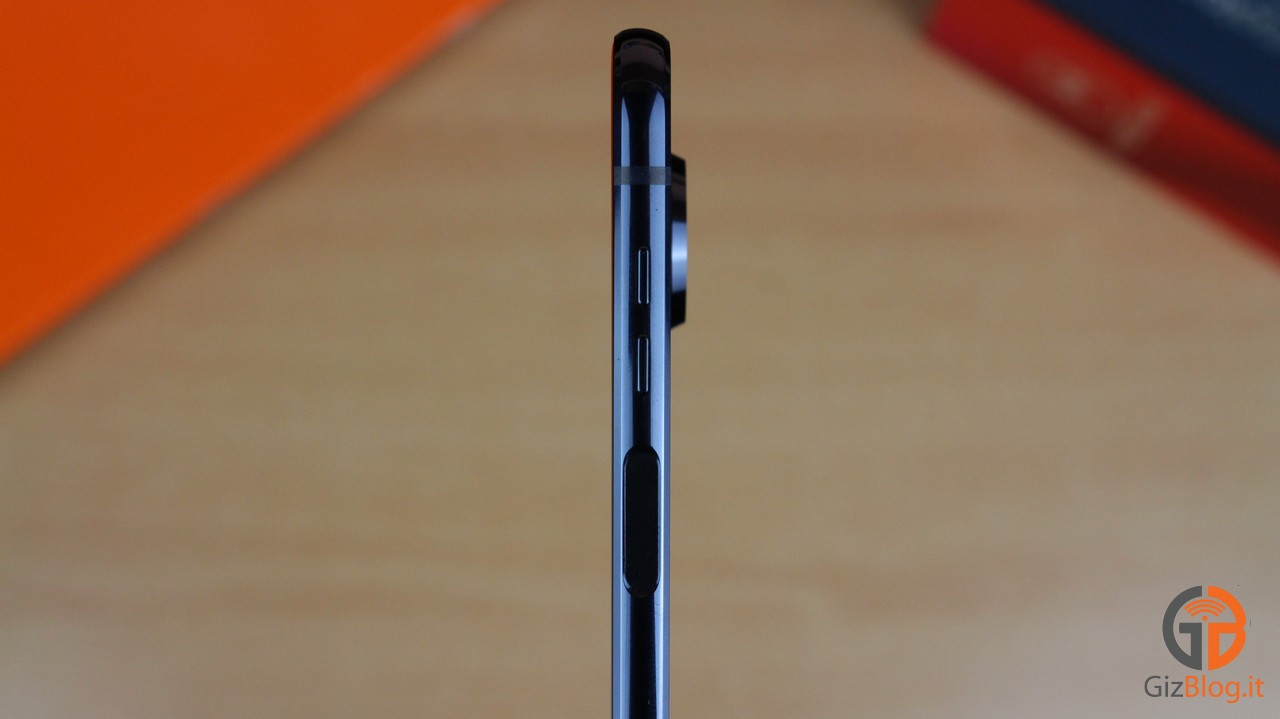 La dual chamber è protruding and will tend to do totter the smartphone when we use it on a flat surface. Remaining on this profile we also find the pins for the Moto MODS and one of the four microphones, while frontally reside the earpiece that also acts as a system speaker, the front camera, the brightness and proximity sensor and two other microphones.
On the right side you can see the fingerprint sensor and the volume rocker, unlike the opposite side which only has the power button. Above we find the dual SIM slot or single SIM + microSD and the last microphone, while below is the USB Type-C input. As you may have guessed, therefore, the mini-jack input is absent.
Display
Il Moto Z3 Play is equipped with a display OLED da 6.01 diagonal inches with resolution Full HD + (2160 x 1080 pixels) format 18:9, density of PPI 402, screen-to-body ratio the 79% and protection Corning Gorilla Glass 3.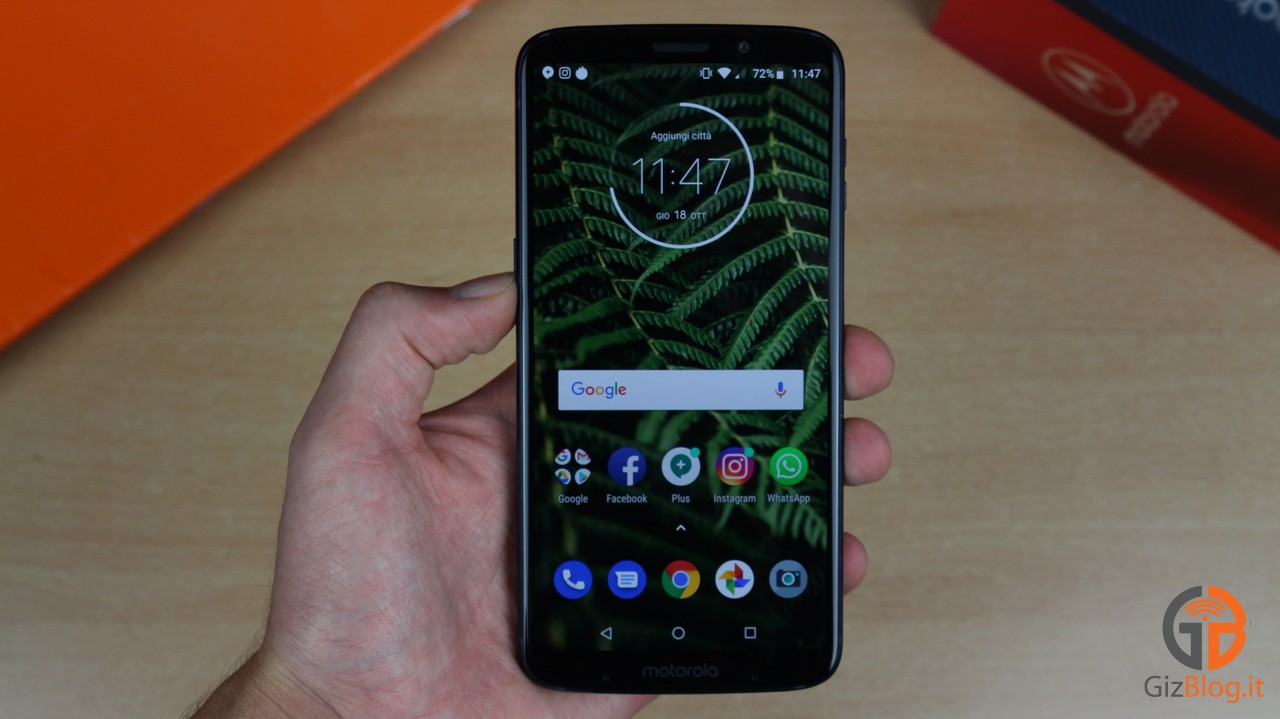 La panel quality è high and the colors are very good albeit a little too saturated, but if they were not to your liking you can arrange them through the settings. Blacks are widely beyond sufficiency, while whites tend to slightly gray / blue at extreme angles.
Small criticism only for the automatic brightness sensor that does not react instantaneously to changes in ambient light, but the need for a few extra guards.
Hardware and Performance
Under the body of the Moto Z3 Play we find a chipset Qualcomm Snapdragon 636 including a CPU octa-core with a maximum clock frequency of 1.8 GHz, a GPU Adreno 509, 4 GB di RAM LPDDR4X, 64 GB di internal memory expandable via microSD.
The smartphone runs fluid and without any general bias or lag, we already know the chipset and we know its goodness in terms of performance. Sure, given the list price we would have expected a more powerful solution, but also with this configuration Z3 Play does not look good.
La GPU performs well even with heavier titles such as PUBG, which runs smoothly and runs by default with medium details.
camera
On the back cover of the Moto Z3 Play we find a protruding dual camera with sensors from 12 mega-pixels with opening f / 1.7 and from 5 mega-pixels with opening f / 2.2, autofocus PDAF and Dual Tone LED flash.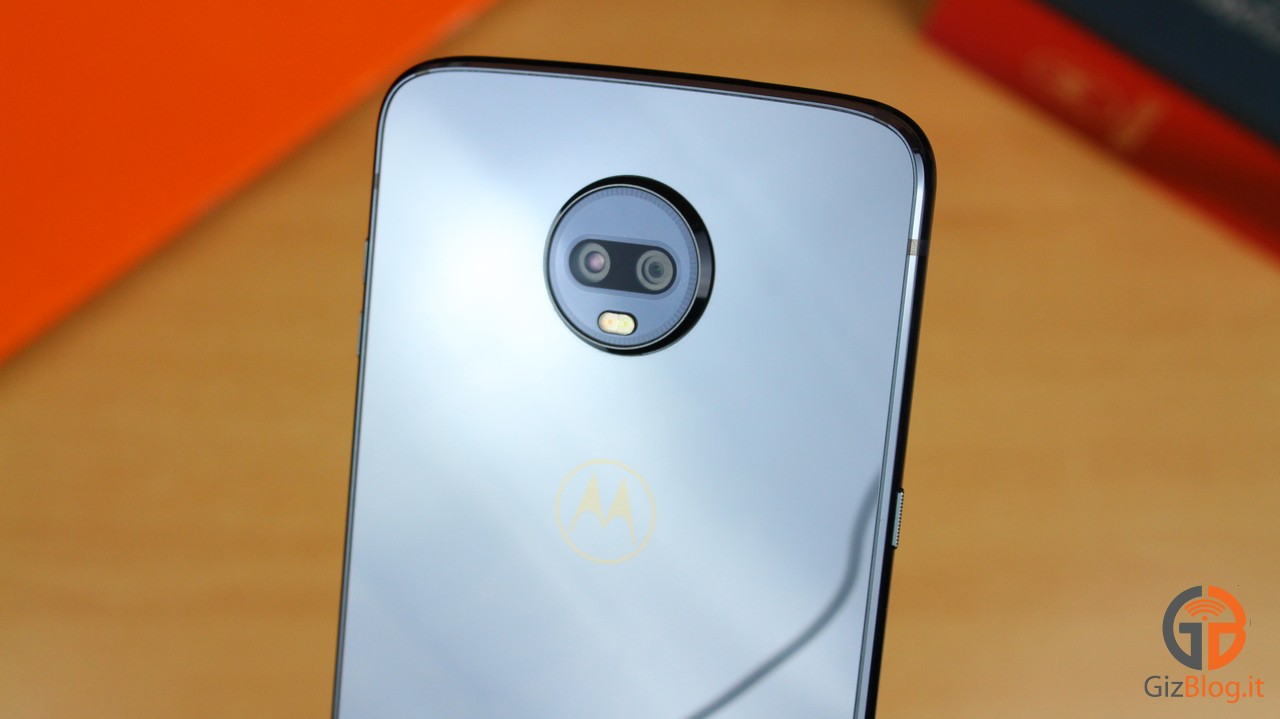 The quality of the shots is sufficient if we calculate that we are talking about a medium range, but this sector comes penalized a bit' from the price of the device, as one would expect something more than what it can give. Moreover, to complicate things is the comparison with other devices that are found between the 400 and the 500 euro.
All in all, in good light conditions the shots are sufficient, We have a good detail and discreet colors. In the macros we have a good natural bokeh, while the one realized through the portrait mode requires a minimum distance of 1.5 meters and it is not very precise in outlining the edges.
At night we have a drop in detail with a consequent increase in noise and, moreover, we should keep our hands very steady during shooting so as to prevent the photo from being moved as we only have digital stabilization.
Frontally we find a sensor from 8 mega-pixels with opening f / 2.0 that, in conditions of good luminosity, returns more than enough shots, albeit the white balance it does not always work properly, especially when the HDR is active where the subject gets darker and we have an intense blue sky. Good in this case the portrait mode. At night the situation is diminishing and we have an important drop in detail.
I video they can be registered up to the maximum resolution 4K a 30 FPS and we can only use the digital stabilization. As for quality, this reflects that offered for the photographic sector. Stabilization in Full HD hardly reaches enough, while the focus is quite fast.
Audio and connectivity
Il Moto Z3 Play integrates it speaker inside the headset capsule but, despite this, it actively involves us while watching multimedia content or during gaming, in terms of power è average, while as far as frequencies are concerned these are fairly balanced. In the headphones the situation improves but we remember again that it is no mini-jack input and, personally, I consider it a serious lack.
The audio during conversations is as good as the one captured by 4 microphones present on your smartphone.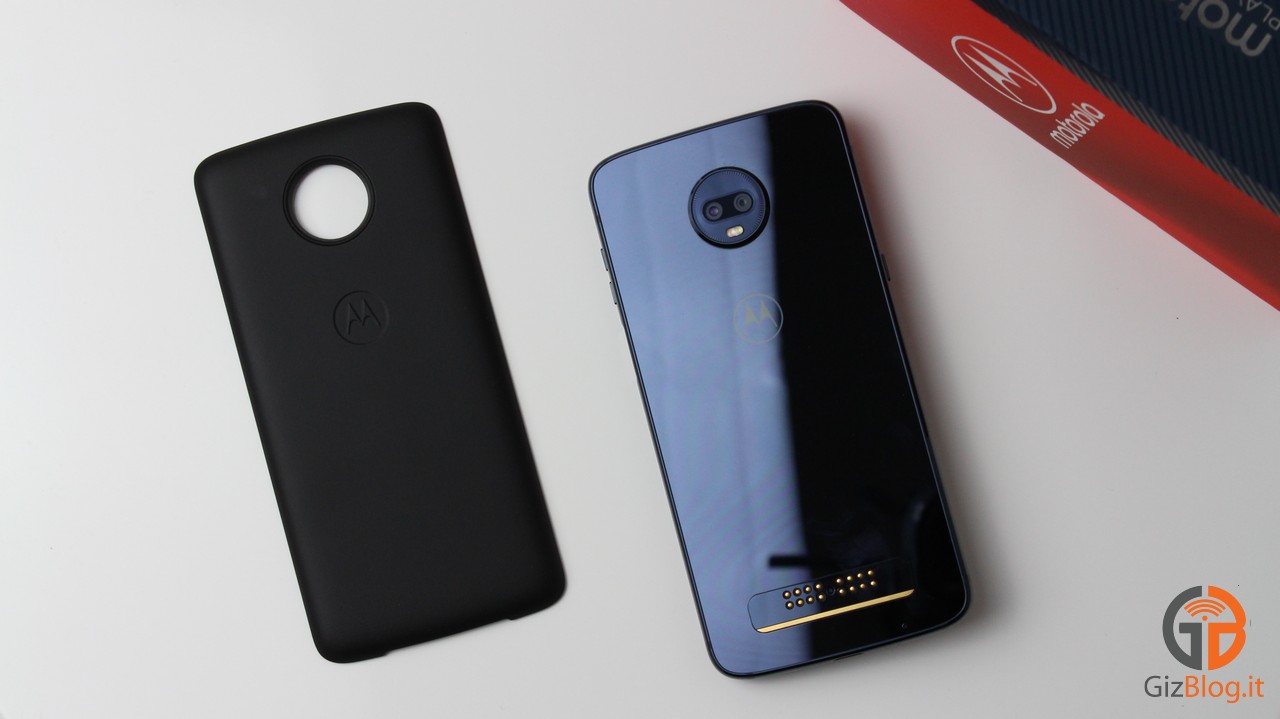 Il Moto Z3 Play supports Dual SIM with connectivity LTE of Cat. 12, as well as the Wi-Fi ac Dual Band, Bluetooth 5.0, GPS / A-GPS / GLONASS, NFC. Absent, however, the FM radio.
La reception as for the data network it didn't convince me very much because I often happened to find some slowdowns in areas where with other smartphones I had no problems. For the rest, everything works very well and we have not found any further problems.
Il fingerprint sensor located on the right side frame is quite accurate although it is not a splinter. In fact, we can unblock the smartphone without problems around 8 times on 10.
Software
On the device we find a software based on Android 8.1 Oreo with security patches updated to 1 September 2018 and slightly customized interface from Motorola. In fact, we can basically see a UI practically stock with some additions that we find inside theMoto app.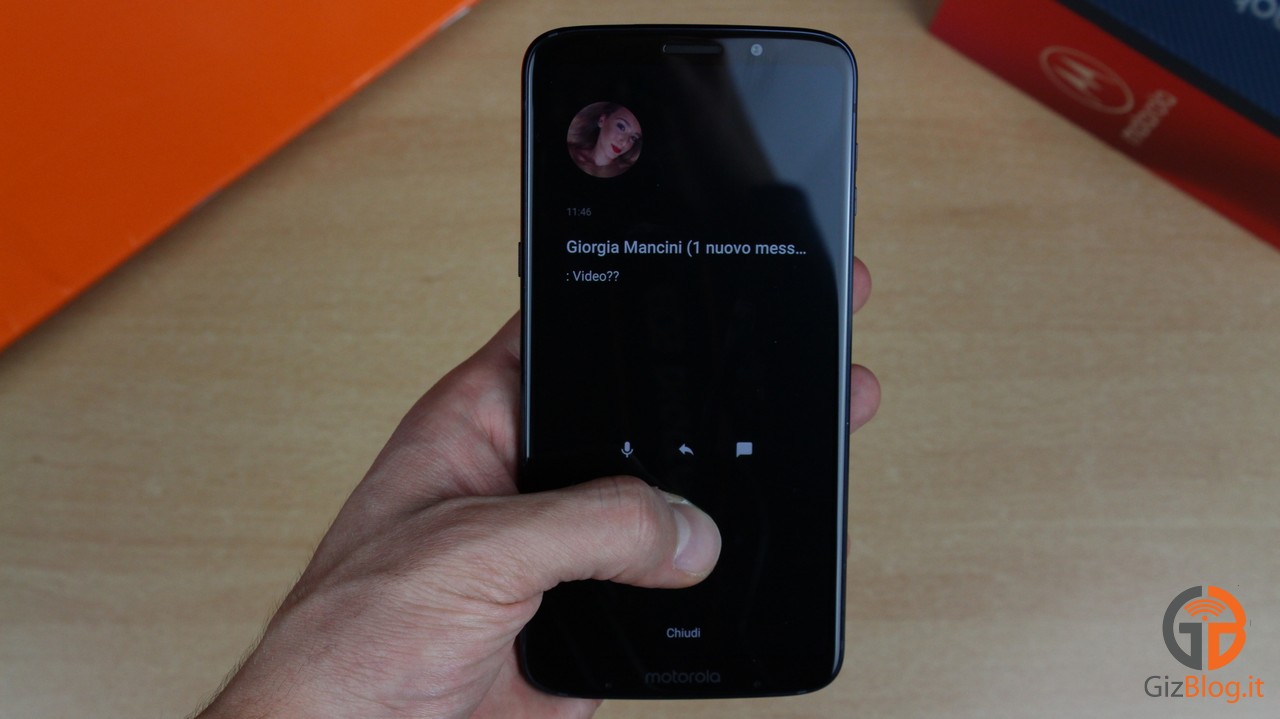 More precisely it is possible to manage the internal memory, see the battery status and the remaining autonomy and activate the night mode, as well as the following functions:
Moto actions: we have a series of gestures that we could also appreciate on previous models. For example, lift the device to unlock it, activate a virtual button to use with gestures instead of on-screen buttons (this is a news), the hammer gesture to activate the torch and much more;
Motorcycle display: will allow us to program the activation of the night mode or to activate the mode that will keep the screen on until we look at the smartphone, or even at the Moto Display. This mode is one of the most comfortable I've ever tried on a smartphone. In fact, it is very similar to an always-on, but with the advantage that upon receiving a notification we could go to view it with a swipe and, through other swipes, reply, display it or send a voice note;
Moto Voice (Beta): which acts as a voice assistant like Google Assistant, but that allows us to perform multiple operations with third-party apps.
For the rest the CANTONI è fluid, reactive e very intuitive. We did not find various bugs during the days of use.
Autonomy
Il Moto Z3 Play owns a battery from 3000 mAh which allows us to obtain a little autonomy below average. Indeed, using it intensely we will succeed in arriving barely at dinner time with approximately 3 hours and minutes 45 di active display (sometimes also 4 hours).
Using the Moto Power Pack the results obtained improve a lot, as the device will arrive at 1 day and a half of use with approximately 5 hours / 5 hours and 30 minutes di active display.
La recharge it happens rather quickly rapid thanks to the power supply supplied with the technology TurboPower, more precisely it employs 1 20 hours and minutes to get up to 100%.
conclusions
Motorola decides to continue this project adding each time new Moto MODS which make this series different from the usual smartphones and definitely more original. The negative part is that collecting part of the modular components could really be expensive. At this time, however, it is good to focus on Moto Z3 Play, which all in all is a good medium range, but with a price at the moment too high.
Di list the smartphone was available at 499 €, while it is currently possible to buy it on Amazon a 399 € with the Moto Power Pack understood. Unfortunately it is one figure still too high for a fierce market segment, albeit Motorola have from his l'innovation that the other brands have not been able to bring to a sector that by now seems to have stood still for some time.
499,99€
available
5 new from 225,70 €

Amazon.it
Last updated the 23 / 08 / 2019 12: 06