When it was presented to IFA, Lenovo Yoga Book it attracted a great deal of attention to itself thanks to the idea innovative and to a capacitive keyboard to say the least futuristic, both for the functions it integrates, and for its design. By now, however, they have almost passed 2 years since its launch and the question that naturally arises is precisely this: it still makes sense to buy it at half of 2018?
We just have to find out in our full review!
Lenovo Yoga Book Review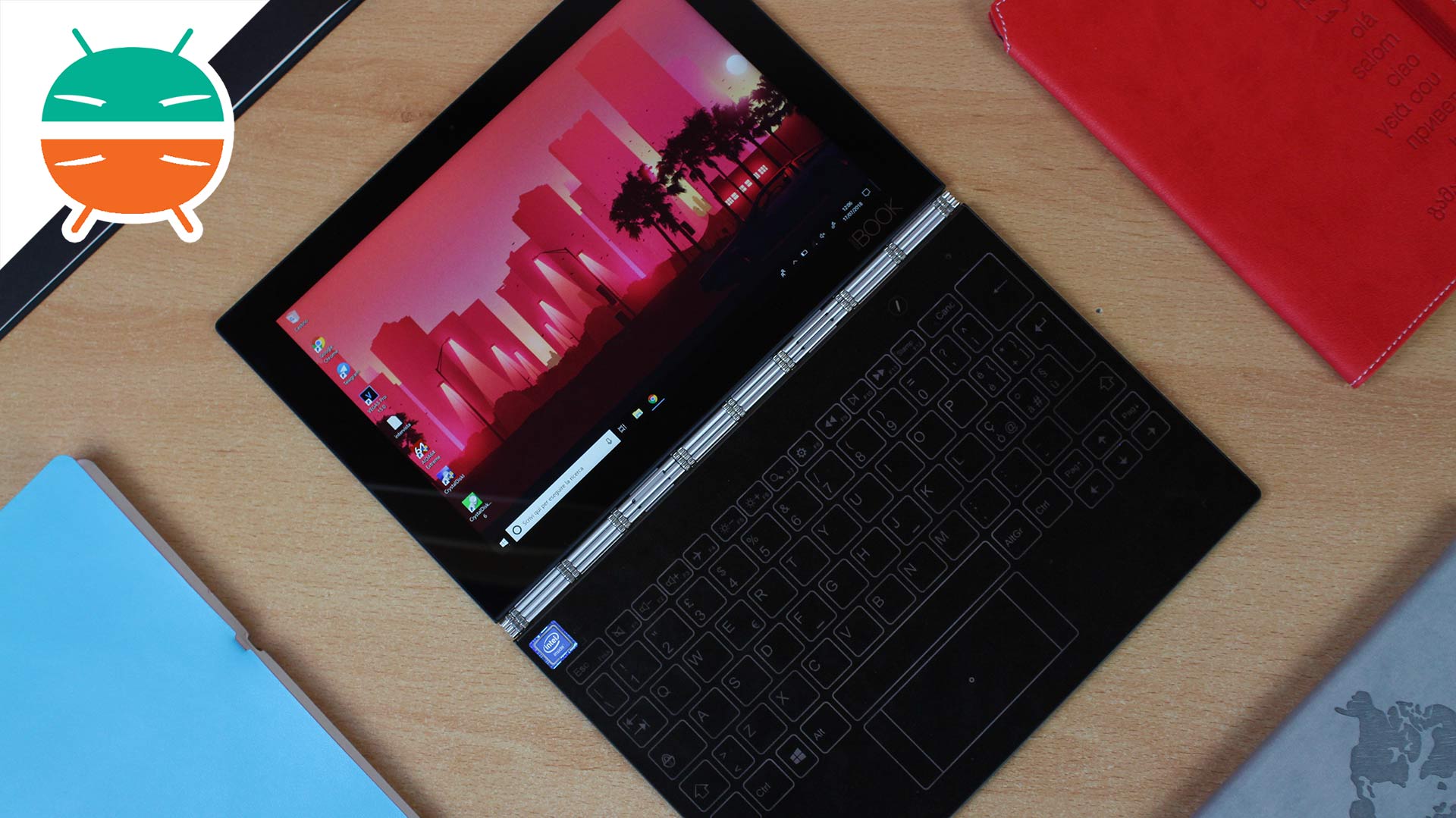 Unboxing
The sales package is made of rigid cardboard and inside we find the following equipment:
Lenovo Yoga Book;
wall power supply with European socket and 5V output = 2A / 7V = 2A / 9V = 2A / 12V = 2A;
USB data transfer cable - Micro USB;
real pen;
book pad;
3 replacement cartridges for the pen;
instruction manual;
pin for the SIM slot.
Design and construction
From the point of view of the design and construction this Lenovo Yoga Book it's incredible. In fact, the dimensions are incredibly compact and its weight is paltry, let's talk about 25.66 x 0.96 x 17.08 centimeters for a weight of suns 690 grams. Just as the name suggests, this device is like a digital notebook which will have an almost zero footprint once inserted in the backpack.
Thanks to solid hinge in metal it is possible to rotate one of the two parts up to 360%, which makes this product perfect for many uses such as watching a movie, writing digital texts, or drawing through the display or through the Wacom digitizer located under the keyboard part.
Just for the latter, we have one keyboard touch which returns a Glance worthy of note and that we can disable to switch to drawing mode, on which we can use the Real Pen to take notes or draw.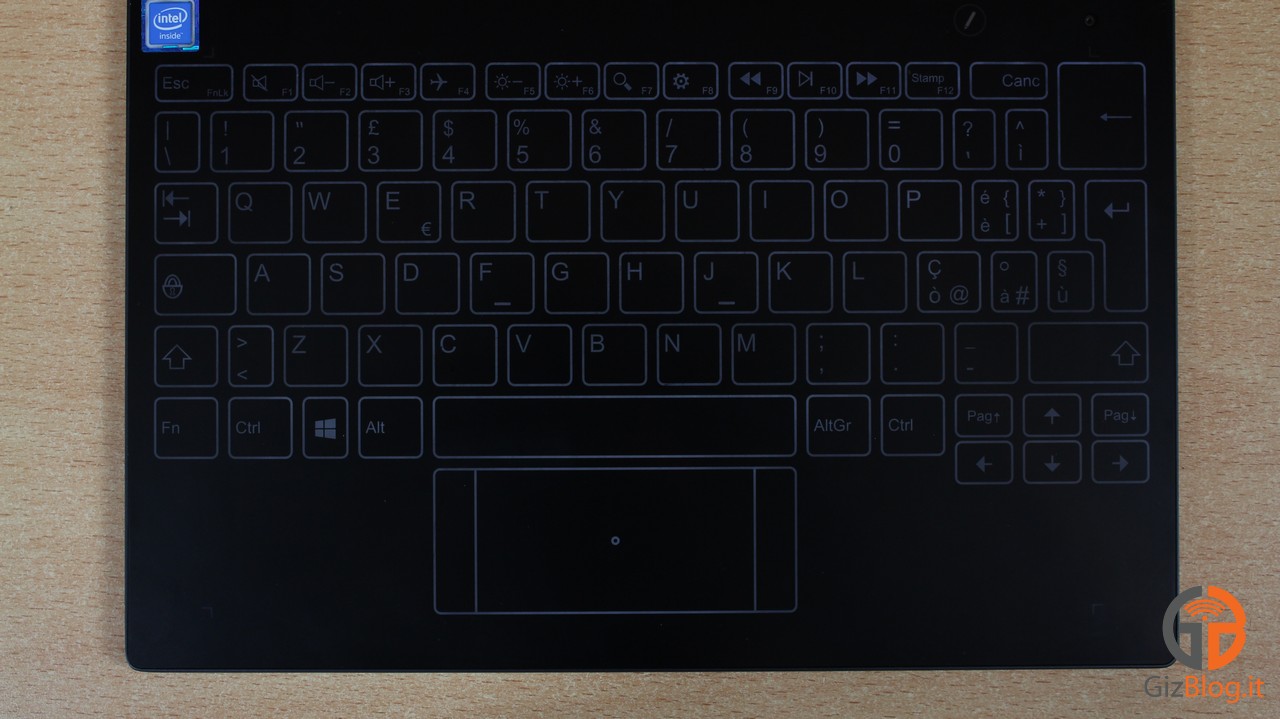 Il Lenovo Yoga Book is made aluminum with a matt finish, which makes it very elegance, while as far as the front glass panel is concerned the only criticism that we can make concerns it thickness of the frames of the display.
On the right side we find the power button, one of the two system speakers, the volume rocker and the mini jack input, unlike the opposite part there are the Micro USB input, Micro HDMI, the microSD slot and the other speaker of system.
There are also two cameras, which are located on the inside of the device: one above the display and one above the keyboard in a slightly uncomfortable position.
Keyboard, touchpad and Real Pen
As we have already said previously, the Halo keyboard it is not physical, but is characterized by a soft touch panel that lights up when it is used. In fact, when unused, the keyboard remains in standby and to reactivate it (without giving commands to the 2-in-1) it will be necessary to touch the dot located in the center of the touchpad.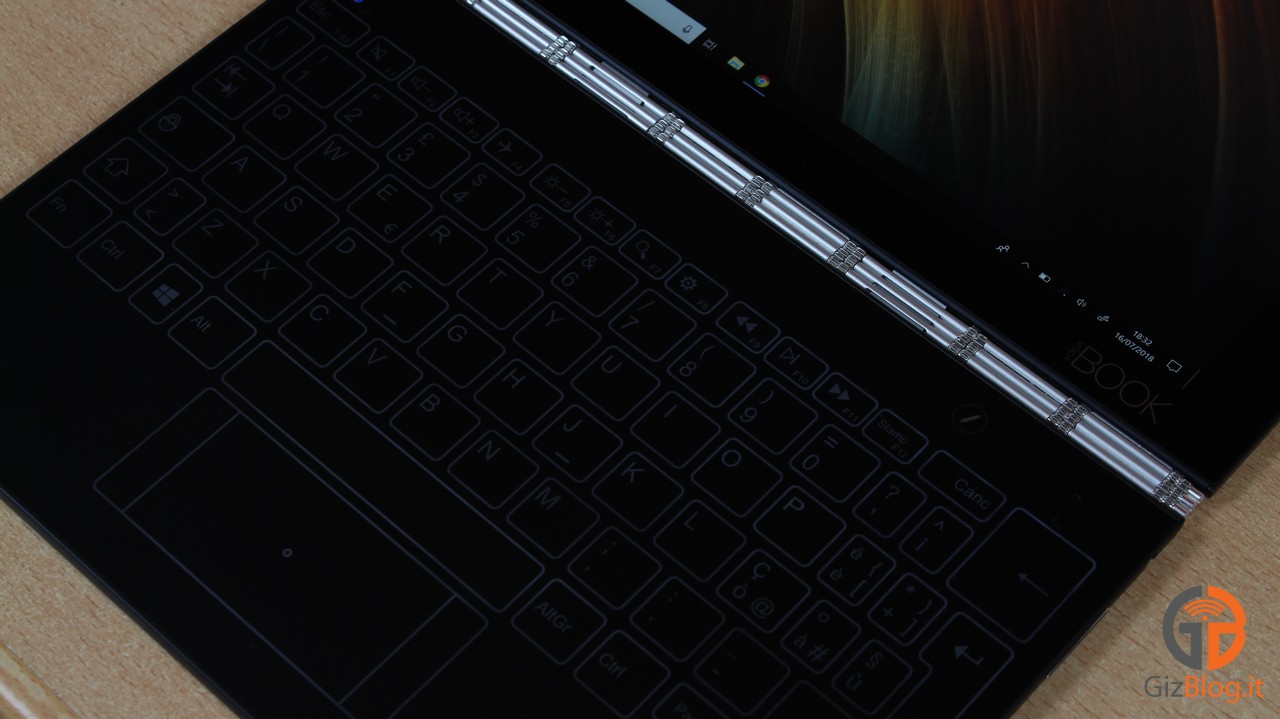 When pressed, i keys give us back a feedback particular characterized by a vibration and a sound, which will allow us to understand if we are actually writing. The writing of texts does not take place very quickly because, unlike a physical keyboard, sometimes we should look at the keys to press, as these are closer together and the keys Ctrl ed Fn I'm inverted.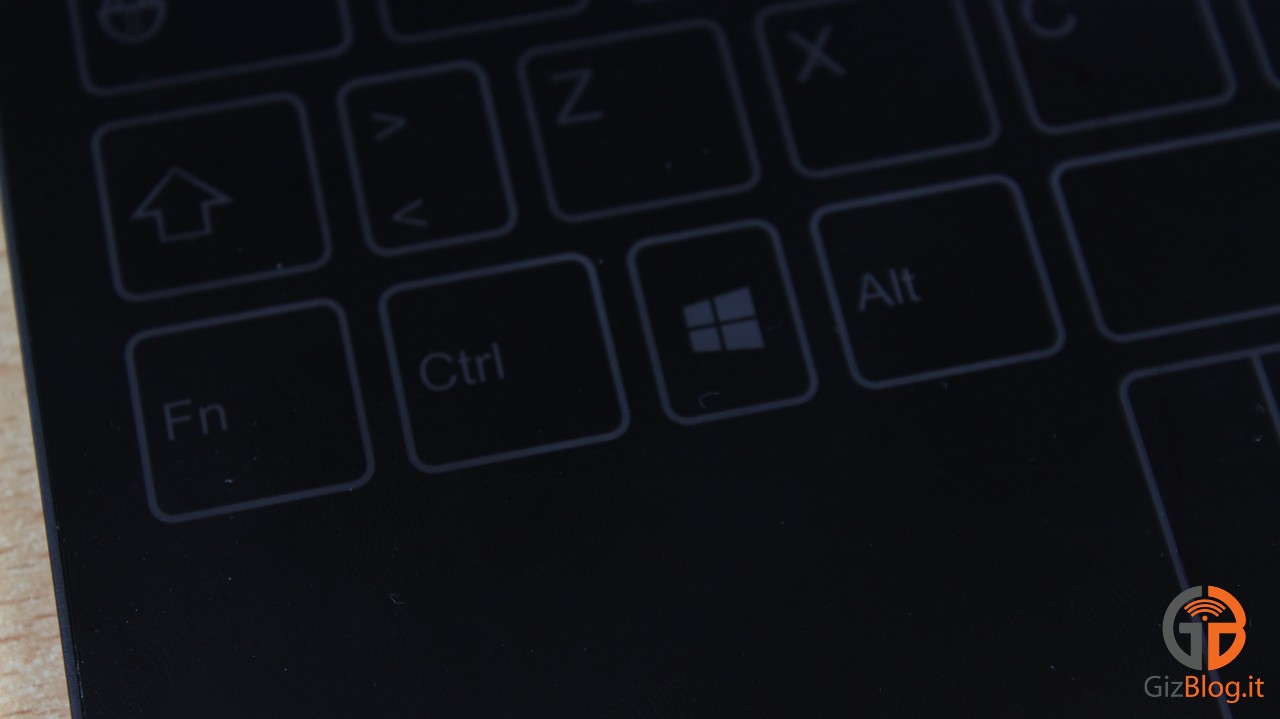 To all this we must also add that, do not hear the stroke of the keys, it makes us lose a bit of orientation, but as mentioned above, once the habit is done the daily operations will be carried out with more speed.
If we want to use the Real Pen then just push the special one button with pen icon located next to the camera and the keyboard will deactivate, allowing us to take advantage of the Wacom EMR digitizer. I must say that the precision è good for quick notes or for drawings completely amateur. If you would like to buy it for professional work then you will have to tack on another product, also because this 2-in-1 is not characterized by a hardware such as to be able to run graphics programs without problems too elaborate.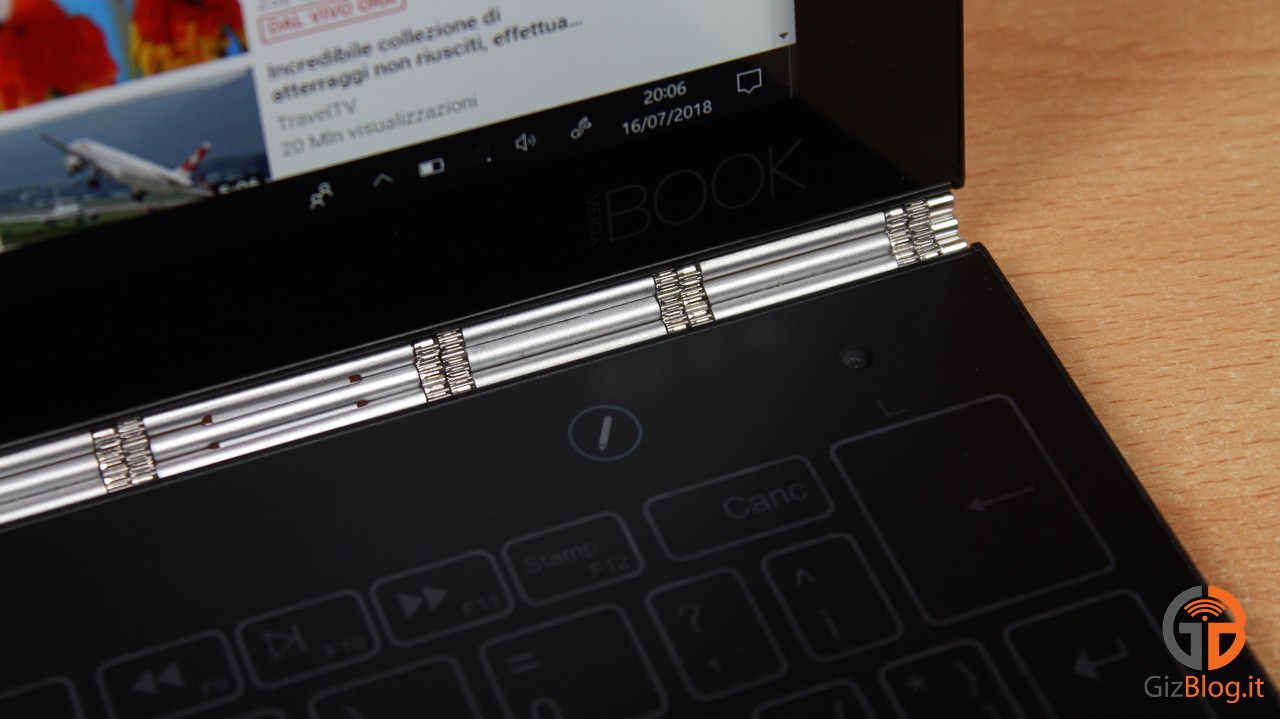 La function certainly more interesting regards the possibility of digitize also written texts. In fact, in the package we find a Book Pad (a good quality notepad), which will adhere perfectly to the Lenovo Yoga Book thanks to magnet present in the upper part. So writing with the Real Pen (to which we have to replace the capacitive nib with the ink tips) on this notebook we can bring back in digital all that we will write by hand and this is possible thanks to the ability of the Wacom digitizer to incorporate input up to 1.5 cm thick.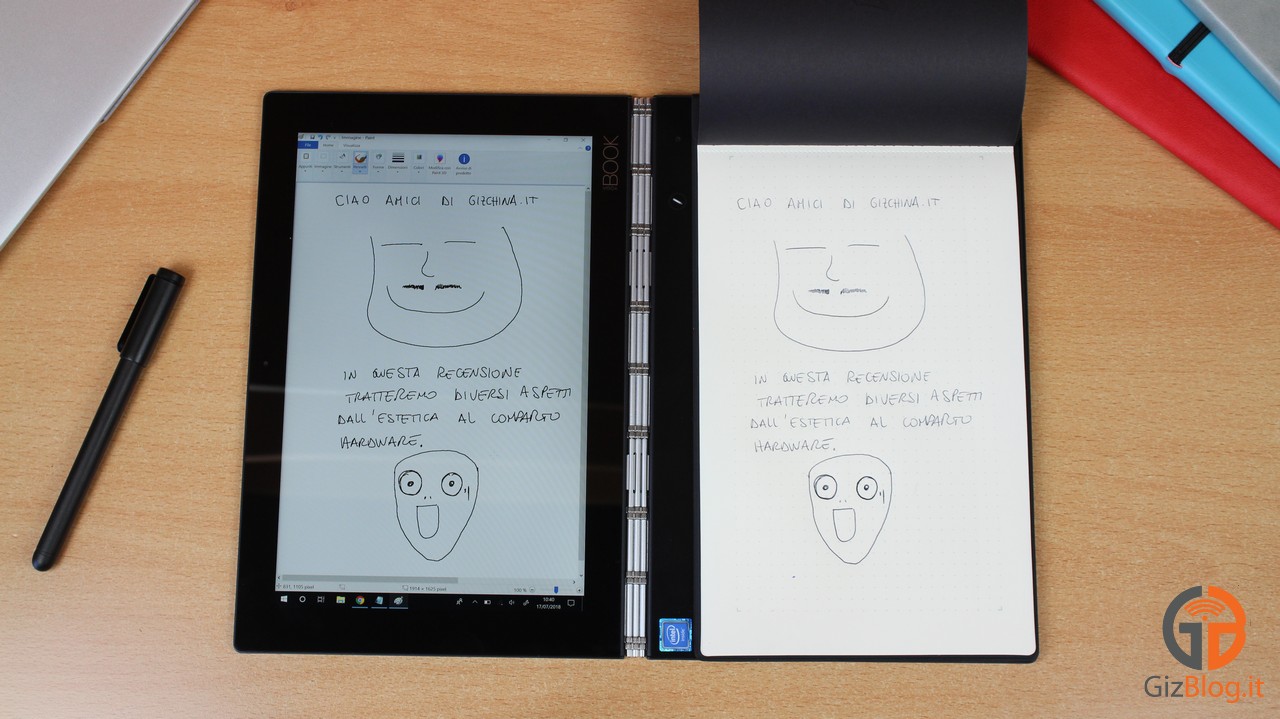 It should be noted that it is possible to use any other notepad o sheet of paper and not necessarily the one supplied.
With regard to the Real Peninstead, this one does not go on batteries and, through the small hole located on the top of the cap, we can remove the capacitive tip and insert the ink tips.
Finally we move on to touchpad, who does not appear to be comfortable at all to be used due to its very small size and to the shifting of the keys to the left and right sides. The gestures work on the version with Windows, but for almost all the time I used the touch screen of the display to move within the interface, as faster e more comfortable.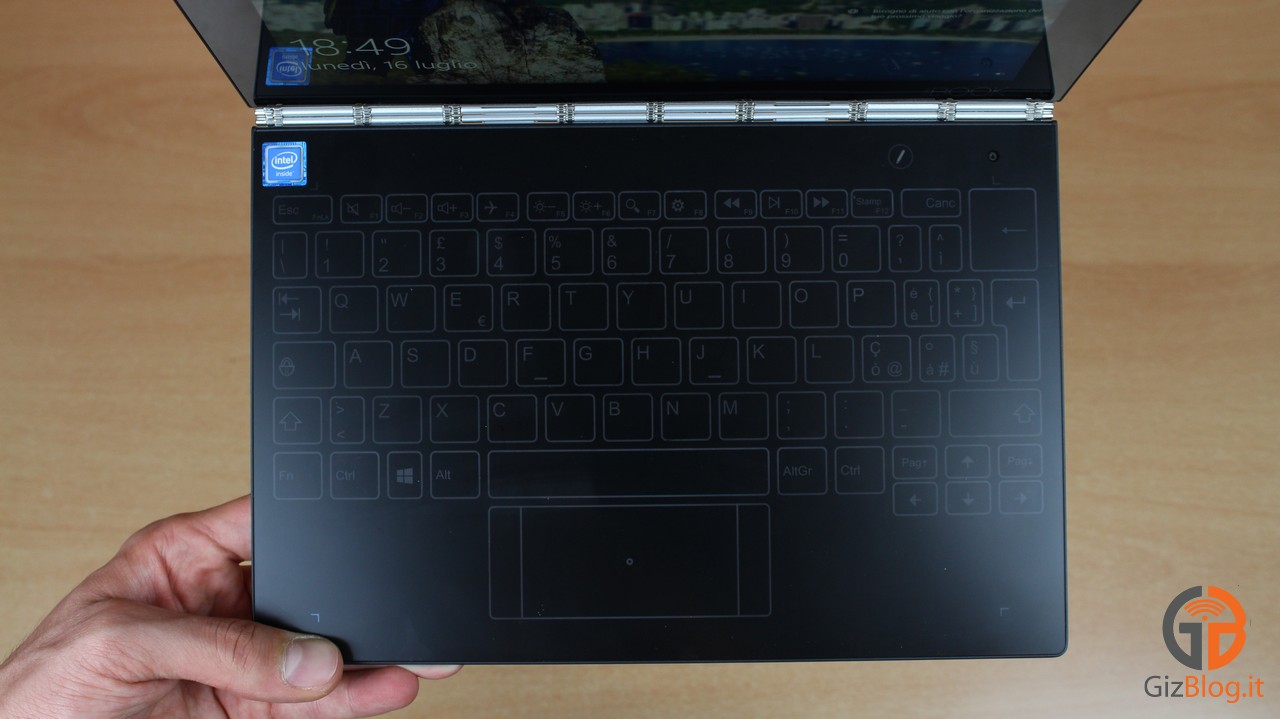 Display
Aboard Lenovo Yoga Book we find a panel IPS touchscreen da 10 inches diagonal with resolution Full HD (1920 x 1200 pixels) and brightness of 400 nits.
Il display It is characterized by one good color range and satisfactory viewing angles, obviously being a IPS blacks are not very deep, but we can still be satisfied.
The unit has a glossy coating, so it will not be the top in direct sunlight, especially if we calculate that in addition to reread also the fingerprints they will limit our reading.
Discount also the touch screen both with the Real Pen that with the hand. Overall, this sector still manages to overcome sufficiency without too many problems.
Hardware, performance and software
The hardware sector of this 2-in-1 it is certainly not the most performing but is largely sufficient for the purpose for which it was created. Under the body, in fact, we find a chipset Intel Atom x5-Z8550 including a processor quad-core with maximum clock up to 2.4 GHz, a Intel HD Graphics 400 GPU, 4 GB di RAM LPDDR3 e 64 GB di internal memory eMMC expandable via microSD to 128 GB.
All in all the performance I'm buone for a not too articulated use such as the web browsing, Netflix, Spotify, package Office, drawings on Autodesk and some games taken from Microsoft Store. In fact, from this point of view the Lenovo Yoga Book it behaves quite well and without particular criticalities.
Under stress, with heavy applications (eg Sony Vegas) and with many tabs open you see i limits of the hardware equipment with gods slight slowdowns, but in spite of everything even the maximum temperatures they are not excessive, in fact we talk about about 79%.
La GPU is sufficient for del light gaming with games on Microsoft Store such as Modern Combat Versus, which runs well and without too showy lag.
As regards the software, we find on board Windows 10 Pro, but we also note that there is a variant with Android, which it also costs less but offers same specifications. However, the use of Real Pen turns out to be more complete with the software di microsoftindeed, we say that you will probably be able to appreciate all its qualities with the latter.
Cameras
on keyboard we find what should be the main camera, or a sensor from 8 mega-pixels which guarantees enough photos to capture gods papers, The notes or to carry out video calls, since we will rarely find ourselves using an 2-in-1 to capture landscapes or sunsets.
If we want to be picky, the definition è just sufficient as it is possible to notice background noise even with good lighting. Finally, the colors are discreet.
Frontally we find a camera from 5 mega-pixels not too defined, but sufficient for video calls su Skype.
I must say that the position of the main sensor is quite uncomfortable since it is located at the top right near the metal hinge. This will force us to rotate by 360% one of the two parts and to take pictures in tablet mode.
Audio
Il Lenovo Yoga Book presents two system speakers located on the sides of the device, which offer us a audio really of level, both in terms of power that of quality. All this is possible thanks to the speakers Dolby Atmos.
Precisely for this reason we find the dedicated application that will allow us to equalize at our leisure the sound, or to select already existing profiles such as Music, Movies, Games and so on. The audio is clean, very powerful and with some well balanced frequencies among them.
Connettività
Il Lenovo Yoga Book owns a module Wi-Fi a / b / g / n / ac Dual Band (2.4 GHz and 5 GHz), but in our variant it is not possible to insert the nano SIM in order to take advantage of the LTE connectivity (normally it is possible to do so).
Altogether the connectivity è good and I was able to receive the signal even in some parts of the house where other devices were more difficult. For the rest we also find the Bluetooth, GPS Compass and other sensors like the Hall sensor, gravity sensor and the brightness sensor.
Autonomy
Theautonomy is one of the points that has me convinced more thanks to the not particularly energy-intensive hardware sector and a battery from 8.500 mAh inserted in a decidedly fine body.
With average use (web browsing, writing articles, YouTube and Netflix) I managed to reach easily 2 days of autonomy, including the moments when I left the device in standby.
conclusions
In conclusion the Lenovo Yoga Book is a product that, thanks to its versatility e portability, you would like always have with you. In fact, it turns out to be extremely comfortable to have at home for quick searches, For email, notes e video playback or music tracks. Its comfort is due to the fact that thanks to good autonomy we can leave it in Stanbdy long ed use it sporadically for the needs described above, without necessarily having to turn on your own PC and stay with its timing. To these strengths I would like to add his own design and its particularity which make it a product almost unique.
At the same time, however, this 2-in-1 it is not a perfect product because on the one hand we have a Wacom digitizer, on the other we have a platform hardware which does not allow us to exploit it in a way more professional, but that is enough for a amateur use and for not too complex operations (opening of Sony Vegas, for example, turns out to be a bit slow). Or it is important to mention the touchpad which does not make comfort its strength.
In all this we must also calculate a price that, despite everything, has not seen a significant decline during the course of this last year and a half. Indeed, on the Official site you can find the variant Windows (Wi-Fi + 4G) a 639 €while on Amazon that Android about 459 €.
If on the one hand I wish I could always carry with me this Yoga Book and use it for lavorare when I'm away from home, on the other I realize that the price it is not so content and that to the same digit (or less) you can find as many good devices useful for the productivity.
Il Lenovo Yoga Book it is a very good product, original, one of a kind and out of line and we can recommend it to anyone who wants a 2-in-1 unusual or if you think you can exploit full Wacom digitizer.
Lenovo Yogabook YB1-X90L Convertible with 10.1 Display "IPS, Intel Atom Processor Z8550 4-CORE, 4 GB RAM, 64 GB HDD, Integrated Graphics Card, Android OS 6.0, Metallic Gray
25 new from 508,86 €
3 used by € 393,51
Free Shipping
Buy now

Amazon.it
Features
Intel Atom processor Z8550 Quad-Core 1.44 GHz
4 GB RAM
Internal memory capacity from 64 GB HDD
Integrated graphics card
Android operating system 6.0