In today's review we will analyze a new one keyboard da mechanical gaming produced by the Asian brand Rapoo, more precisely we talk about the Rapoo V700S. Its strengths are certainly the Cherry switch MX Red and LED RGB which make it very lively.
Let's go then to discover together how this keyboard will behave during our tests!
Rapoo V700S Review
Unboxing
The sales package is still not the definitive one, as ours is a sample dedicated to the media. However, at the moment the following equipment is present:
Rapoo V700S
instruction manual.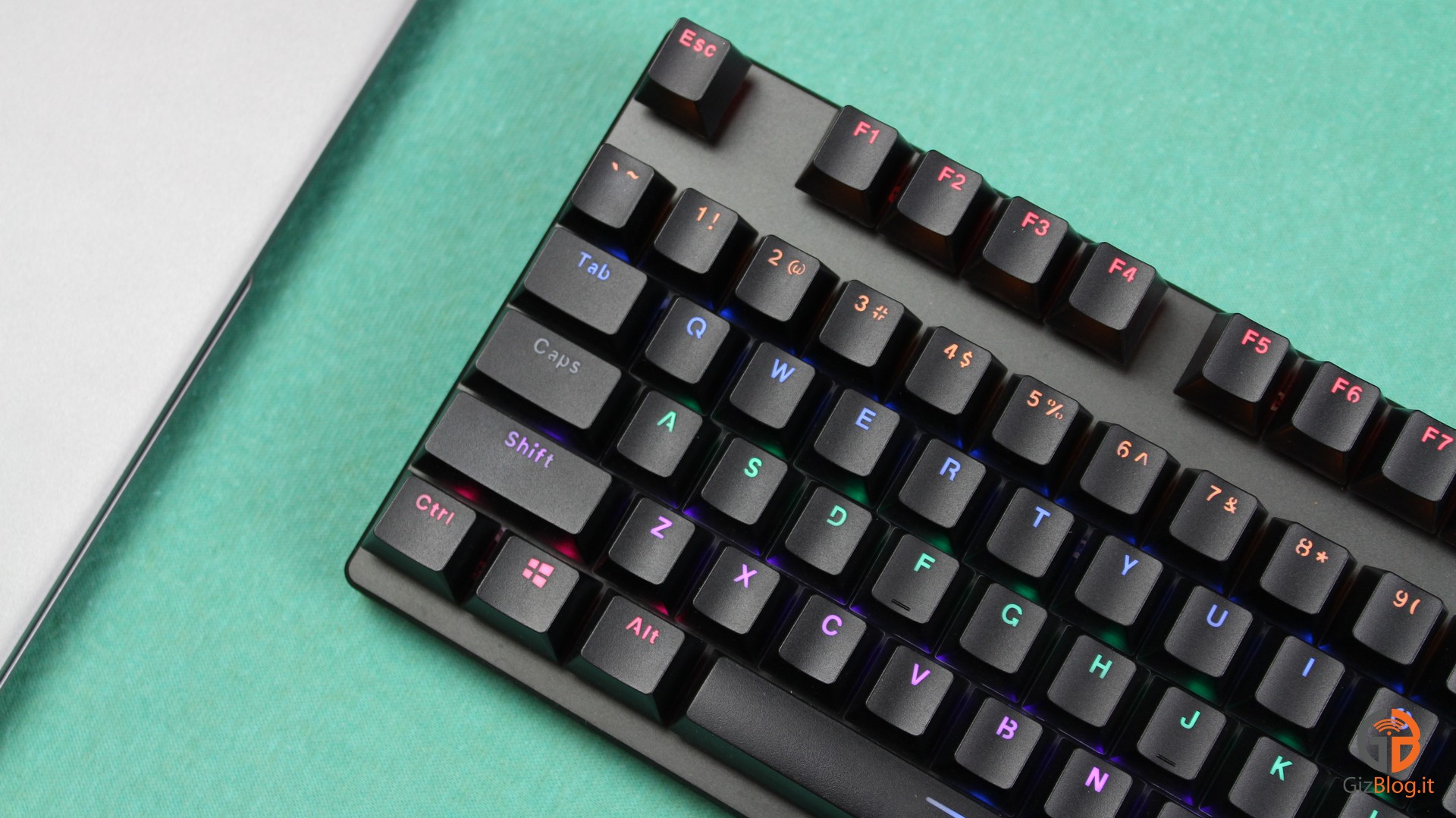 Construction and design
Since we are talking about a keyboard from Gaming, the company wanted to give some vivacity to the product through gods LED RGB which, depending on the mode set, light up differently. The Glance, therefore, it is certainly guaranteed.
For the rest the design turns out to be anyway pleasant, but enough simple. In fact, we do not have aggressive and imaginative forms as we have seen on Rapoo VPRO V800.
La construction it's enough solid e robust, with a shell in rigid plastic which gives the product a good stability e resistance to shocks. This good assembly of the components guarantees the absence of bending or general crunching.
The keyboard has 108 keys inserted in a medium-sized body, more precisely 43.3 x 13.5 x 3.77 centimeters for a total weight of 920 grams. Are absent i Wrist Rest, but we find two legs that can be raised to facilitate writing and to bring the keyboard to a maximum height of 5 cm.
Finally, we find the USB cable long around 2 meters which, however, is not covered in fabric.
Keys and hardware quality
This Rapoo V700S is equipped with 108 keys of which 104 completely programmable. The quality of materials it's pretty good, the fluid ride and quick answer, in fact it will require just a little pressure 45 grams. This is due to the mechanical switches which have been used, more precisely gods Cherry MX Red.
During daily use and in Gaming I did not encounter any major problems with pressure and response times, however, if used for the writing we will need time to get used to the American layout. Not to mention the fact that often, if you type very quickly, you happen to press two keys at the same time, leading us to slow down writing.
Obviously it's just a matter of habit and, obviously, this keyboard is designed primarily for the Gaming and not for the productivity, but it is certainly an aspect that needs to be analyzed.
Great attention to i LED RGB which return a Glance not indifferent and that they present approximately 12 different customizations which may vary according to tastes, the type of game we are using, the type of lighting in the room and so on.
Software
After a few trips and various web searches I was able to find the driver was originally the Rapoo V700S with its software for the management of thelighting and macro.
In fact, since it is not yet possible to find it on Amazon and that therefore it is not yet officially marketed in Italy / Europe, you will need to go to the Chinese site of the brand and carry out the download software directly from there.
The application is in English (or Chinese) and allows us to store to 3 different profiles, each of which can be custom ad hoc with different settings according to your needs.
We can program all keys except i 4 present top right, or the key "VPRO" through which to manage the various lighting modes, the button to put the mute to the volume, the key for lock the Windows key and finally the key Macro, through which enable / disable the Macro features.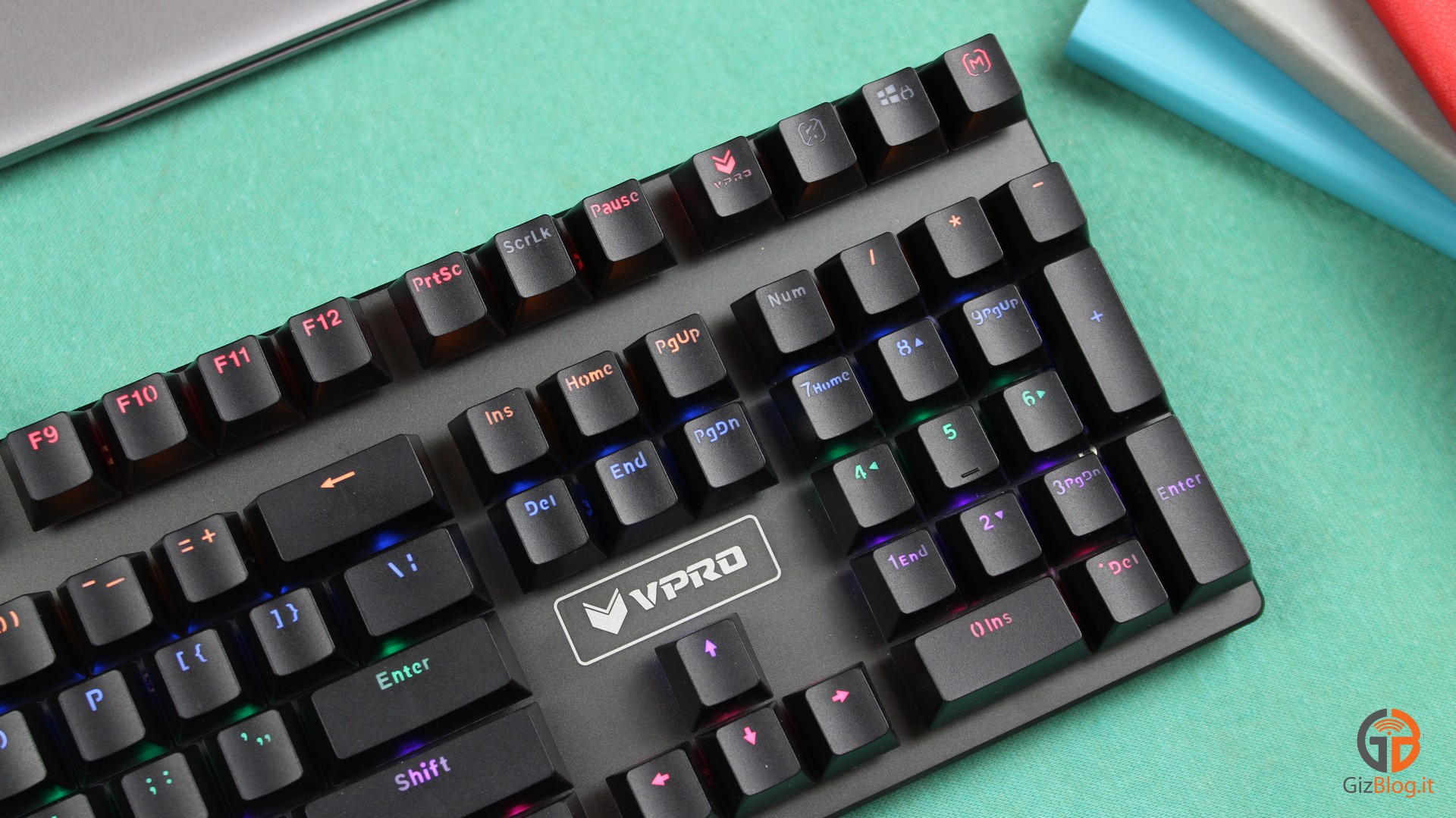 Storing a command through the software is very simple and will not require more than 10 seconds. In addition to assigning one key combination it is possible to associate action in particular (email, files, email, calculator etc ...). Furthermore, it is also possible to modify the interface within the interface type of lighting of the keyboard.
conclusions
In conclusion the price was originally the Rapoo V700S still has not been officially released for theEurope, but on import sites like AliExpress. you can find it around 50 / 55 eurowhile on the Chinese official website we find it at 199 yuan, or approximately 26 €.
Obviously we expect a here price much more like the first one and if it should be confirmed we can talk quietly about a very good product, balanced and with some interesting features.
The various ways of illuminating i have convinced me a lot LED RGB and key response speed, although, as mentioned above, it will be necessary to time to get used to layout of the keyboard.