Among the various keyboards of Rapoo that we have had the opportunity to experience in recent months there are certainly many dedicated to the Gaming, but in today's review we will talk about a product voted for productivity, let's talk about the Rapoo E9090P.
How will it behave during our tests? Let's find out together in this new complete review.
Rapoo E9090P Review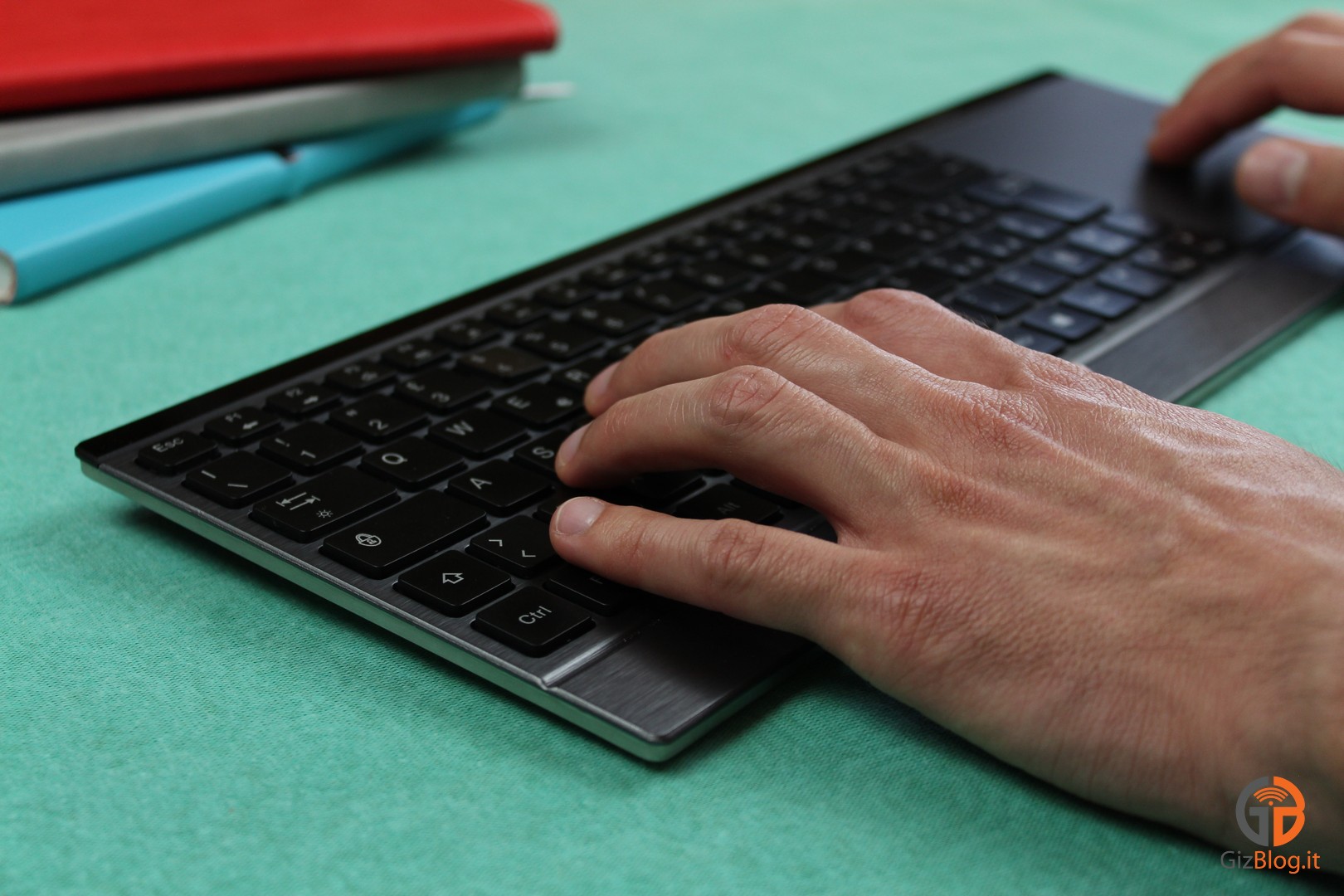 Unboxing
La Rapoo E9090P it is sold in a beautiful white cardboard box with parts in transparency that show all the beauty of the keyboard. Inside is the following equipment:
Rapoo E9090P;
USB dongle from 5 GHz;
USB cable - Micro USB;
base for wireless charging;
instruction manual.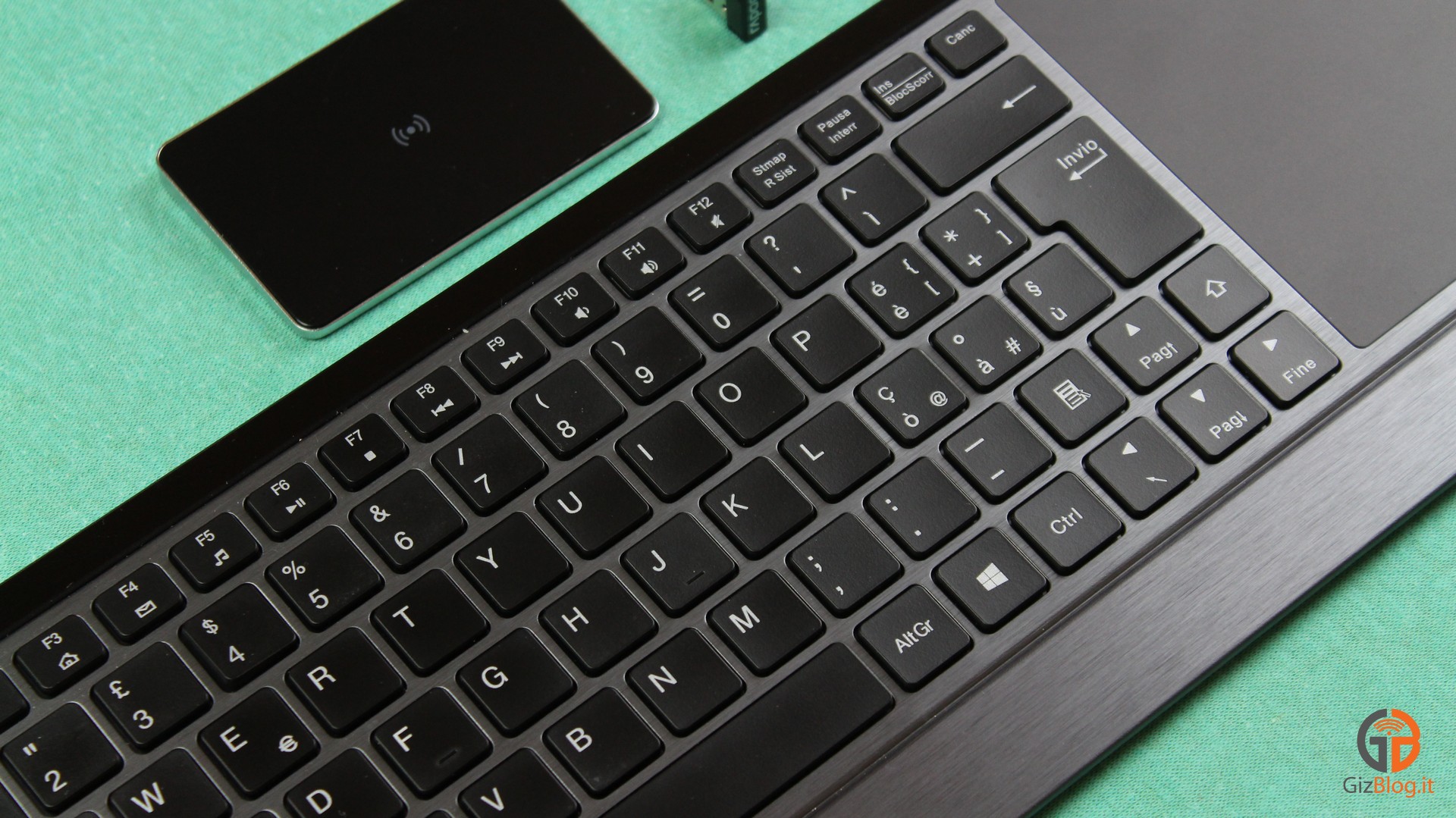 Construction and design
Il design of this keyboard is certainly one of his highlightsin fact we have a very refined aesthetic e minimal Thanks to a shell in brushed aluminum and some inserts in plastic black. This is really a great product to leave on your desk to beautify your workstation.
La construction è good and the keyboard turns out to be crunchy free o ups that can damage its structure. The only less positive aspect is that the Retro in aluminum it holds back a little too much fingerprints.
The keyboard is a lot comfortable to use thanks to gods keys almost a wire with the body, then with one race brief, which allow us to write easily without making mistakes and without accidentally pressing more keys at the same time.
Moreover, these possess 3 levels di backlight (nothing, soft, "intense") that will allow us to work without problems even in the evening or in the dark. We do not notice a substantial difference between the mode half is that maxim, but they are still sufficient in all situations.
Il trackpad located to the right is very sensitivePerhaps too much. In fact, many are associated with it gestures that will allow us to carry out different actions, but the problem is that we must be very precise with your fingers (keep them at the same height, move them at the same time) otherwise you risk doing anything else.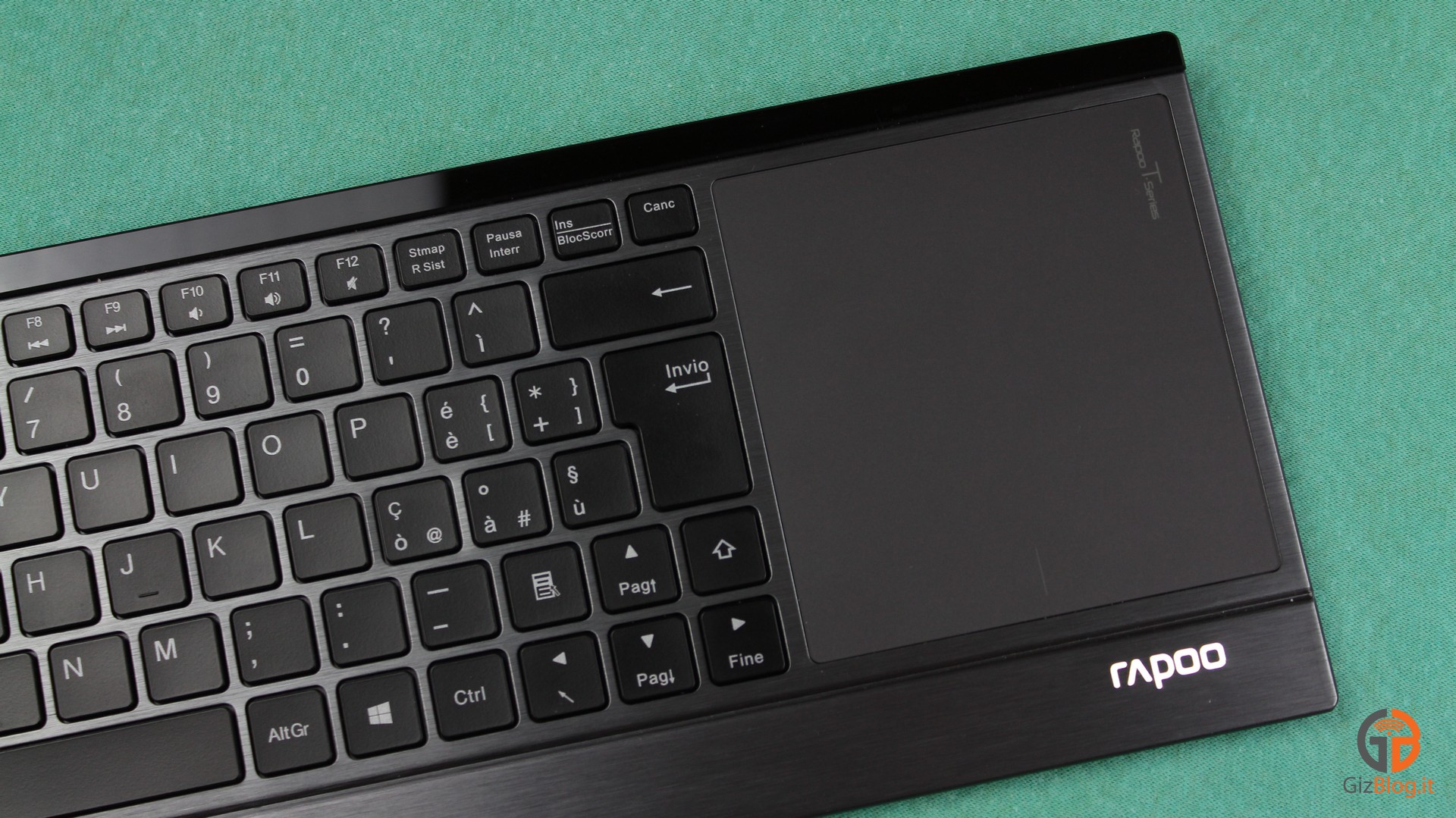 I have to admit that once you get used to it, it's definitely a lot comode but often, in normal navigation (so without using gestures), this trackpad turned out to be a weight more than a picture. In fact, sometimes i touches they were misinterpreted. In conclusion it can certainly be suitable for one Smart TV or an TV Box, but not for the productivity more serious, as it could slow us down, especially if we often use software for video editing or photo editing.
Since there is an integrated battery, on the back of the Rapoo E9090P we find one switch on / off which will allow us to turn off the keyboard when not used to increase its autonomy.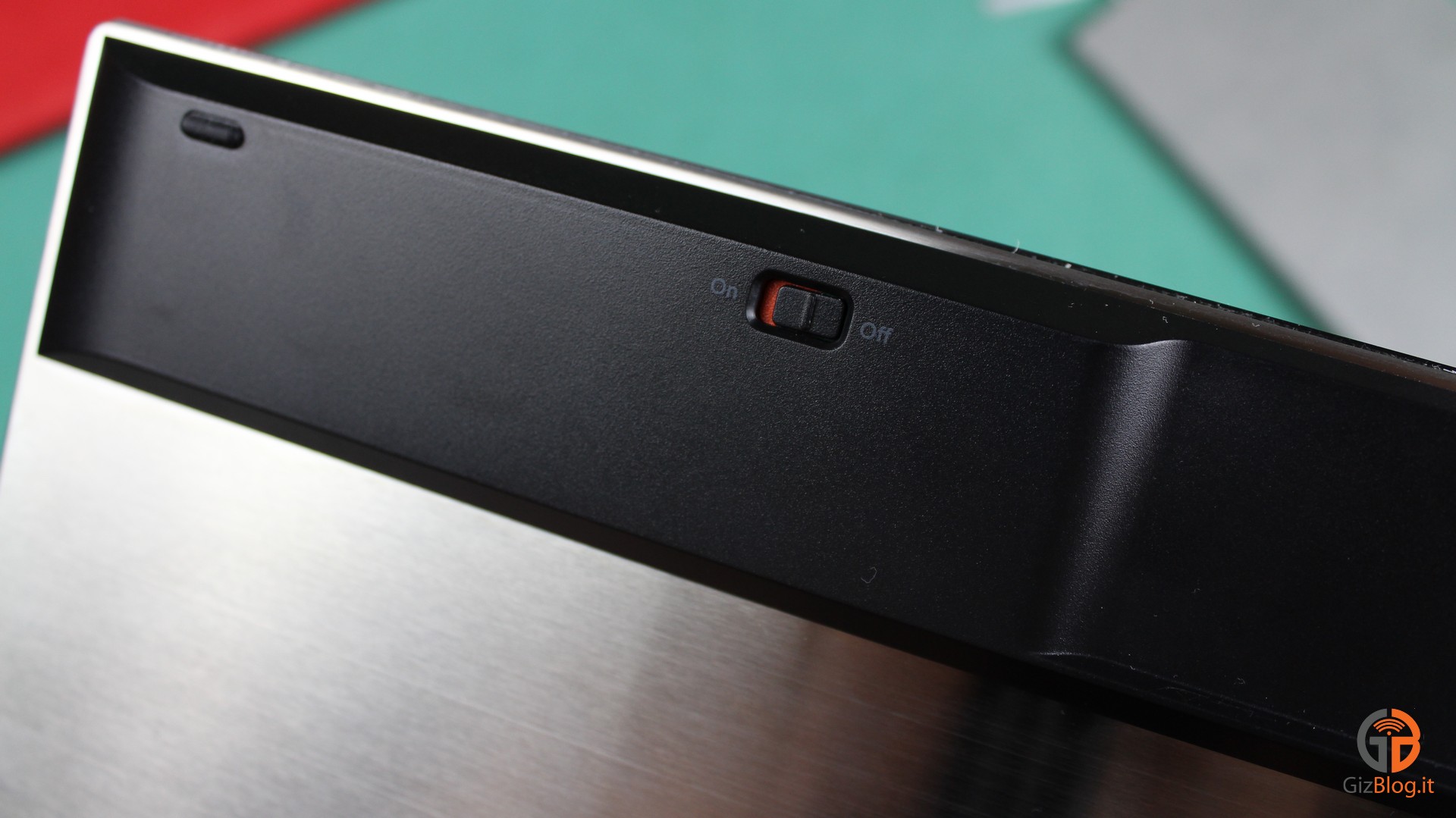 operation
Using this wireless keyboard is very simple, just enter the USB dongle da 5 GHz in latptop / smart TV / TV box and you're done. Also, if we wanted to personalize e program of keys we can do it by downloading the driver and its software from the official site.
As already mentioned above, although i Wrist Rest, the keyboard is still rather comfortable to use. There race è brief ma fast thanks to the mechanism a farfalla which is somewhat reminiscent of the keyboards of old MacBooks.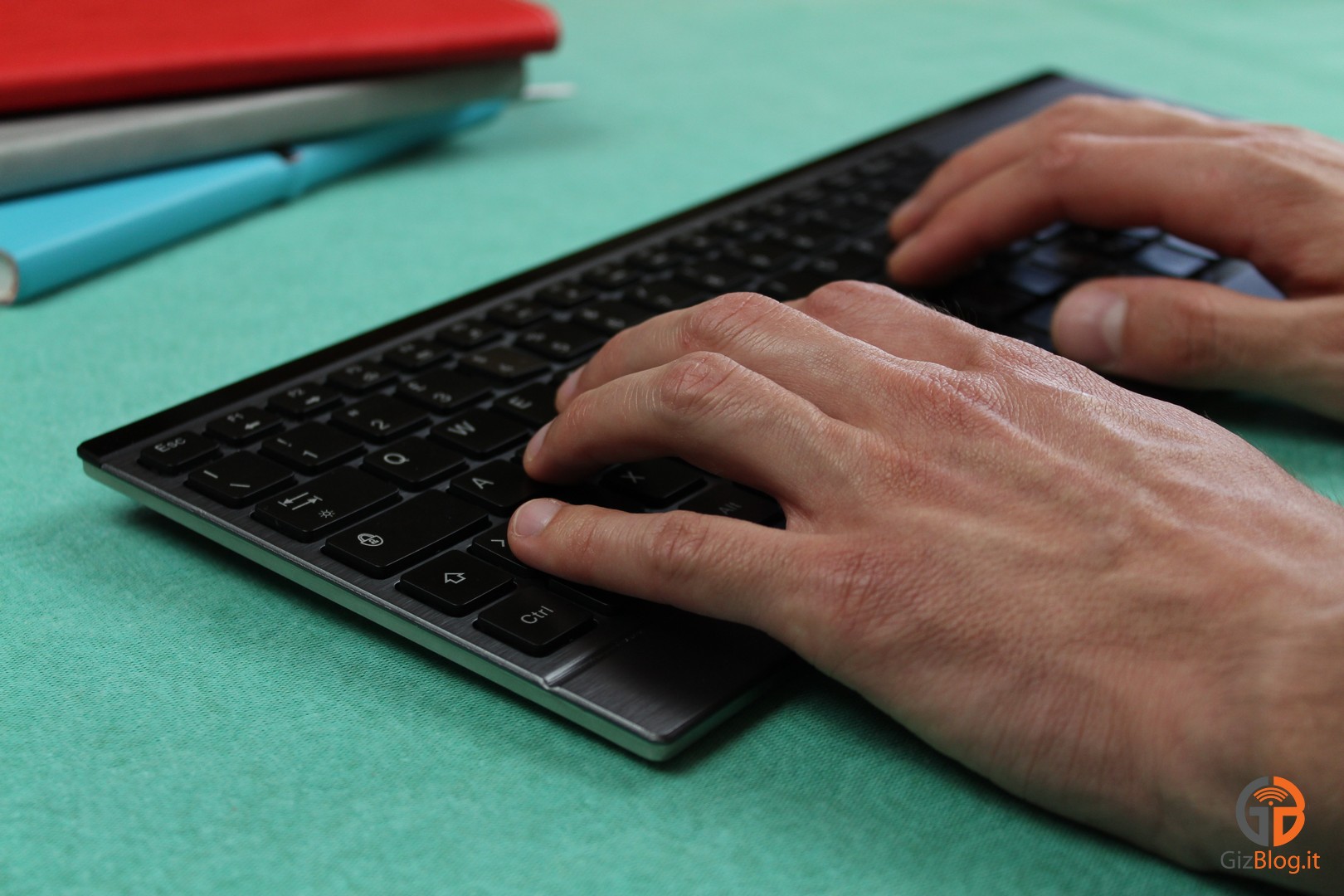 Software
Through the software that we can download from the official website, we can customize all the keys Function with the specific actions (mail, calculator, files, play, copy, paste, desktop etc ...) or we can associate some Macro at our leisure. This is definitely a plus point, although the programmable keys are only 12.
Furthermore, we find a summary of all the gestures supported by trackpad, some of which may be modified and replaced by Macro at will.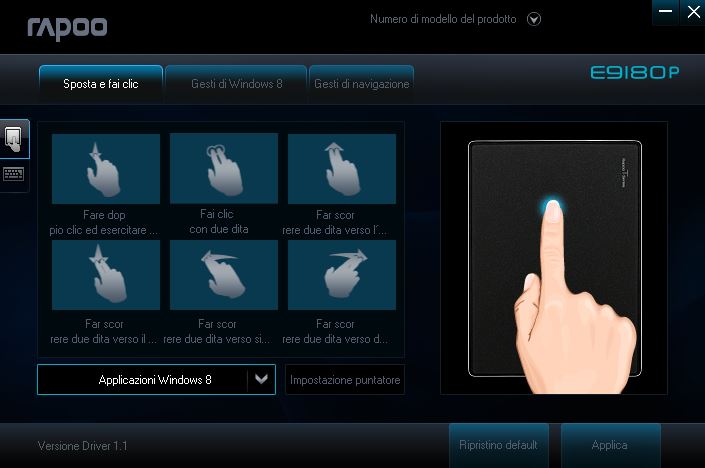 Autonomy
The advantage of this wireless keyboard compared to others it is that it has one integrated battery, so we should not use stylus batteries. With intense use we can achieve a range of approx 4 5-days, while with occasional use (a couple of hours a day) we can also reach the 2 settimane (about).
La recharge will happen through the breadboard ad induction present in the sales package e, connecting it to the PC, you can top up the Rapoo E9090P in about 7 hours (personally I always let it recharge at night).
conclusions
Let's start with the price, because this Rapoo E9090P is available on Amazon about 78 €. It is not a very limited figure, but I must say that the product itself is really well built and with a extremely elegant design.
However, despite the many getures, I did not find myself very comfortable with the trackpad, for this reason on the official website and on Amazon I noticed other versions without the latter, some even had a Rapoo mouse in bundle to a lower price. At that point the choice falls on your needs and your habits, if you want an all-rounder product to be used both with the PC and with the smart TV / TV box then this is the perfect device for you. If, on the other hand, you are looking for a perfect keyboard for the productivity and you are not interested in using it in a high way, then you could save a little bit buy the variant without trackpad or with a bundled mouse.
89,99€
available
4 new from 70,99 €

Amazon.it
59,99€
available
6 new from 34,83 €

Amazon.it
Free Shipping
79,99€
available
3 new from 61,49 €

Amazon.it
Last updated the 23 / 08 / 2019 12: 21