Sony has tried to solve a big problem that grips smartphone owners without mini jack audio, creating a USB Type-C 2 dongle in 1 , which allows you to listen to music and recharge the device simultaneously. Definitely, a very useful accessory.
Sony has a USB Type-C cable that allows the battery to be recharged while listening to music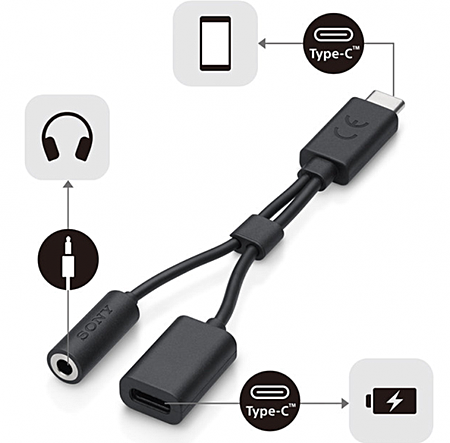 One of the biggest problems with removing the 3,5 mm audio jack for headphones is just the "obligatory" sharing of the C-type USB input. Of course, the smartphone is thinner, but there will always be a problem of energy independence. Sooner or later you will have to recharge your device's battery, just while you are listening to music with your wired headset. Of course you might prefer the Bluetooth headset, but when will these also be discharged?
ALSO READ: Sony could reduce smartphone production in the coming years
The Sony accessory allows you to solve the problem. It is a USB type C cable (model name EC270) that on one side has an entrance USB Type-C and 3,5 mm audio jack, while on the other side it has atake the exit (uscita) always of type C. Obviously, the company was not the first to have the idea, but we are sure that it is one of those of better quality.
However, the problem is partially solved, because it allows you to use only headphones or earphones with standard mini jack. The newer models, which often take advantage of the type-C standard, cannot be exploited with this system. However, the cable is already on sale Amazon at the price of 29,90 €, as well as on the Sony store.
Sony 2 in 1 3.5 audio cable mm + for charging type C - black
Buy now

Amazon.it
Characteristics
| | |
| --- | --- |
| Brand | Sony |
| USA B | 1313-4602 |
| Model name | EC270 |
| Weight article | 9,07 g |
| Product Dimensions | 11 x 0,2 x 0,2 cm |
| Article model number | 1313-4602 |
| Model year | 2018 |
| Article number | 1313-4602 |
| Number of items | 1 |
| Voltage | 5 volt |
| Are batteries / batteries included? | No |
| Batteries / batteries required | No |
| Material | PLASTIC |
| Form Factor | Straight ahead |
| ASIN | B078XKQKCV |
| Media reviews | Be the first to review this item |
| Position in Amazon's Bestseller ranking | n. 360.212 in Electronics (View Top 100) n.2654 in Electronics> Audio and video accessories> Headphone accessories |
| Shipping Weight | 118 g |
| Shipping restrictions | This article is available for export to European Union countries. |
| Available on Amazon.it starting from | January 10 2018 |
SONY ec270 usb type-c 2-in-1 cable (1313-4602)
---
Do not miss any news, offer or review published on our site! Follow us on social networks to stay up-to-date in real time thanks to:
Offers Channel , News Channel, Telegram Group, Facebook page, Youtube channel and the Forum.