Within the panorama of the portable speakers there is a particular brand that has made space thanks to its products characterized by a great design and a sound quality very respectable, let's talk about the Dutch company Fresh 'n Rebel. The latest news from the European manufacturer is precisely the Fresh 'n Rebel Rockbox Brick XL, which has intrigued us a lot thanks to its output power of 20 Watt and the possibility of associating two together to listen to the music in stereo mode!
So how did these two speakers behave? Let's find out together in our review.
Review Fresh 'n Rebel Rockbox Brick XL
Unboxing
The sales package is very pretty and colorful, in fact we find several photos of the product, as well as its technical specifications. Inside is the following equipment:
Rockbox Brick XL;
USB charging cable - Micro USB;
AUX cable;
instruction manual.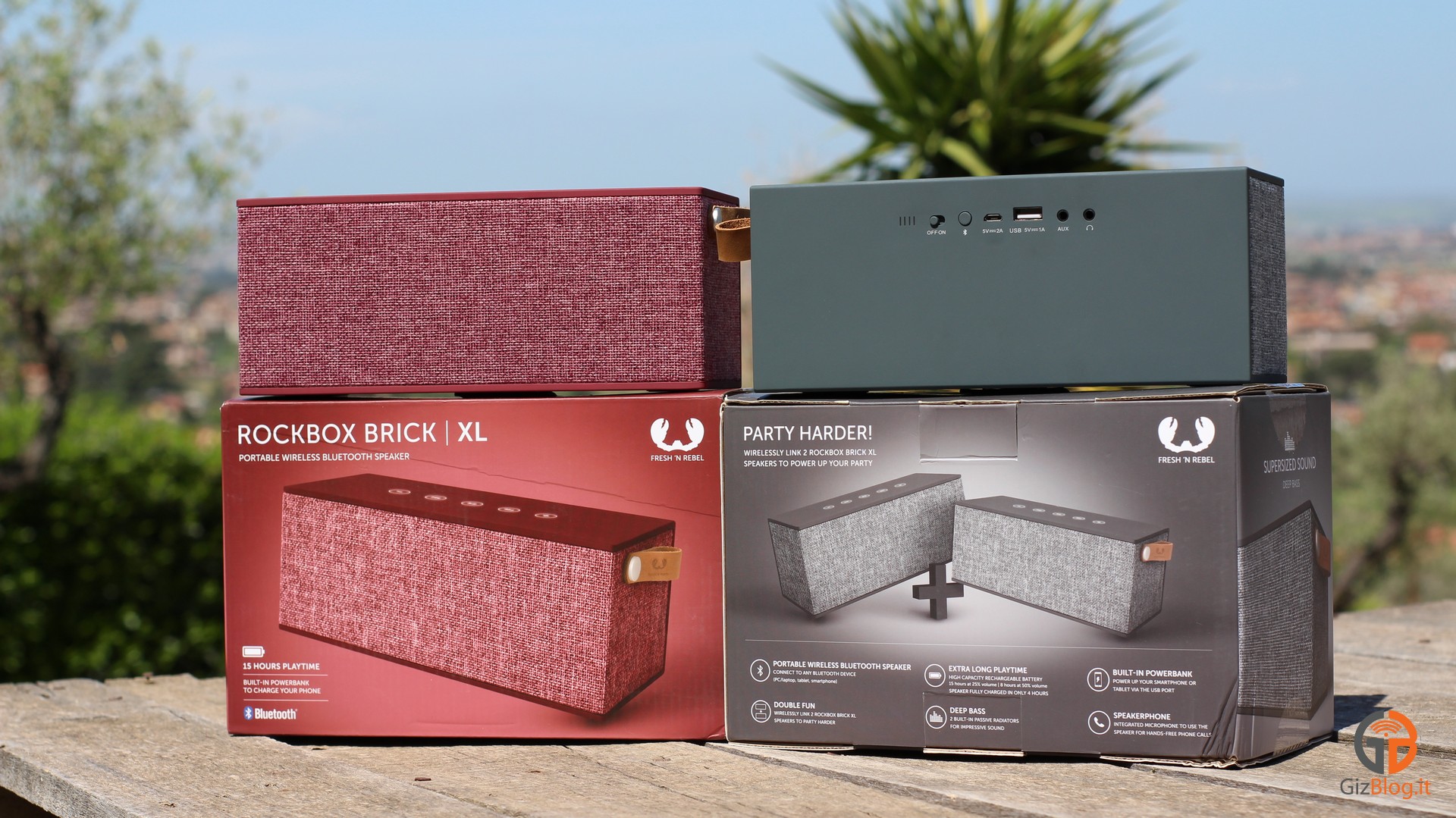 Construction and design
From the point of view of the design we have nothing to criticize, as we find a speaker in full Fresh 'n Rebel style, or with a beautiful front in fabric and a body in plastic which to the touch gives a pleasant rubbery feeling. Present, as always, the classic leather lace branded with the company name.
La construction it is equally good e robusta, I have not found any imperfection in the assembly, if not some slight scratch on the lower part. In fact, since we have a rubbery coating we should be careful not to rest the speaker on rocky surfaces not to spoil the aesthetics.
Superiorly we find 5 backlit soft touch function keys that will allow us to listen and manage music without the need to use a smartphone / tablet / pc or other. These are very sensitive and there is no need to press firmly, the only downside is that they present one slight latency in responding to the command.
Il Fresh 'n Rebel Rockbox Brick XL has the dimensions of 230 x 95 x 95 millimeters for a weight of 920 grams which make it very similar to a brick, just as evidenced by the name.
Connettività
Il Rockbox Brick XL has Bluetooth 4.2 LE, Over that of a input ed an audio output, an entrance Micro USB (5V = 2A) for recharging the speaker and aUSB output (5V = 1A) useful to recharge other devices such as a smartphone, a tablet, a mp3 reader and so on, thus also performing the function of Power Bank.
Associating the case with a smartphone is really a lot simple e fast: just hold down the appropriate key on the Bluetooth located on the back of the product and wait for i LED of function keys begin to flashing. At that point the speaker will be ready to be associated with our device.
Inside the house and with the presence of several interior walls, the connection manages to hold up for about 6 7-meters, While in Outdoor e senza ostacoli we can also reach the 20 meters.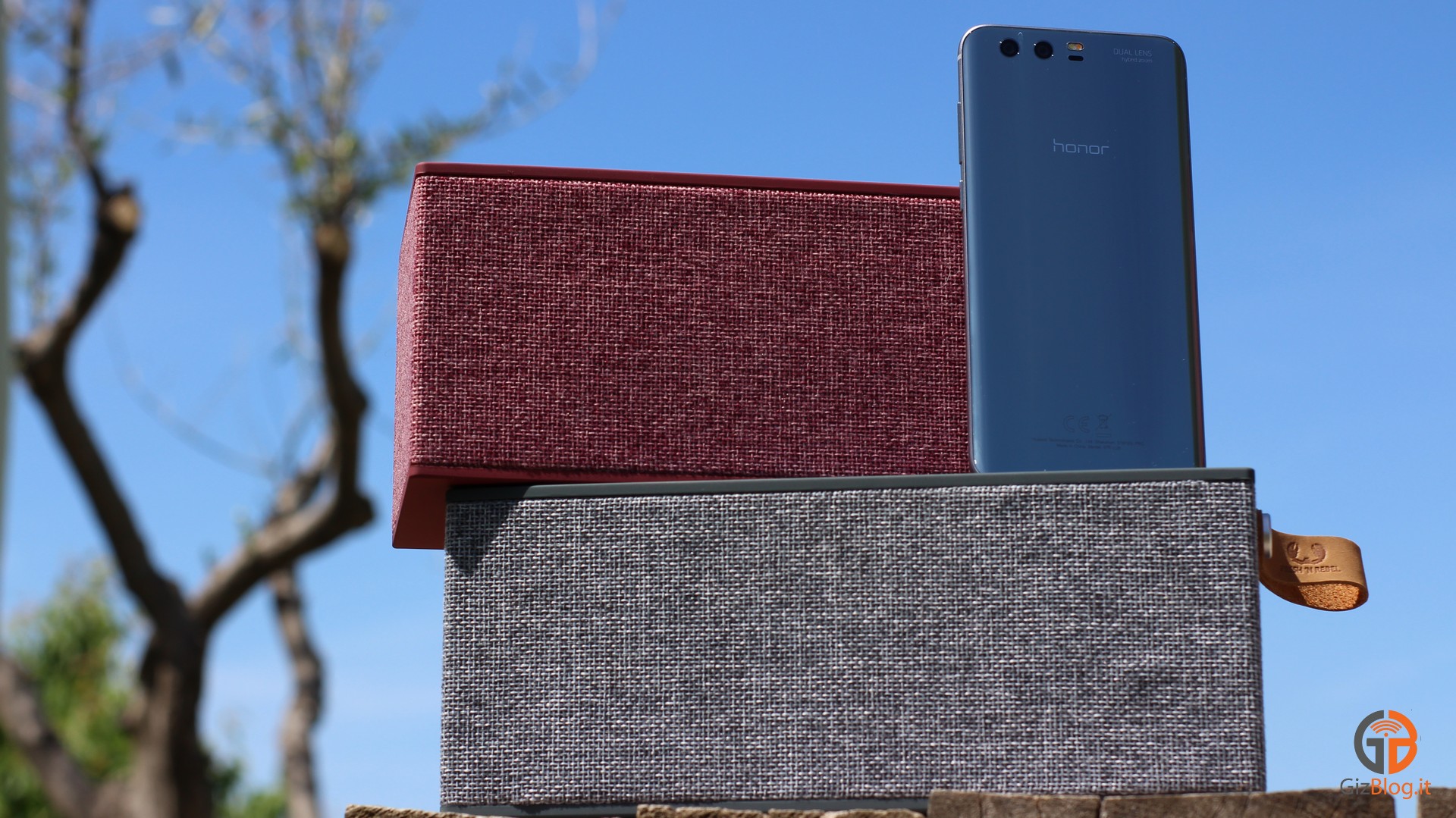 Furthermore, by following the instructions we can find in the manual it is possible connect in wireless the two Fresh 'n Rebel Rockbox Brick XL to listen to music in stereo mode and get one power even greater. In fact, when the two speakers work together, it is possible to get some speakers excellent results in terms of volume and of surrender.
As if that wasn't enough speaker is equipped with a internal microphone, which will allow us to reply All calls with the button Play / Pause and entertain conversations with our interlocutors without any kind of problem.
In general I have not found particular critical points from the point of view of connectivity.
Audio quality
Il Rockbox Brick XL has two front speakers da 10 Watt one, which will allow us to have good output power and to maintain good quality without distorting the sound.
Even raising the volume to the maximum the speaker can guarantee us a clean audio which will allow it to be good balance of frequencies. Good i bassi (but not exceptional) that they can count on two passive radiators, As well as alti and of average that are faithfully represented.
As previously mentioned, by connecting the two devices together it is possible to obtain excellent results.
Autonomy
within the Fresh 'n Rebel Rockbox Brick XL we find a battery from 5000 mAh which allows us to have aexcellent autonomy. Indeed, while with the maximum volume we get to around 9-10 hours of reproduction, with a average volume it is possible to reach also the 15 hours!
I was really amazed by its autonomy, as if used occasionally you also forget to recharge it. However, if we use it as Power Bank for the smartphone while it is playing, the battery life will inevitably go down a lot, as it will fall more quickly if we connect the two speakers between them.
Nothing to worry about, because we can still get good results, but this is something that needs to be specified. Finally, the full recharge it happens in about 4 hours.
conclusions
In conclusion this Fresh 'n Rebel Rockbox Brick XL is a speaker who behaves rather good in all sectors and with all musical genres, in addition to the fact that it has some very interesting features as the possibility of using it as Power Bank and the possibility of associating it with another Rockbox Brick XL to obtain a stereo effect and a greater power.
Il list price of this speaker is from 99.99 € that, despite the many functions and despite the design definitely curate, turns out to be a little too high. As mentioned previously, the qualities are not lacking, but it is a product that would succeed in outperform the competition about 20 euro less.
Fortunately it is possible to find it already at a lower price, which varies according to color. In fact, the red speaker on Amazon it's available at about 84 euro:
99,99€
not available
27 new from 76,06 €
7 used by 63,66 €

Amazon.it
Free Shipping
Last updated the 23 / 08 / 2019 13: 07
---
Do not miss any news, offer or review published on our site! Follow us on social networks to stay up-to-date in real time thanks to:
Offers Channel , News Channel, Telegram Group, Facebook page, Youtube channel and the Forum.