In an industry where most manufacturers put a display from 6 inches in a slim body and with lines morbid thanks to the format 18:9, Sony it continues straight on its way and does not abandon the design that has characterized it so much in recent years. I refer to the new Sony Xperia XA2 Ultra, phablet of the Japanese house that makes note especially for its generous dimensions and for the absence of the side edges of the display.
Will this new medium range have succeeded in surprising us? Let's find out together in our review!
Sony Xperia XA2 Ultra Review
Unboxing
The sales package is the usual style SonyIn fact, we have a white cardboard box that includes the following equipment:
Sony Xperia XA2 Ultra;
wall power supply with output 5V = 0.85 A;
USB cable - USB Type-C for data transfer;
instruction manual.
Construction and design
With regard to the forms we find nothing new: squared lines e wide edges upper and lower. What changes is the fingerprint sensor that goes from the side frame to the back cover and also i side edges of the display that are practically non-existent. We can say that it looks like a big nubia Z11!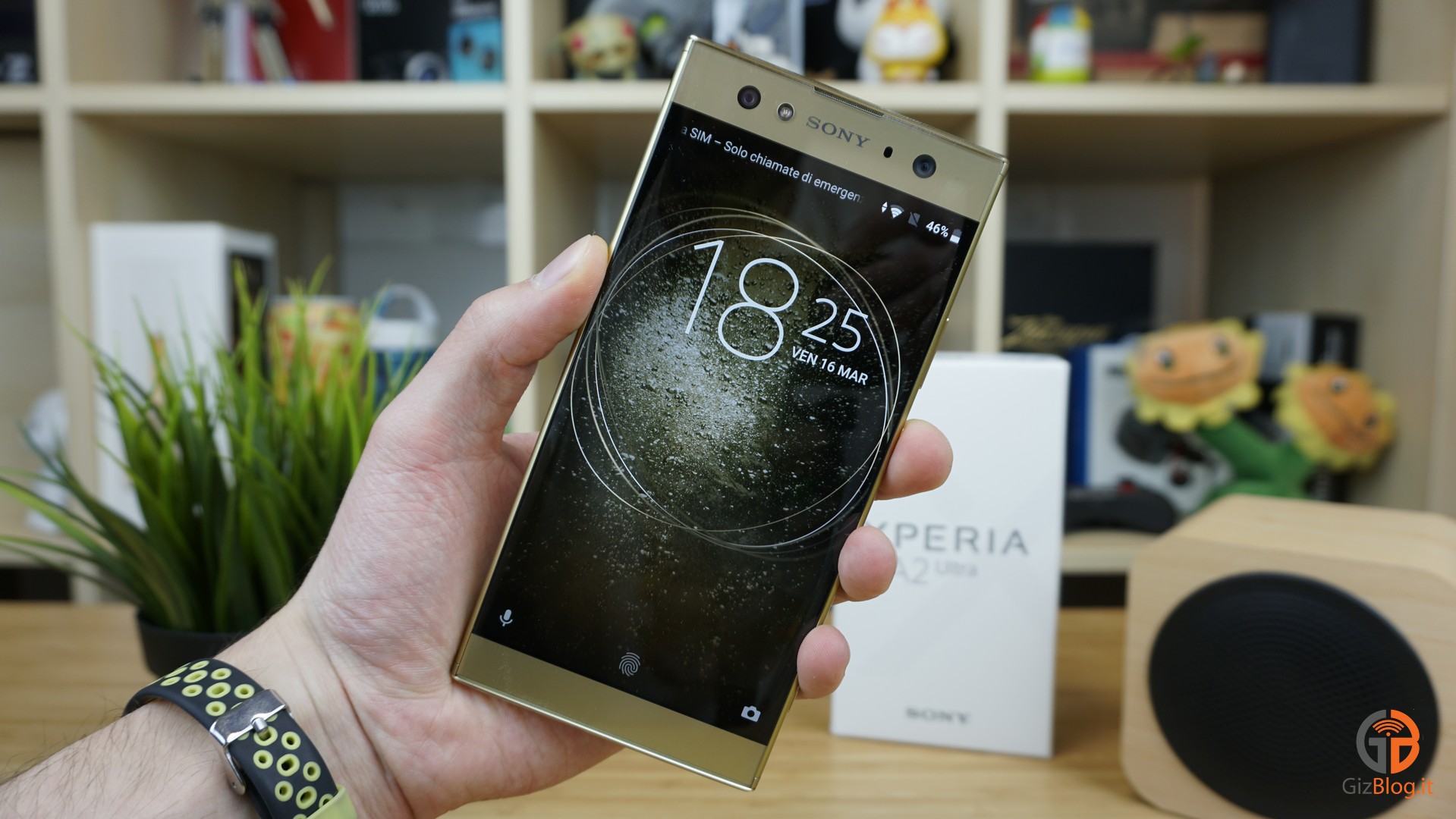 This Sony Xperia XA2 Ultra è very big, heavy and difficult (but not impossible) to use with one hand. The dimensions, in fact, are of 163 x 80 x 9.5 millimeters for a weight of 221 grams. It is therefore self-evident that the handling is compromised, however, the company has wisely decided to insert the one hand mode that will come to our aid many times.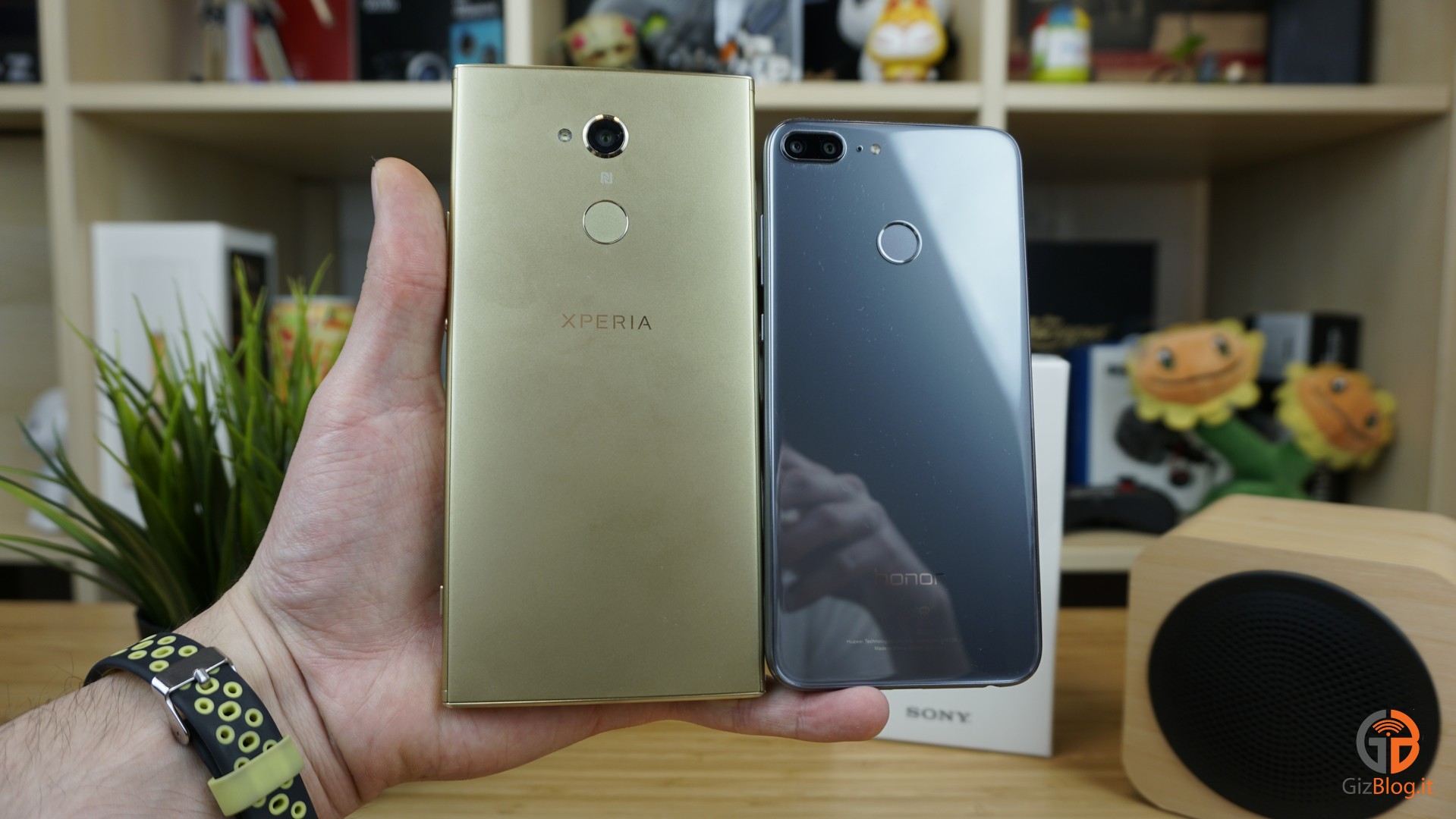 La construction however it is a lot solid and the materials return a good sensation to the touch, although we have a later one shell only in plastic. The perimeter frame it is in aluminum and frontally we have a glass Corning Gorilla Glass 4 which is able to protect the display from scratches.
On the right side we find the volume rocker, the power button and the Shutter button, while on the opposite side we have the dual SIM + micro SD slot. At the top it is possible to see the main microphone, the system speaker and the USB Type-C input, unlike the upper profile that houses the 3.5 mm jack input and the microphone useful for reducing ambient noise.
Frontally we have a double camera (a wide-angle sensor and a standard one), the LED flash, the ear capsule and finally, the brightness and proximity sensor.
On the back cover there is the rear camera flanked by the single LED flash and the fingerprint sensor.
As for the latter, the reader it's not a splinter, but it is accurate. From the tests carried out we can state that 10 times on 10 unlocks successfully.
Display
As inconvenient to use, this smartphone has a beautiful display IPS da 6 inches diagonal with resolution Full HD (1920 x 1080 pixels), density of PPI 367 and protection Corning Gorilla Glass 4.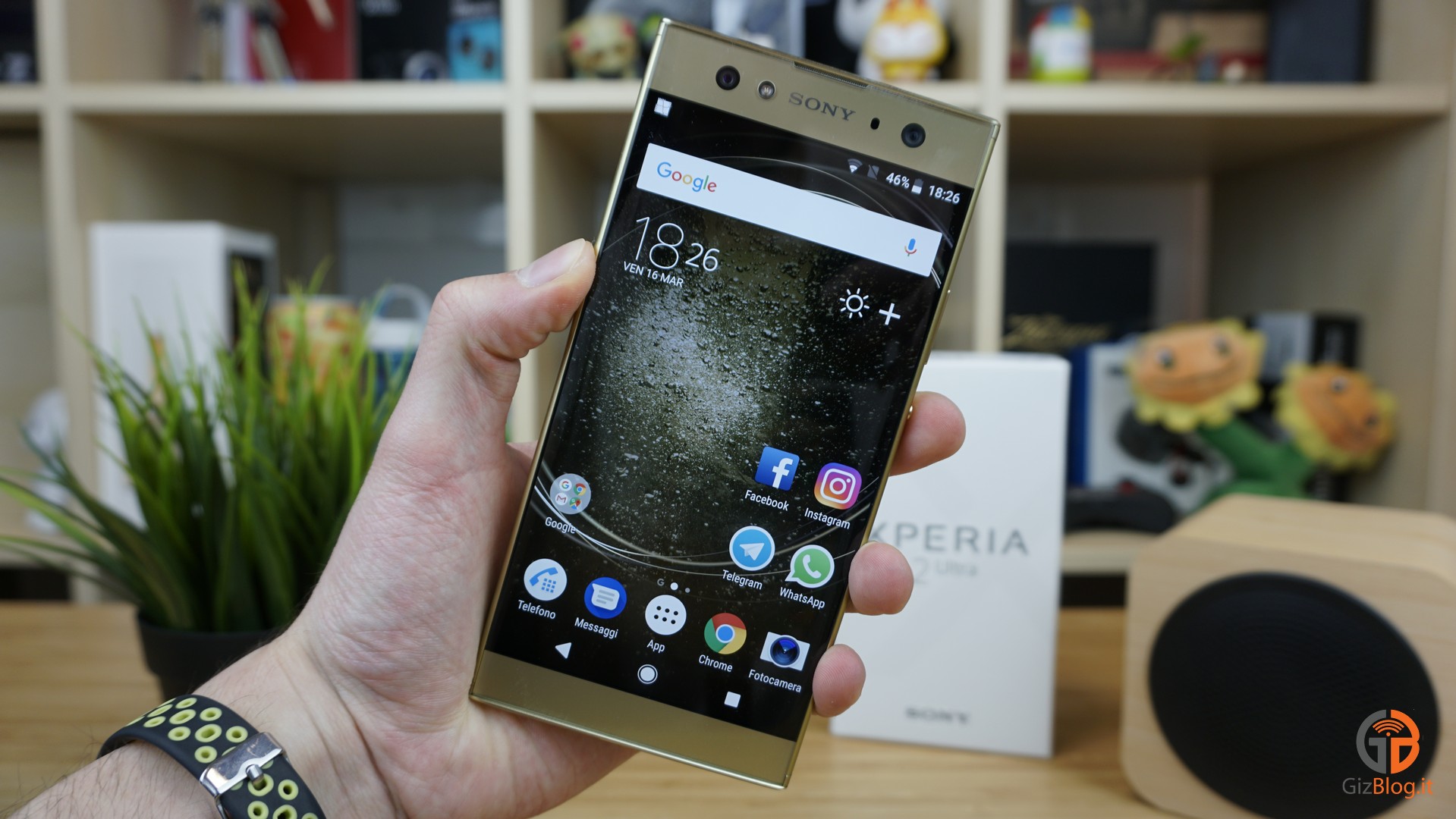 I remained fully soddisfatto from this panel both in terms of quality that of colors. The viewing angles I'm good just as the minimum and maximum brightness is also good.
This could be the ideal smartphone for those who love the Gaming on smartphones or for those who use a lot Netflix e YouTube on mobile devices.
Hardware and performance
Under the shell we find a chipset Qualcomm Snapdragon 630, which includes a processor octa-core with a maximum clock frequency of 2.2 GHz, a Adreno GPU 508, 4 GB di RAM e 32 GB di internal memory (of which 11 GB are occupied by software and pre-installed applications), expandable through microSD to 256 GB.
The smartphone runs quite well and we have not encountered problems in daily use. Moreover, the speed of opening the app is in the half compared to its competitors.
All in all the performance of this Sony Xperia XA2 Ultra I'm buone, the only one criticizes what we can do is that we will have expected at least 64 GB di internal memory given the price at which the smartphone is sold.
La GPU performs well and plays heavier games such as Asphalt 8 it happens without problems and without frame drops. I can also add that it is a real pleasure to play with this smartphone thanks to the large display.
Photo gallery
Later we find a camera with sensor from 23 mega-pixels with opening f / 2.0, digital stabilization SteadyShot e single flash LED.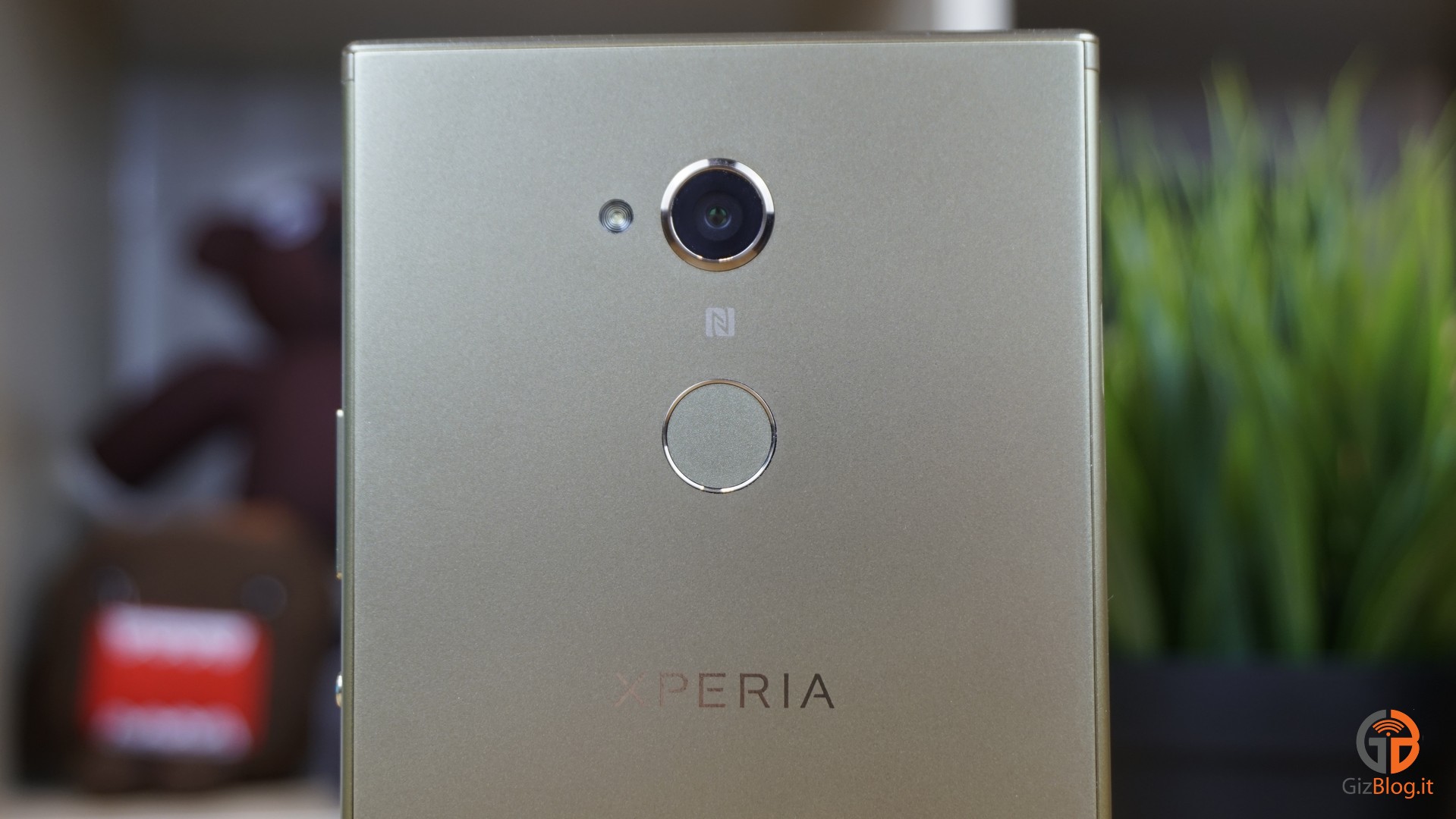 In conditions of favorable brightness the shots are more than satisfactory thanks to a good definition ea gods good colors. Sometimes, where there are strong light sources, these may happen overexposed and this is especially noticeable in night shots. Also presentHDR that works well even in the most difficult conditions.
In the evening quality decreases and the noise increases in case of almost no brightness. In partially lit scenes the camera behaves quite well in most cases. Although it is often possible to note the lens flare.
Frontally we find one double camera with sensors from 16 mega-pixels with integrated optical stabilizer e 8 mega-pixels wide-angle lens da 120 ° and the single LED flash.
Despite the 16 mega-pixels, the main sensor does not behave in an excellent manner, as it always presents slight noise digital and a kind of "Beauty mode" automatic too invasive. In some cases it seems to make the wide-angle sensor better from 8 mega-pixels.
However in good lighting conditions we are there, but with the setting of the sun the situation is worsening. Fortunately, a fortissimo is present LED flash front that could make you blind, but that actually improves the final result.
I video can be registered up to the maximum resolution of Full HD a 60 FPS and the quality turns out to be good and with one digital stabilization rather efficient. Also frontally we can record in Full HD and we can also use it optical stabilizer of the sensor from 16 mega-pixels.
Audio
Another aspect that has me feast of this smartphone is certainly this sector, in fact, theaudio output from the lower speaker is powerful e well balanced. Moreover, with a pair of good headphones you can further enhance the experience thanks to an even better frequency balance.
No problem even with the audio output from the earpiece and with the microphone that allow us to converse without problems with our interlocutor.
Connettività
Il Sony Xperia XA2 Ultra supports Dual SIM with support for connectivity LTE Cat.13. The reception turned out to be pretty good, but I can't say the same with the Dual Band Wi-Fi a / b / g / n that on several occasions it seemed more to me weak compared to other medium range.
For the rest we find the Bluetooth 5.0, GPS / A-GPS / GLONASS FM radio and l 'NFC, with which we found no critical issues.
Software
On the device we find Android 8.0 Oreo with custom manufacturer interface and updated security patches January 1 2018.
This UI we now know it very well and it is characterized by different customizations starting from the calibration of the display colors, to the equalizer and then to the graphic customization as themes and backgrounds.
During the various tests that I have done I have never encountered any uncertainty or sporadic lag and everything is as smooth as oil. However, there were some aspects that made me turn up my nose. Primarily it is not possible to invert the softkeys and in secundis there are too many pre-installed apps that, together with firmware, they go to occupy 11 GB of 32 available.
Finally, the app is very nice AR effect which allows us to combine the camera and augmented reality filters to create funny photos or videos to share on social media.
Autonomy
Under the shell we find a battery from 3580 mAh that gives us aexcellent autonomy. During the test period I was able to arrive safely at 6 hours and 30 minutes of active screen with use medium / heavy.
We can eventually extend the autonomy of the Sony Xperia XA2 Ultra thanks to the modalities Stamina e ULTRA Stamina which we can find in the settings.
Despite the smartphone supports the Quick Charge 3.0, supplied a decidedly less powerful power supply is inserted which takes about 3 hours to fully charge the smartphone.
We also remember that this device also supports the Qnovo adaptive charge which will allow you to adjust the charging current to minimize battery damage.
conclusions
Here we are then at conclusions and I would say, first of all, to start with price. In fact, this list Sony Xperia XA2 Ultra it's available at about 429 €, but on Amazon you can find it already at around 388 €.
Despite being a good product, the price it's still too high for a smartphone that only offers 32 GB di internal memory. It must be said that the display è very beautiful, audio compartment è good and battery he has one long autonomy, but the smartphone is anyway cumbersome and with a considerable weight.
If you are a big lover phablet in 16:9 then it could definitely be the right smartphone for you, but for those looking for a device with more compact dimensions, always with the same form factor, perhaps it is better to focus on another model of the Japanese house such as theXperia XA2.