It seems that the global smartphone market is destined to lose strength during this 2018. According to a new study conducted by TrendForce, its growth during the year will decrease by -2.8%. In a sector that we can certainly define one of the most competitive of all, there will be many manufacturing companies that will have to cope with a considerable sales drop. According to the study, only Apple e Nokia they can hope for one growth during the next few months.
This stalemate could lead many brands to launch offers in an increasingly aggressive manner, hoping to somehow be able to grab a slice of a declining market. This would obviously result in one reduction their profit margins, explain the experts of TrendForce.
In the coming years, India will be the drag on the global smartphone market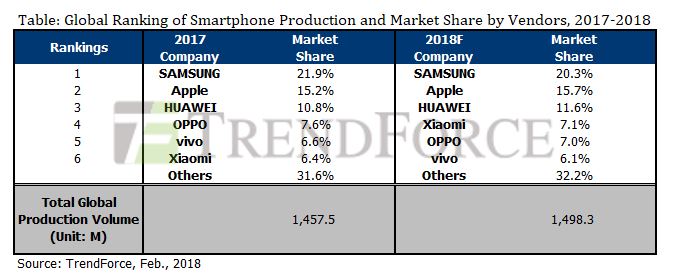 In any case, the effects of all this will be evident in the global market only in the long term. For the moment, in fact, it is expected that Samsung keep control of over a fifth of the market in the 2018. Apple e Huawei will remain second and third respectively in terms of smartphone sales worldwide.
Given the saturation of the market in China, Xiaomi could succeed in taking the place of OPPO e Vivo. However, it should be remembered that the rapid growth of which the company has been a protagonist is based above all on its success in India. THE'India, in fact, represents the smartphone market in fastest growing worldwide, as well as the only country that still has hundreds of millions of potential buyers, many of whom have not yet come into possession of their first smartphone.
Overall, the increase in component costs and a general decline in demand will continue to slow the global smartphone market. However, TrendForce experts say that it may be India that prevents the complete stagnation of the market in the coming years.
---
Do not miss any news, offer or review published on our site! Follow us on social networks to stay up-to-date in real time thanks to:
Offers Channel , News Channel, Telegram Group, Facebook page, Youtube channel and the Forum.