One of the elements that is hardly considered when buying a new smartphone is the one related to SAR values (Specific Absorption Rate). This value indicates the quantity of electromagnetic energy which is absorbed by our body. Our smartphones in fact generate a magnetic field and emit radio frequencies to allow us to make phone calls and keep us connected to the network. These values ​​change from smartphone to smartphone and, after seeing what the worst are, let's see i 15 best.
Among smartphones with the lowest SAR values, Samsung prevails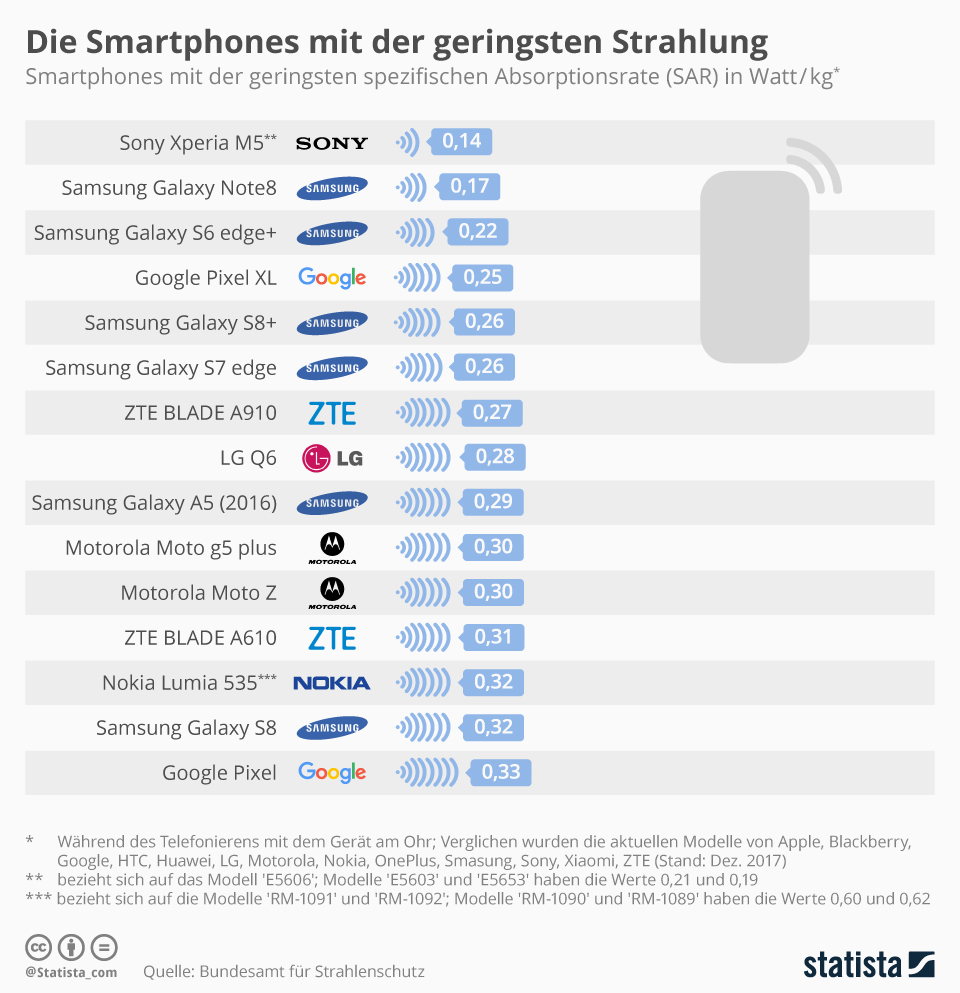 The value SAR is expressed with the formula W / kg (Watts per kilogram). The higher this value, the more energy is absorbed. The critical point of absorption is theear, since we bring our device in contact with this part of the body whenever we make a call.
I emission limits permitted by law vary from country to country. in USA tolerance is lower than in our continent. The FCC (Federal Communication Commission) American imposes a limit of 1.6 W / kg, referring to the volume containing 1 gram of tissue. nell 'European Union, instead, CENELEC (European Committee for Electrotechnical Standardization) sets the limit to 2.0 W / Kg, referring to the volume containing 10 grams of tissue.
The most virtuous producer of all is Sony, with his Xperia M5 (but only in some versions), with a SAR value of 0.14 W / Kg. However, the company that has the most devices on this list is Samsung, with the Galaxy Note 8 and the Galaxy S6 Edge + that complete the podium. Google places two devices in the ranking, or Pixel and Pixel XL, with 0.25-0.33 W / kg. Two devices also for Motorola with the Moto Z and the Moto G5 Plus, both with 0.30 W / Kg, e ZTE with the A910 and A610 blades. All extremely low values, able to fall well within the legal limits.
---
Do not miss any news, offer or review published on our site! Follow us on social networks to stay up-to-date in real time thanks to:
Offers Channel , News Channel, Telegram Group, Facebook page, Youtube channel and the Forum.