An interesting one report published by the benchmark platform AnTuTu shows us what were the most cloned smartphones of the 2017. Not surprising to see Samsung and Apple at the top to the particular ranking, considering the enormous number of devices sold and the consequent appeal exercised on consumers.
In the AnTuTu ranking the number of counterfeit Samsung and Apple smartphones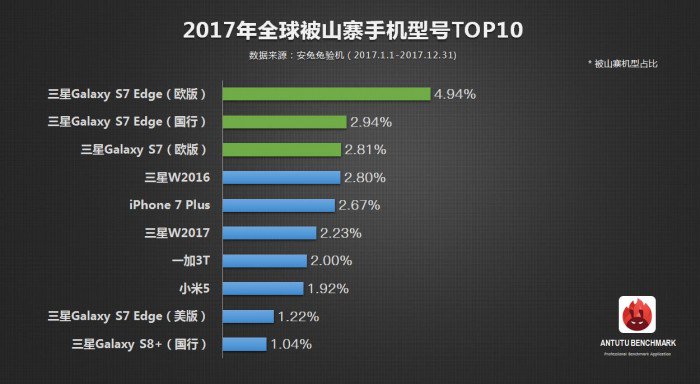 Not only then most powerful smartphone rankings by AnTuTu, but also reports aimed at highlighting the great ferment of "parallel devices". Of all the smartphones sold in the 2017, about the 2.64% I'm clones, for a total of over 460.000 unit.
Samsung dominates this ranking widely, since the 36.23% of these clones are devices belonging to its range. Dominate over all the Galaxy Edge S7 in the European version, followed immediately by his brother in the Chinese variant. A surprising fact, given that the debut of the former Korean flagship goes back to the 2016.
Also Galaxy S8+ is part of the ranking, but more detached. A figure that could be explained by the greater difficulty that manufacturers encounter in being able to replicate the technical and design solutions that distinguish the latest members of the Galaxy S range. Apple he placed himself second, but with a remarkable detachment, given the 7.72% of cloned devices. The most counterfeit is the7 iPhone Plus.
---
Do not miss any news, offer or review published on our site! Follow us on social networks to stay up-to-date in real time thanks to:
Offers Channel , News Channel, Telegram Group, Facebook page, Youtube channel and the Forum.