According to a statement from StatCounter, to earn the title of most used operating system of the 2017 is Android with a percentage of 38,97%. Beaten then Windows, stopped at 37,07%.
Android is the most widely used OS in the 2017 globally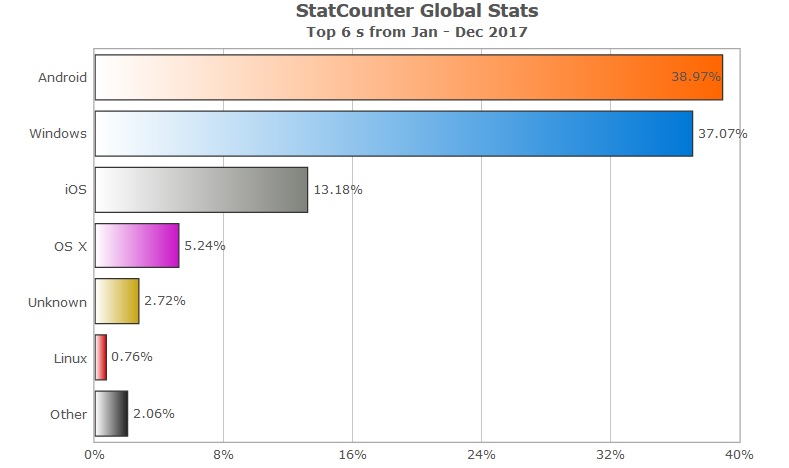 A certain distance not insignificant, but nothing compared to the one that separates the two OS of Google and Microsoft from iOS, which occupies the third place with the 13,18%. To close the top five we find OS X (5,24%) is Linux (0,76%).
The 2017 therefore led to a reversal compared to the data collected only a year ago: in fact at the end 2016 Windows was in clear advantage compared to Android, surpassing it by more than 12 percentage points (Windows 43,82%; Android 31,76%). The situation has therefore changed radically, and this is probably due to the constant growth of web browsing from mobile devices.
Android exceeds Windows by a few percentage points
However, it is good to be careful not to take the statistics as gold, especially if the percentage differences are very low, as in the case just seen. Although based on a very large sample (about 10 billion pages visited each month), StatCounter's data collection model is inaccurate. It is based on browser user-agent and does not take into account those computers that do not go on the internet or connect only to some sites that are not supervised. This often happens in the corporate sector and can explain the low result obtained by Linux, which is widely used in the server / enterprise environment.
Furthermore, the situation may vary from one country to another. For example, in Italy the ranking sees a clear victory of Windows (49,5%) that leaves Android (25,05%) in second place. Following iOS (12,2%) and OS X (10,62%).
---
Do not miss any news, offer or review published on our site! Follow us on social networks to stay up-to-date in real time thanks to:
Offers Channel , News Channel, Telegram Group, Facebook page, Youtube channel and the Forum.